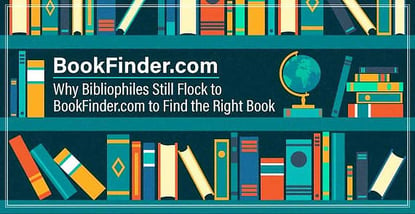 credit card news
Our experts and industry insiders blog the latest news, studies and current events from inside the credit card industry. Our articles follow strict editorial guidelines.
In a Nutshell: In 1997, finding a first edition of "The Great Gatsby" or a signed copy of "Catch-22" was almost impossible to do if it wasn't sold at your local bookstore. When 19-year-old Anirvan Chatterjee couldn't complete his collection of Doonesbury comics with selections from nearby booksellers, he created a search engine that looked for books on the newly developed World Wide Web. Almost 20 years later, BookFinder.com is still a powerful e-commerce search engine that helps bibliophiles search for 150 million rare, out-of-print, and cheap books from 100,000 major online catalogs. The free, simple tool allows users to narrow down searches by type of book (e.g., new or used/out of print), features (first edition or signed copy), destination, and even currency. Million of book lovers and collectors celebrate the search engine's ability to 'find just the right book' from anywhere around the world. 
This is it, I thought. Today I'll find it here. I opened the doors, with the smell of books hitting me, and walked to the poetry section. My eyes scanned the names of poets and their works, halting when I found the "D" section. I searched for the thin, gray-and-gold binding, but couldn't find it. The poetry volume just wasn't there.
Several bookstores later, I still hadn't found the The Bees by Carol Ann Duffy. I knew the chances of finding her poetry on a bookshelf were slim (as she was Britain's newly established Poet Laureate), yet it was still disheartening to leave another bookstore, empty-handed.
If I had known about BookFinder.com, I wouldn't have wasted my time driving to bookstores. Millions of college students, bibliophiles, and collectors from around the world find rare, out-of-print, and cheap books across the world through this simple search tool. BookFinder.com, known as "the Google of dead books," sorts through 150 million book titles from over 100,000 booksellers in 50 countries to help bibliophiles find the book they're looking for. Simply put, you can buy Harry Potter and the Order of the Phoenix in German from a Portuguese bookseller, or The Canterbury Tales in Spanish from an American bookseller. BookFinder.com opens up a world where booksellers and bibliophiles can fill their bookshelves with ease.
I chatted with Scott Laming, the Public Relations Director at BookFinder.com, to talk about why millions of book lovers still flock to the free search engine to find anything from cheap paperbacks to rare prints.
Why a 19-Year-Old Comics Collector Created a Search Engine
It all started with an incomplete Doonesbury comic strip collection. Anirvan Chatterjee, a 19-year-old student at the University of California, Berkeley, was disappointed with the selection at nearby booksellers in San Francisco. In 1997, the Internet was still new to the public, so Anirvan and his best friend Charlie seized the opportunity to rewrite software and create MXBookFinder.com, a search engine that crawled 8 online catalogs for books across the U.S.
After turning it in as a class project (and yes, he received an A), Anirvan decided to "let it loose" on the Internet. Having the opportunity to look for books across the country (let alone, the world) was a new concept to bibliophiles. Users were excited to find first editions, textbooks, signed copies, out-of-print books, and cheap paperbacks with BookFinder.com. To this day, book seekers still use BookFinder.com from word-of-mouth and come to the site from the old domain.
"It's a very simple concept that's solved a very simple problem," Scott said. 
Even after AbeBooks acquired the search engine in 2005, the BookFinder.com team (based in Victoria, Canada and Düsseldorf, Germany) remains a tight-knit community of librarians and programmers who enjoy using the search engine for building their own collections. (As voracious readers, they buy dozens of books every year with BookFinder.com.) Although e-commerce trade and the Internet have evolved, the team's passion for advocating a strong, diverse book-selling industry remains the foundation for BookFinder.com's success — which all started from one avid collector.
BookFinder.com Solves the Problems of "Where Do I Get It?" and "How Do I Get It?"
Starting with a simple search tool, BookFinder.com gives users access to millions of books in just a few seconds. First, you can enter an author's name, book title, or ISBN, or narrow it down to include specific formats (e.g., new or used), special features (e.g., first edition or signed copy), types of binding, and preferred currency. Once the search results are immediately pulled up, you can compare prices from global booksellers, too.
If you're interested in a book, you can find a detailed description of the product –– including the format, language, publisher, and condition. BookFinder.com helps you pick the right book and not compromise on price and quality. Looking for a rare copy of The Book of Urizen or Don Quixote? You can find them through BookFinder.com's impeccable search capabilities.
"There are people who are looking for very niche things," Scott said. "If you want to find a volume on invertebrates, you can't find that at a bookstore. We'll help you find the book you're looking for."
Having access to millions of books worldwide is one of BookFinder.com's unique features. By developing a special relationship with third-party booksellers — especially those that sell rare and out-of-print books like Alibris, AbeBooks, and Antiquarian Booksellers Association of America (ABAA) — the company offers one of the best selections of good reads. BookFinder.com only partners with trustworthy booksellers that won't overcharge books. All prices (including shipping fees) are upfront, so you know what you're exactly paying at checkout. After all, it's BookFinder.com's mission to help users find what they're looking for, no matter how obscure the book.
Bibliophiles Can Purchase Books from All Over the World
One of BookFinder.com's proudest achievements, Scott said, is the internationalization of the search engine. Global users can use the search engine to find books from all over the world and in different languages.
Let's say you want to buy a book from a German bookseller. If you want to pay in Swedish Krona, you can view the prices (including shipping) in whatever currency you like. The search engine's flexible options allow international customers to make purchases across the world without the barrier of viewing prices in different currencies. Simplifying the book-buying process encourages global booksellers and bookworms to do business.
"It's a niche example of what the Internet can do. You can literally find anything just from the power of a database. It's neat."

– Scott Laming, Public Relations Director at BookFinder.com
Purchasing a copy of Wuthering Heights from a little shop in The Netherlands creates a unique buying and reading experience. You can explore different artwork, covers, and formats while buying it at an affordable price. BookFinder.com is your oyster for discovering (and buying) more books than you thought you ever could.
BookFinder.com is a Tool for 'Staunch Defenders of Books'
When I used BookFinder.com for the first time, I found more than just a plain copy of The Bees. I was amazed to see 11 entries appear in seconds, with different formats, pricing options, and booksellers to pick from. I'm not the only book nerd that's impressed by BookFinder.com's search capabilities. Scott still receives phone calls from people (even a person who'd been searching for a particular book for 15 years) looking for something specific and walks them through BookFinder.com's search tool. Once the book is found, they're blown away with the simplicity and ease of the search engine.
"People will always be looking for books that they want," Scott said. "There are people who are staunch defenders of books. When they find something they love, they're like, 'I'm going to get the special edition of it.'"
So how, after all this time, has BookFinder.com survived two decades of an ever-changing Internet? Because it answers a simple problem with a simple solution: to help bibliophiles find the right book from anywhere around the world. Book lovers will continue to seek rare and out-of-print books just like vinyl collectors will with music. The collective passion for books will be around as long as humanity will, and that's why BookFinder.com still flourishes. With easy access to a world of literature, poetry, and other collected works, BookFinder.com is something, I'm sure, even the literary greats wish they'd had at their disposal.