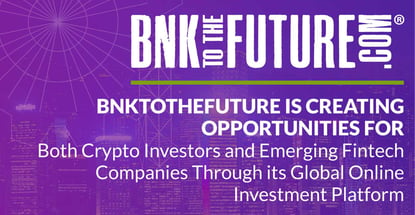 credit card news
Our experts and industry insiders blog the latest news, studies and current events from inside the credit card industry. Our articles follow strict editorial guidelines.
In a Nutshell: In recent years, equity crowdfunding has opened up new opportunities for both startup companies and investors. BnkToTheFuture is a frontrunner in the space, with a convenient platform that serves entrepreneurs and those looking to diversify their investment portfolios. The platform has worked with 120 different innovative companies to help gain them exposure and raise more than $750 million since it launched in 2010. On the investor side, BnkToTheFuture maintains the largest global online community of professional tech investors. And the company offers a convenient certification and onboarding process for those interested in joining its investing network.
Gone are the days where visionary entrepreneurs lived or died by angel investors and venture capitalists. Startup companies now virtually have the whole world at their disposal for raising capital, thanks to crowdfunding technology.
When Bitstamp — one of the earliest Bitcoin exchanges on the market — sought to fund its development efforts to expand its product and service offerings, crowdfunding was a clear choice.
Bitstamp launched on a shoestring budget in 2011 and quickly became established in the crypto space thanks to the progressive steps it took to implement key security and compliance standards in a developing market.
By 2016, Bitstamp's leadership realized it was time to turn to its growing community of supporters to open up a capital investment round to help the company achieve its future goals. BnkToTheFuture provided a platform perfectly suited for Bitstamp to secure funding from investors across the globe.
Bitstamp's online funding round concluded in January 2017, and raised approximately $2.4 million — exceeding the exchange's funding target by 98%.
"It has been one of the most successful (campaigns) in BnkToTheFuture's history," said Simon Dixon, CEO of BnkToTheFuture, in a press release. "And it is clear that this appetite for investing in digital asset companies, as demonstrated by Bitstamp's success today, is being fueled by the increased trust placed in digital assets globally."
BitStamp exited the crowdfunding platform in 2018 when it was acquired by investment company NXMH, resulting in a profitable exit for the 424 who invested in Bitstamp via BnkToTheFuture.
We recently spoke with Dixon about how BnkToTheFuture helps fintechs gain the funds they need to progress while connecting investors to great opportunities to expand and grow their portfolios.
Fintech Startups Raise Funds and Get Noticed Through BnkToTheFuture's Selective Platform
"We founded BnkToTheFuture in 2010 on the belief that every single financial product in the world was about to be disrupted or reshaped in some way," Dixon said.
After exploring the possibility of creating a new bank, Dixon said he decided he would rather create a place where financial technology companies could raise investments while giving investors the chance to support companies that were doing innovative things in the fintech world.
The company spent its first few years based in the U.K. where it led the way in establishing compliance models, but at the time, investor interest in the emerging cryptocurrency markets was minimal. In 2015, Dixon relocated to Hong Kong and registered with the Cayman Islands monetary authority to better integrate with international securities laws and implement BnkToTheFuture's model on a global scale.
"We've launched funding rounds for most of the major companies in crypto, including Kraken, BitPay, Bitfinex, ShapeShift and many others," Dixon said.
To date, BnkToTheFuture has helped to raise more than $750 million through funding rounds for 120 different fintech companies.
"The model that we follow is, when we invest in a company, we put it up on the BnkToTheFuture platform and we allow others to co-invest with us on the same terms, and then we package them all up into one special company," Dixon said.
This approach allows BnkToTheFuture to manage many more investors than it would otherwise be able to.
To be considered for listing on the platform, Dixon said each company creates a pitch with a video, investor deck, and term sheet. BnkToTheFuture studies the pitch and runs the company through due diligence. For the companies that pass, BnkToTheFuture then promotes the pitch to its 70,000 investors who are registered through its platform.
Dixon said BnkToTheFuture receives about 30 requests from companies per day wanting to be listed on its platform, but the investment platform only actively works with two to four companies at one time.
"We're not focused on the quantity of deals as much as the quality," he said. "We'll only get as many live on the platform as we think can pass our due diligence and gain traction with our investors."
Dixon said the biggest reward for BnkToTheFuture is when he sees a company not only secure funding through the platform but exit the platform and go on to succeed in the industry.
A Network of High Net-Worth Individuals Gain Exposure to Progressive Businesses and Diversify Their Portfolios
While BnkToTheFuture has helped many leading crypto companies secure crucial funding that allowed them to continue striving toward their goals, the platform's other focus is on providing great investment opportunities for investors.
"If you are a qualifying investor that needs to diversify your portfolio and you have an interest in gaining financial exposure to the growth of the future of finance, then we welcome you as a new member," according to the BnkToTheFuture website.
Dixon said the platform maintains the largest global online investment community of professional investors who are investing specifically in fintech and innovative technology.
"Most of our investors are high net-worth individuals, and we've got a lot of people who have made significant wealth from the crypto market," he said.
Investors may invest using the method of their choice, including credit cards, bank transfer, or one of 35 cryptocurrencies, he said.
In February, BnkToTheFuture announced it would be offering a new perk to its premium members who maintain a balance of 10,000 BFT tokens — priority access to some of the largest companies in the cryptocurrency space.
"As well as giving qualifying investors priority access to all of our usual primary market listings where we allow you to co-invest in new funding rounds of crypto and fintech startups, we will be introducing exclusively to our premium qualifying members the opportunity to build a portfolio in many of the top crypto companies in the world," according to the press release.
The companies will be listed on the BnkToTheFuture's secondary market — which operates as a platform board that enables investors to buy or sell shares held by BnkToTheFuture — but premium members will be able to invest before the companies go live on the market.
Becoming a BnkToTheFuture Investor
Dixon said BnkToTheFuture has streamlined its process to onboard new investors.
"If someone is interested in becoming an investor, they would go to the platform and enter some basic details, including which country they reside in," he said. "Then, we would have a custom onboarding process depending on the jurisdiction of the investor."
He said there are different broker-dealers who facilitate onboarding investors for different countries.
"It's all integrated into the platform — it's a very seamless user experience," Dixon said. "We also have to comply with several different types of laws, so we would have to complete the KYC and verification process. Then, they would have to complete a certification process to ensure they actually qualify to invest."
Once the account setup process is complete, he said investors will be given access to certain deals, depending on the country they live in.
"From there it's a really simple process," he said. "They simply find a deal they like, select their payment methods, and invest as they prefer. It's all done online, and it's very convenient."
The registration process is free, and as a gift for being part of the future of finance, investors may claim their first investment for free, according to the BnkToTheFuture website. And all data transfers and transactions are protected with bank-grade security procedures, including two-factor authentication and secure socket layers.
"I like the goals of BnkToTheFuture, where everything is transparent and people can see what happens with their money," said Sir Richard Branson of the investing platform. "It is great that they are offering support to entrepreneurs and businesses who will create jobs in the future."
Looking Toward Tokenization as the Next Disruptor
Dixon said many securities in the future are going to be tokenized, and BnkToTheFuture is working to position itself for success in that market.
"There's even disruption in our current model, and at the same time, we're making sure that we're disrupting ourselves and looking at the security token market whereby we could turn a lot of our equity into security tokens, and they can exist on the blockchain," he said.
Dixon said this new field is currently receiving a lot of attention.
"We've launched the BF Wallet, which is a security token wallet on iOS and Android, which allows investors to store their security tokens on their mobile device," he said. "We're also launching an exchange where people can buy and sell security tokens."
The token market is in a very early stage at this point, Dixon said, but he believes in the coming years it could be a major area of disruption in the financial market — just as he predicted the current disruption in the finance world through blockchain technology.