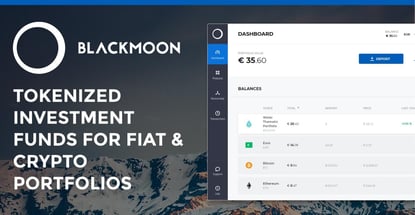 credit card news
Our experts and industry insiders blog the latest news, studies and current events from inside the credit card industry. Our articles follow strict editorial guidelines.
In a Nutshell: Investors today have more ways than ever to diversify and grow their portfolios. But, until recently, traditional investment platforms rarely crossed paths with cryptocurrency investment platforms. Blackmoon, a financial services company that uses blockchain technology to facilitate both fiat and crypto investments through its tokenization strategy, intends to change that. The company is continually evaluating how it can offer more investment options to its users and partners. In February, Blackmoon announced its Water Thematic Portfolio, which allows investors to handily invest in a selection of funds related to the water industry. And, in March, the company announced a partnership with Plato to create a on-the-fly branded Exchange Traded Indexes.
Technology-savvy investors today are faced with more options than ever to leverage the latest advances in fintech to expand their portfolios.
Many leading investment platforms offer similar versions of the same services. And until recently, investors had to go to separate platforms for fiat and cryptocurrency investments.

With
Blackmoon
, investors and asset managers can access advantages offered by both of these worlds through its tokenized investment strategy. "We're a financial services company that uses blockchain technology to create opportunities for investors to use fiat or cryptocurrency to invest in our portfolios," said Moshe Joshua, the Chief Product Officer at Blackmoon.
The company offers the only operational blockchain investment platform that, according to its site, boasts "fully automated strategies that deliver returns 24 hours a day" and a simplified user experience.
A Financial Services Company Using Blockchain to Facilitate a Wide Range of Investment Opportunities
In the finance world these days, the term token is associated with the cryptocurrency space — and rightfully so.
Tokens are a form of cryptocurrency, but they are different from coins. Cryptocurrency coins, such as Bitcoin, come with the same characteristics as real-world money. Coin owners can use coins to procure goods or services in the same way fiat money can procure goods and services.
Tokens, however, are digital assets issued by a particular project or company. The tokens may be used for payment within the company ecosystem, but they also allow the token owner to participate in the platform that distributed the tokens.
Consider a Las Vegas casino.
Gamblers exchange their fiat money for tokens that enable them to participate in the ecosystem of the casino. The tokens function like currency while they are in the casino playing games and possibly winning more tokens.
But, outside of the casino, those same tokens are basically useless in the real world. That's why people cash in their tokens before they leave.
Blackmoon has created a way to tokenize real-world investment funds within a unified tool that offers advantages of the fiat and cryptocurrency worlds to investors.
Joshua told The Fintech Times that making an investment is a difficult task to accomplish at an operational level. "For every fund manager that's actually making trading decisions and taking risks, there are probably five other people surrounding him as his support — the fund administrator, the auditor, the compliance office, the CFO, and everybody that's sitting on top of him," he said.
And that doesn't even take into consideration reporting requirements, illiquidity, brokers, exchanges, reconciliations, and numerous fraud protections.
"The whole blockchain paradigm removes a lot of that inefficiency," Joshua said. "We as a platform have made it really convenient and easy to use to ensure all of those same investor protections in a compliant and regulated atmosphere at a much better, cheaper, faster level."
Blackmoon's Asset Tokens allow investors to gain access to a variety of hedge funds, ETFs, and investment strategies available on the Blackmoon Platform.
"Blackmoon makes application of the blockchain to the asset management a reality. Blackmoon is a one-stop solution for fund managers to tokenize their investment funds in a compliant way," according to the website.
The company announced in February that investors can now fund their accounts using credit or debit cards in any currency.
Blackmoon Launches Its First Thematic Portfolio Which is Centered Around Water Funds
In March, Blackmoon announced its entry into the world of thematic portfolios with its water-themed group of funds.
"A thematic portfolio is composed of stocks bundled together by the same theme/idea," according to an announcement from Blackmoon. "The best part of it is that instead of buying dozens of separate stocks, an investor can purchase only one product of a chosen theme."
The Water Thematic Portfolio invests in companies involved in water and water-related industries.
"Water is used everywhere and hardly ever efficiently. A major part of expenditure is agriculture, around 70%. If we could save 10% of it, it would increase the resource for other uses by almost a quarter," according to Blackmoon.

The company is predicting that not only is the value of water set to increase in the coming years, so is the cost of various water-related services. With the Water Thematic Portfolio, investors will have broad exposure to the important industry.
"The portfolio is composed of companies that represent different sectors involved in the water industry worldwide, including water treatment, filtering, management, desalination, reservation, distribution, heating, and others," according to Blackmoon.
The investment fund also contains companies that are involved in agricultural water management and engineering solutions for effective water management.
Blackmoon backtested the performance of water-related companies and discovered that, historically, the industry performed better than the overall equity market tended to rebound faster from dips.
"This is the first release from the new series of investment opportunities for our users," according to Blackmoon. "In the near future, our product collection will expand significantly, so stay tuned."
Partnering with Plato to Create On-the-Fly Exchange Traded Indexes
Blackmoon also recently announced a new partnership with Plato Technologies, Inc., "a Blockchain-centric search and intelligence engine that allows users to gain secure access to deep, real-time information and data across the blockchain space."
The goal of the strategic partnership is to create on-the-fly branded Exchange Traded Indexes (ETx).
"The unique relationship between Blackmoon and Plato will allow them to work closely in order to produce the real-time ETx strategies that will be directly linked to Plato's secure data across the blockchain space," according to the press release.
Although blockchain technology may prove to be a better alternative through which companies can raise investor money, price discovery and trading liquidity require speculators to be included.
"The ETx that Blackmoon issues on behalf of its partners' brands incentivize traders and speculators to take the risk in the market, by offering them a fungible financial product to arbitrage for profit — further adding bids and offers to an STO that would otherwise not exist — effectively creating a balanced and stable price," according to the press release.
Joshua said Blackmoon and Plato maintain a shared vision of the world of investments.
"Our partnership with Plato has been well received and we have already produced some momentum in going forward. We are keen on capitalizing on this energy by working together to release the Plato on-the-fly ETx ' s soon and produce a global investment opportunity for investors," said Oleg Seydak, CEO of Blackmoon.
The strategic partnership between Blackmoon and Plato is one of many that Blackmoon envisions forming in the coming months, according to Blackmoon. The company's vision is to have an entire suite of ETx's to offer Blackmoon clients as well as the clients of its partners.
Blackmoon has other exciting developments around the corner as well. The company announced in March that it will offer the opportunity for investors to receive access to Lyft's upcoming IPO. The offering will be available for all Blackmoon users, with some exceptions based on regional restrictions. And Blackmoon removes the lock-up period for users so they can start trading soon after the IPO.
With Blackmoon's tokenized approach to finance, investors now have a one-stop platform in which they can invest, trade, and manage both fiat and cryptocurrency assets.