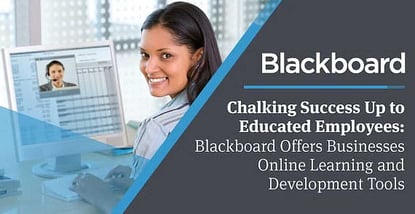 credit card news
Our experts and industry insiders blog the latest news, studies and current events from inside the credit card industry. Our articles follow strict editorial guidelines.
In a Nutshell: Education doesn't end the moment someone is handed a diploma or degree. This is particularly true in the business world, where smart companies understand the need to not only train new employees, but to take it a step further by instituting learning and development programs that help them grow. Founded in 1997 in the traditional world of education, Blackboard has evolved to become a tool used by more than 1,800 businesses keen on keeping their workforce on the cutting edge. With technological advancement affecting virtually every industry, educating employees has become crucial to keep businesses from becoming obsolete.
Businesses are only as good as the people behind them. Hiring managers and human resources departments spend a lot of time and effort looking for talented candidates to fill crucial roles inside a company. But what happens after someone has accepted the job can be even more important to a company's long-term growth.
From the training and onboarding that begins on day one to the continuing education and career development that span a career, it's important that businesses invest in educating their workforces. Technology and processes are changing all the time in virtually every industry, which puts an onus on companies to train employees constantly or risk them becoming outdated and obsolete.
We recently spoke with Tom Holz, Senior Director of the Business and Government Division for Blackboard, an online learning platform with roots in traditional education that has evolved to bring e-learning to the business world and other sectors.
"I think every organization — retail or otherwise — needs to think about, 'How do I help my people be more successful?' and 'What do I need to do to help them learn and grow?'" Tom said. "Those organizations that invest in their people will generally continue to grow. We've all seen companies go out of business because they don't continue to grow or they don't continue to invest in their people."
Tom told us top performers in the business world now have more leverage as companies compete for the most talented people in each field. Many of these workers won't stay at a company where they aren't getting the resources they need to grow.
"The top 20-30% of your workplace is willing to go wherever they feel they are getting invested in," Tom said. "That top talent is always in demand."
With the steady growth of the e-learning space, Blackboard is in prime position to help companies educate their employees through a platform that gives businesses the tools to actually help workers learn. This doesn't just mean checking off a box that says a worker took an online course. Blackboard was built to help employees learn at their own pace with on-demand content and collaborative tools they can use to get better at their jobs, which tends to rub off on a company's bottom line.
From Classrooms to Boardrooms, Blackboard has Evolved to Serve the Business World
As the company's schoolroom-inspired name might imply, Blackboard was founded in 1997 with a focus on serving the traditional higher education system. Even early on, before Blackboard had an entire division dedicated to growing its business and government clientele, a couple of companies — Intel and Mortgage Bankers Association — saw the value in an e-learning platform that actually prioritized education and development.
"The reason they started to use Blackboard was because they realized that the application was really focused on helping people learn and grow and not just helping manage data and report it for leadership," Tom said.
In 2003, Tom was one of the founding members of Blackboard's Business and Government Division, which now includes 1,800 clients and has started to add international businesses as well. While the education system is still a primary focus for Blackboard, its applications have served the business world well. Part of this comes from the platform's affordability and its flexibility in providing educational tools for both SMBs and global enterprises.
"We have over 100 million people who use our solutions," Tom said. "Sure, a lot of that is in the education space — and we're proud of those roots — but we have more clients in our corporate and government space than most companies that only focus on that."
Part of Blackboard's success in online education for business stems from a willingness to provide consultation and individualized solutions for what each company needs. Some businesses approach Blackboard with a Learning Management System (LMS) already in place, but are looking for something specific for a project. For example, German chemical and pharmaceutical giant Bayer approached Blackboard for assistance with training its sales team in Latin America.
"In their case, they said we need something that's really focused on helping our sales people, and the current corporate LMS that we have in place isn't doing that so we need a system that caters to our people that's really about learning," Tom said.
Companies Cultivate Better Employees By Prioritizing Learning in Training Programs
While Blackboard has a lot of competition in the online education space, Tom told us the company's experience and dedication to learning help it stand out.
"All Blackboard really cares about is learning," Tom said. "We help companies learn and grow, as well as higher education, K-12, military, and federal, local, and state governments. That's where we're really different."
One company that's seen this firsthand is Jiffy Lube. The automotive service chain leveraged Blackboard's combination of real-time virtual training software and on-demand video content to develop a program to train almost 5,000 employees. A commitment to education has helped Jiffy Lube land in the top five of Training Magazine's Training Top 125 rankings for the past four straight years, which is likely why the chain maintains high customer service marks.
As far as Blackboard's business solutions, there are two key pieces of the platform: Blackboard Learn™ and Blackboard Collaborate™. Tom explained to us the advantages of each.
"I like to think about our Blackboard Learn application — our virtual learning environment — as a Learning Development System as opposed to an LMS because LMS, to me, is really about management more than it's about learning," Tom said. "And our real-time collaboration or web conferencing technology, Blackboard Collaborate, is used alongside our Learning Development Solution to help our clients' employees learn and grow."
A major perk of the Blackboard platform is that clients can deploy it in such a way that content remains accessible online for whenever an employee needs to use it for reference or educational purposes for a particular situation or problem.
"That's one of the biggest benefits of using a platform like Blackboard because you can revisit content whenever you want to," Tom said. "If you look at the data, people lose more than 80% of the information within a couple of days when you do it in a traditional face-to-face way without any follow up."
Blackboard is Part of the Expanding E-Learning Movement to Support Remote Workforces
A 2017 survey reported that 43% of employed Americans worked remotely on occasion. The same report said that a flexible schedule and the chance to work from home greatly influenced an employee's decision to accept a job or stay with a company. Tom told us this growing work-from-home movement has led to a real boom in the online learning space.
"I think it's an exciting time for us. It's really grown in the last couple of years as companies are starting to believe in online learning development," Tom said. "Companies are starting to have more and more of their workforces become remote, and they have to be able to reach them."
Through software that supports web conferencing, mass notifications, and educational programs, Blackboard is helping these companies close the gap between headquarters and employees who may be located all over the globe.
While Blackboard might have a lot of competition in the e-learning space, it's ability to handle scale while keeping costs low has led to tremendous growth in the business world, where companies have come to rely on the platform to help nurture talented employees into future leaders.