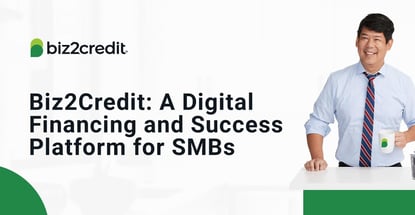 Our experts and industry insiders blog the latest news, studies and current events from inside the credit card industry. Our articles follow strict editorial guidelines.
In a Nutshell: Biz2Credit is a digital financing platform for SMBs that delivers funding solutions directly to small business owners in as little as 48 hours. Its extensive collection of free tools and educational resources support immigrant and minority entrepreneurs who may be new to doing business in the US. So far, Biz2Credit working capital and loan solutions have helped more than 200,000 SMBs grow.
Rohit Arora and his brother, Ramit Arora, were first-generation US immigrants from India when they started Biz2Credit in 2007 to help SMBs access credit. They understood that while starting a business is always a challenge, entrepreneurs from traditionally underserved populations face additional hurdles.
Immigrants, women, and minorities tend to bring less capital to their businesses and receive proportionately fewer and smaller loans. Entrepreneurs in those groups may not be as well versed in best practices for starting, managing, and growing a company.
Biz2Credit has developed as a lending platform by providing business owners a range of financing options all in one place. It offers an automated digital application process and aims to deliver loan offers quickly.

Traditional lenders, like banks, consider credit scores and other standard benchmarks, but Biz2Credit also looks beyond traditional creditworthiness metrics to give every business owner the best chance possible of qualifying for funding. Loan amounts start at $25,000 and range up to $6 million.
The platform also adds a great deal of value for borrowers. Its free Knowledge Center and Business Toolkit resources help SMBs succeed. Content aimed at underserved entrepreneurs offers additional insights and encouragement.
Biz2Credit partners with the American Institute of Certified Public Accountants (AICPA) to connect more than 6,000 CPAs and their clients to its lending network. It also licenses its innovative platform technology to more than 40 banks, which use it to fuel their SMB lending departments.
Rohit, who serves as the company's CEO, said Biz2Credit aims to help entrepreneurs accomplish more than they could on their own.
"Setting up a small business is tough, and managing it is even tougher," Rohit said. "But for many of our customers, this is their life's work."
Streamlined Process Generates Tailored Loan Offers
Biz2Credit ultimately acts as a matchmaker: connecting small businesses with the best kind of capital for their unique circumstances.
Applying for credit is easy, and creating an account and profile takes less than a minute. Applicants answer a brief prequalification questionnaire and connect their business bank accounts.
Cutting-edge platform technology includes a dynamic dashboard where applicants monitor their status in real time. Automated financial statement analysis determines creditworthiness and targets preferred lenders.
The platform typically returns an offer within a day or so. Working capital loans repaid daily, weekly, or bimonthly from business receipts start at $25,000 and range to more than $2 million.
Watch on
Repayment periods for weekly, bimonthly, and monthly term loans of up to $500,000 range from 12 to 36 months. Biz2Credit also extends commercial real estate loans of up to $6 million.
Any type of SMB can access funding, and Biz2Credit makes specialists available via phone and email to answer questions and provide guidance. That personal touch can extend across the entire growth trajectory of a business.
"We strive to help businesses through multiple cycles — working capital, term loans, commercial real estate, and equipment," Rohit said. "The more credit history they have with us, the better products and pricing we can offer."
It's always a point of pride when the company helps a small business get up and running. But the arrival of a new business in a traditionally underserved community has an impact beyond dollars and cents.
"Those entrepreneurs become role models in their neighborhoods and communities," Rohit said.
Free Knowledge Center and Business Support Toolkit
Biz2Credit educational and business development resources reinforce the platform's mission of assisting SMBs at all stages of development.
One highlight of its Knowledge Center is the Small Business Lending Index, a monthly compendium that leverages Biz2Credit platform data. The index compiles SMB loan approval percentages among various lending classes to assess the market comparatively and is often featured on popular news outlets.
The Knowledge Center also includes an impressive collection of financing how-tos for SMBs by type and industry. Research reports, ebooks, guides, webinars, and a blog contribute insights on many topics facing underserved entrepreneurs. Success stories illustrate Biz2Credit's effectiveness as a catalyst for SMB success.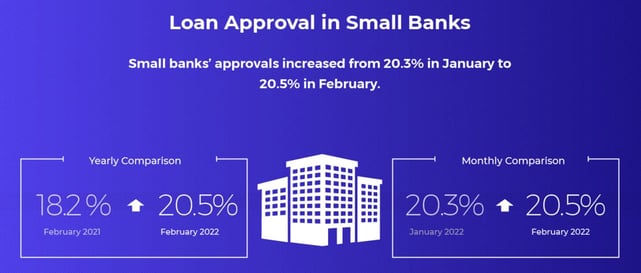 A 2022 research report on women-owned SMBs found Texas and Georgia were the top states for loan requests from women-owned firms. The report was published on March 8, 2022 — International Women's Day. And every fall, Biz2Credit publishes an analysis of Latino-owned business performance.
"It's a mission," Rohit said. "As first-generation immigrants, we're passionate about serving minority- and women-owned businesses."
In the Business Toolkit, an English-language glossary familiarizes entrepreneurs with arcane business terminology. Calculators assist in computing the credit potential of various types of operations, and an innovative BizAnalyzer assesses the financial health of firms and offers advice for improvement.
"The BizAnalyzer is a free virtual CFO platform," Rohit said. "It helps entrepreneurs analyze their bank accounts, find alternatives to paying high overdraft fees, and improve their credit, cash flow, and business profile."
Biz2Credit: Billions in Funding for 200,000+ SMBs
Biz2Credit has issued more than $7 billion in loans to more than 200,000 SMBs, and it connects borrowers to banks, fintechs, credit funds, hedge funds, and other lenders. The company performs a critical role in boosting economic potential and social progress for underserved entrepreneurs in the US.
And Biz2Credit continues to reach out and forge additional connections. Its CPA Business Funding Portal, created in partnership with AICPA, has delivered more than $1 billion in business loans and financing. CPAs receive preferred pricing and predictable rates, higher loan thresholds, and more earning potential for their firms.
As of April 2022, the Biz2Credit portal can connect accountants with small-business entrepreneurs who need their services. The platform also partners with insurance companies and other merchant services providers.
Through an associated business, Biz2X, Biz2Credit delivers its platform technology to the broader lending community. National, regional, and community banks can leverage Biz2X to digitize access and perform data analytics around SMB credit product lines, including lines of credit, term loans, and credit cards.
And Biz2Credit continues to refine its methodologies. Proprietary code compiles a view of a company's credit potential by considering factors including the founder's credit score, the company's inventory, cash flow, and other intangibles.
Products carry more competitive rates than conventional business credit cards and often have the advantage of fixed rates compared to the typical floating credit card interest rates most business owners are used to.
The BizAnalyzer virtual CFO is there to help business owners benchmark their financial performance and enhance the creditworthiness for companies that may not have been in a position to get funded earlier. That platform continues to grow more intelligent and customizable.
"It's like any good ecosystem," Rohit said. "The better it becomes, the better it is for everyone."