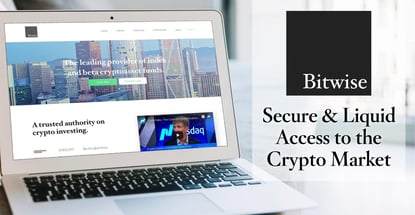 credit card news
Our experts and industry insiders blog the latest news, studies and current events from inside the credit card industry. Our articles follow strict editorial guidelines.
In a Nutshell: In the past year, investors have gone from asking what cryptocurrency is to how they can invest in the digital currencies. Bitwise Asset Management helps to answer these questions by offering the world's first cryptocurrency index fund, the Bitwise 10 Private Index Fund, as well as single-coin funds for Bitcoin and Ethereum. We recently spoke with Martha Shear, the Managing Director and Head of Business Development for Bitwise, about how crypto index funds could benefit investors and portfolios, and Bitwise's approach to serving investors. Shear also discussed how investors should thoroughly research the crypto market and companies they want to do business with before diving into the space.
In early 2018, executives at Bitwise Asset Management were often asked by investors what, exactly, is this cryptocurrency they keep hearing about? How does it work?
Six months later, instead of wondering what crypto was, curious investors were asking whether they should invest in digital currency, or if the decentralized marketplace was just a passing trend.
"Increasingly, the question we get now is, 'How do I invest in crypto?'" said Martha Shear, Managing Director and Head of Business Development for Bitwise. The company offers a cryptocurrency index fund and helps expose investors to digital currency options.
"We've been meeting with leading institutions across the country and what I'm most excited about is how the conversation is evolving," she said. "Many institutions learn by investing, and in crypto they are looking for a partner to invest with and help them create a framework to value crypto and understand the operational complexities, like custody."
Shear said investors are coming around to the notion that cryptocurrency is here to stay.
"Bitcoin has been around for 10 years now, and it has continued to evolve and increase in value and overall market share," she said. "Looking at Bitcoin, investors can see how cryptocurrency has demonstrated staying power."
The growing number of investments in crypto and blockchain by venture firms, combined with the fact that many of the smartest developers in the world are working in crypto, is further evidence that cryptocurrency is worth considering as an investment, Shear said.
Bitwise was founded in 2017 with the mission to make it easier to invest in cryptoassets by providing investors with a diversified and secure way to get exposure to the market. The company launched the world's first cryptocurrency index fund — its flagship Bitwise 10 Private Index Fund — and offers the single-coin Bitwise Bitcoin Fund and Bitwise Ethereum Fund as well.
How Investors Can Benefit from a Crypto Index Fund
When deciding how to approach entering the world of cryptocurrency assets, Shear said that investors should consider how much time and effort they are interested in devoting to crypto and to managing their exposure.
"Crypto is more volatile than traditional assets, so does an investor want to be rebalancing their portfolio regularly? Do they want to be monitoring it on a regular basis?" Shear asked. "If the answer is no, then finding a trusted investment partner that can do that on your behalf can be a good solution."
An indexed approach to cryptocurrency could be an optimal way to gain access to this space and to the investment opportunities within, she said.
The Bitwise 10 Private Index Fund comprises the top 10 cryptocurrency assets, which represent 80% of the crypto market. The fund is available as the Bitwise 10 Private Index Fund for U.S. investors and as the Bitwise 10 Index Offshore Fund for international investors.
As of March 2019, the Bitwise 10 Large Cap Crypto Index components were Bitcoin, Ethereum, Ripple, Litecoin, EOS, Bitcoin Cash, Stellar Lumens, Dash, Monero, and Zcash.
"We rebalance the index on a monthly basis in an effort to provide exposure to the most valuable assets while also screening for uncompensated-for risks where possible," Shear said.
Bitwise research, based on price histories of traditional assets and cryptocurrency, indicates that historically with even a 1% allocation to crypto, portfolios may see higher returns than with traditional investments alone.
The world is just seeing the very early stages of the cryptocurrency market, she said, and while Shear can't predict how many, or which, companies may prevail she is confident that crypto is here to stay.
"As an investor, I want to have early exposure to the crypto space," she said.
Research is Key When Investing in Cryptocurrency Assets
"I would encourage any investor who is considering allocating to cryptocurrency, first and foremost, to do their research," Shear said. "Determine what questions to ask and what answers to expect. And work with an investment partner that has earned your trust."
For investors who plan on purchasing crypto or executing trades on their own, she said determining which platform to use and evaluating its legitimacy is key.
This includes conducting due diligence and researching the firm thoroughly.
"You also want to find out if a company has many investors, who those investors are, does the organization appear in mainstream media, how is it funded? You should expect the same level of institutionalism and professionalism within crypto as you do for any other asset class." — Martha Shear, Managing Director and Head of Business Development for Bitwise
Those who plan on working with an asset manager should speak with at least a couple of different companies to hear the differences in answers and gain a sense of their investment philosophy and if it aligns with their objectives, Shear said.
"There's a number of ways to verify the validity of a partner or a service provider in crypto, just as there is in any other industry," she said. "I think the key is to remove the word 'crypto' from the equation and research companies as you normally would."
She said investors will also need to consider what portion of funds they will want to allocate to cryptocurrency.
Client Needs Come First with Top-Level Security, Automated Tax Preparation, and Firsthand Market Research
"We do a tremendous amount of research and monitoring — not just of the crypto assets themselves — but also the service providers in the space, the custodians, exchanges, auditors, legal, and others to make sure we are operating with the best-in-class across the industry," Shear said.
"We don't want our investors to be worried about the operational risk," she said. "And we take it upon ourselves to be working with the very best in the industry."
That philosophy carries through to Bitwise's approach to security as well.
"Assets are held in 100% cold storage with multi-signature configuration," according to the company website. "Bitwise uses a third-party custodian and continuously evaluates security development to stay up to date on industry best practices."
Bitwise also helps keep tax preparation easy for its clients. The company sends all investors a simple Schedule K-1 form to reduce complexities around cryptocurrency filing, according to the website.
Shear said investors interested to learn more about the cryptocurrency space or Bitwise can request further information via the company's website or freely access its published research.
Bitwise makes its research reports easily accessible via the company's website. Recent reports include "The Case for Diversification Within Crypto Investing," "The Case for Crypto In An Institutional Portfolio," and "Inaugural Survey of Financial Advisor Attitudes Toward Cryptoassets."
"Bitwise actively evaluates network opportunities including hard forks, airdrops, staking rewards, super- and master-node rewards, and emissions, and captures available benefits for fund investors where appropriate," according to the Bitwise website.
The company also regularly publishes news, research briefs, and other valuable information about the crypto market on its website.
"We have a tool available on our website where you can plug in your portfolio and see what it would hypothetically look like with a 1%, 2%, or 5% allocation to cryptocurrency, based on historical data," she said. "I encourage investors to explore this."
Shear said that, with the cryptocurrency market still in its infancy, its full potential is not yet known, but she believes that crypto is poised to make a big impact. She compared the evolving crypto market and its underlying technology to tech booms of the past.
"I don't think anyone would have thought when the internet was first being utilized that it would evolve into the massive scale and use cases we see with it today," she said.