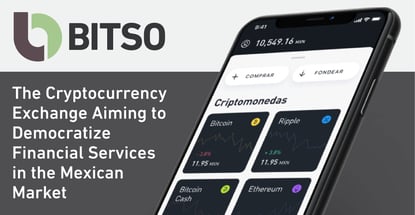 credit card news
Our experts and industry insiders blog the latest news, studies and current events from inside the credit card industry. Our articles follow strict editorial guidelines.
In a Nutshell: Many Mexican consumers choose not to have bank accounts or credit cards, while others simply don't have proper access to financial institutions. On the other hand, many Mexican residents own smartphones and have access to the internet. Bitso is a cryptocurrency exchange that is seeking to democratize financial services in Mexico with its easy-to-use platform. The company prioritizes quality customer support in its mission to deliver crypto accessibility to Mexico. Bitso implements top security protocols and, with its recent partnership with Kaiko and the Blockchain Transparency Institute, is working to maintain transparency and accountability in the cryptocurrency space.
In 2008, the Bitcoin whitepaper would set in motion the technological revolution we are experiencing today as blockchain and cryptocurrencies continue to evolve and find new use cases.
At the same time, Pablo Gonzalez was also literally setting things in motion in Canada. As the Director of a Canadian ad agency, Goldtooth Collective, Gonzalez's roles included motion designer, compositor, and director for numerous video game advertisement cinematics.

But, when the Mexican native learned about Bitcoin and the potential the decentralized cryptocurrency held for the future of finance and digital transactions, he left the design industry altogether and moved back to Mexico in 2013.
It wasn't long before Gonzalez, along with colleagues Ben Peters and Daniel Vogel, launched Bitso — a Mexican cryptocurrency exchange.
"Pablo realized he had just become aware of a very powerful tool that could improve people's lives significantly, especially in countries like Mexico where there's a huge need for financial inclusion," said Gabriela Belden, Bitso's Head of Marketing.
Gonzalez explained on the Bitcoin Knowledge Podcast how Mexico's culture makes it a country that could greatly benefit from adopting the use of cryptocurrencies. He said that seven out of 10 Mexicans do not have bank accounts, and only 12% have credit cards. Yet, smartphones are prevalent.
He further explained that the high number of unbanked Mexicans is due to a combination of a population that is wary of putting its trust in banks and the government, and in some cases, not having access to a financial institution in the region.
"Cryptocurrency technology is still under development, but they knew they had to develop the technology necessary to improve remittances fees and timings, peer-to-peer payments, and give Mexicans access to cryptocurrencies," Belden said.
Ease of Use and Customer Support are Central Components to Bitso's User Experience
Bitso's mission is to democratize financial services, Belden said.
She described the exchange as "a digital financial services platform without borders that operates 24/7 and allows users to have absolute control over their fiat money or cryptocurrencies, reducing time and transaction costs when compared with traditional models."
Ever since the exchange was launched in 2014, the company has focused intently on simplicity and ease of use — always striving to be the easiest avenue to buy, sell, and use cryptocurrencies.
Currently, users can buy and sell Bitcoin, Ethereum, Ripple, Litecoin, Bitcoin Cash, TrueUSD, Decentraland, Golem, and Basic Attention Token, with plans to add more cryptos in the future.
"Additionally, one of the main differences when comparing to similar initiatives is our immediate customer support," Belden said. "Bitso has several support channels: email, live chat support (in which the maximum response time is five minutes and is available from 10 a.m. to 6 p.m.), social media (Twitter, Facebook, YouTube, and Instagram), community chat on Telegram — always offering the best possible service to our users."
And getting started on the exchange gets easier as time goes by, she said, noting that the company designed the onboarding process to be simple and fast, ensuring that everyone who wants to join will be encouraged to do so.
Bitso users can begin using the exchange with as little as a 100 pesos. Customers can even fund their Bitso accounts at more than 135,000 convenience store locations across Mexico.
Belden said convenience and simplicity are also the driving motivation behind the Bitso app.
"We know everything is easier when using smartphones — even buying cryptocurrencies," she said. "With our app, sending money is as simple as sending a text message."
One of the Most Secure Crypto Exchanges in Latin America
"According to ICOrating, Bitso is the safest platform in Latin America, and it is among the 20 best-rated platforms in the world," Belden said. And the company touts following the best security processes and practices in the industry.
The company maintains a department solely focused on risk detection, prohibiting illicit uses, and identifying hacking attempts, she said, in addition to a specialized cybersecurity team that is continually updating and improving its protocols.
Bitso also implements rigorous anti-money laundering policies and technology.
The platform launched with strict security features built into the program before external regulations were in place, she said, because the company wanted to maintain the best security practices from the very beginning. Belden said Bitso's security features were used as an example when legislators wrote Mexico's Law of Financial Technology.
The 2018 law brings regulatory clarity to Mexico's quickly growing fintech sector, according to Reuters.
The law is also intended to ensure safety for the users of fintech, prevent money laundering, increase competition in the space, and promote financial stability.
"It's also important to note that Bitso is a platform where the user is 100% identifiable," Belden said.
Additional security components include two-factor authentication at login and multi-signature wallets.
"Multi-sig security technology is a type of security for wallets that needs multiple private keys in order to make a Bitcoin transfer," according to Bitso. "This technology provides much higher security for safeguarding your Bitcoins."
Partnering with Kaiko and the Blockchain Transparency Institute in Support of Responsible Growth
In April, Bitso announced a partnership with fintech organizations Kaiko and the Blockchain Transparency Institute (BTI) to help support the responsible development and technological growth in the space.
"At Bitso, we are committed to ensuring that crypto is a trustworthy industry. We believe transparent and reliable data sources can contribute significantly to these efforts," according to the company in an announcement.
Kaiko is known as the leading provider of institutional grade cryptocurrency market data, while the BTI, as its name suggests, strives to bring more transparency to the cryptocurrency industry through research and identifying wash trading.
Wash trading is the practice of buying and selling a crypto asset simultaneously giving the digital currency a misleading indication of trading and selling volume with the intent of causing artificial boosts in the price.
More than 60% of volume reported by coinmarketcap.com has been identified as artificially inflated by wash trading, according to BTI and Bitwise.
"Bitso's goal is to be a reliable and transparent exchange with a commitment to prevent and to monitor any type of market manipulation. By partnering with Kaiko and BTI, we are ensuring that the information on our markets is always available, that it can be audited by any third party and that our markets are being monitored to prevent bad practices like wash trading." — Bitso
By entering into partnerships with reliable data providers in the fintech space, Bitso is not only helping to keep the market free from corruption, but it is helping to solidify its position as one of Latin America's most reliable cryptocurrency exchanges, according to the company.
Gonzalez was accurate in suggesting that a need for cryptocurrencies exists in Mexico. The country has seen a high rate of crypto adoption over the past few years and some experts are predicting that its use will continue to rise, perhaps significantly. And Bitso is helping to fuel the adoption with its secure and easy-to-use platform.