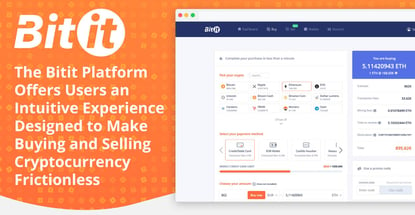 credit card news
Our experts and industry insiders blog the latest news, studies and current events from inside the credit card industry. Our articles follow strict editorial guidelines.
In a Nutshell: Cryptocurrency hasn't caught on with the majority of mainstream investors yet, partly due to its complex nature. But crypto is poised to solve cost and accessibility problems inherent in traditional financial systems. Bitit is a platform for those who are interested in crypto's benefits, but don't know where — or how — to get started. The platform allows more than 300,000 users in 70 countries to invest in leading cryptocurrencies using the payment method of their choice, without needing in-depth knowledge of its underlying technology.
Nicolas Katan and Ugo Mare started experimenting with Bitcoin mining while studying in Paris in 2013 and 2014. The process involved leveraging their computers to solve complex problems to verify blockchain transaction information. When miners add those cryptographically secure blocks of verified transactions to the blockchain, they receive Bitcoin as compensation.
But, like many would-be Bitcoin miners, Katan and Mare struggled to make the energy-intensive process profitable. So they started investing in Bitcoin and trading the cryptocurrency on the open market instead.
There, too, the pair encountered obstacles. While they were familiar enough with blockchain technology to navigate cryptocurrency exchanges, they realized that the platforms were too complicated for less tech-savvy users to understand.

So Katan and Mare, along with friend Simon Potier, started building a cryptocurrency investment solution that everyday people could use. By November 2015, the trio co-founded Bitit, a platform that makes it easy for even novice users to quickly and securely buy and sell Bitcoin and other popular cryptocurrencies.
"We saw that the exchanges failed to provide a mainstream solution for buying and selling crypto," said Katan, Bitit's CEO. "Know-your-customer (KYC) and anti-money-laundering (AML) procedures were too intricate, and there was little consideration paid to user experience. Integration with relevant local payment methods was also spotty. All of those can be quite complex — and it makes it very difficult for people to access crypto."
Bitit democratizes cryptocurrency investing and brings in users who are new to the space. That is a dynamic that could help usher in the mainstream adoption of crypto. And, so far, more than 300,000 customers around the world have used Bitit to access leading blockchain assets without headaches.
"That's why we created Bitit," Katan said. "We're on a mission to make cryptocurrency purchases frictionless for everyone."
Buy & Sell Crypto Using Your Preferred Payment Method
The Bitit team aimed to build a platform that bridged the gap between the world of fiat and cryptocurrency while maintaining a secure environment for users.
"That means adding as many countries and payment methods as we can," Katan said.
Bitit now offers services in more than 70 countries, works with a range of local currencies, accommodates a variety of additional payment methods, and is actively expanding.
"It's possible because we've created strong relationships with banks, payment processors, and over-the-counter brokers that have enabled us to create a unique, robust, and redundant fiat-to-crypto platform," Katan said.
Among the local currencies Bitit supports are the euro, the U.S. dollar, the British pound, the Chinese renminbi, and more than a dozen others. Supported card networks include Visa and Mastercard and Mastercard's Maestro debit and prepaid line. Within the Single Euro Payments Area (SEPA), Bitit also accepts direct bank transfers in euros.
To accommodate cash-only customers, Bitit also accepts prepaid cash vouchers from Neosurf and Cashlib, available at more than 150,000 store locations around the globe. The platform even includes a handy store locator to ease the path from cash to card to crypto.
Bitit also strives to accommodate as many cryptocurrencies as possible. After starting exclusively with Bitcoin in 2015, the platform launched support for the popular Ethereum coin in 2017. Bitit has since added more than 30 additional coins, making it a global leader in crypto availability.
Crypto exchanges with such a global reach typically only work with a limited number of currencies. And when a platform expands the number of currencies it accepts, it only works within a limited area (such as SEPA). But Bitit changes that dynamic.
"On no other platform can you buy as many altcoins as we have with a credit card," Katan said.
Secure and Compliant Architecture Puts Users in Control
Katan and the Bitit team have focused not just on accessibility and variety, but on speed and security as well. Bitit operates in full compliance with EU anti-money laundering (AML) and know-your-customer (KYC) policies — which are the strictest in the world. But it also verifies users, an additional security step that provides more peace of mind.
"To be verified on Bitit, a user needs to provide an ID and a selfie holding the ID," Katan said. "Most of the time, verification happens in less than five minutes. On other platforms, that process might take from 24 to 48 hours — it can be really frustrating."
Bitit is committed to strict EU know-your-customer and anti-money laundering compliance even though it isn't required. That's because it doesn't maintain custody of user crypto wallets or private access keys as do many other popular exchanges, and also because Bitit does not operate a platform or a marketplace that connects the buyers and sellers of crypto assets. Instead, Bitit holds a stock of and sells crypto-assets on its own account. Bitit is the direct counterparty in the crypto-asset purchase transaction/agreement of each crypto asset supplier and customer, respectively.
"A non-custodial platform like Bitit can be a bit of a challenge for first-time customers who wish to access Bitcoin easily," Katan said. "Why? Because they need to create their own personal wallet first."
But, in Katan's view, that guards against potential disaster.
"With a centralized cryptocurrency exchange, you don't own your private key — you give away control of your crypto and private key to the exchange," he said. "Bitit gives the customer full control over their money — and the private key necessary to access it."
Democratizing Cryptocurrency by Focusing on Execution
Bitit began with a focus on ease of use, and that commitment has attracted hundreds of thousands to the platform almost entirely through word of mouth.
"From the beginning, our goal was to reach the world — not only people in developed countries but in emerging countries as well," Katan said. "One of the key things driving adoption is our clear, transparent, and user-experience-driven platform."
Newcomers to investing in cryptocurrency can find the experience confusing and time-consuming just as it was for Katan and Mare back in their days of experimenting with Bitcoin mining and then with crypto trading. On many current platforms, crucial bits of instruction — how funds are added, how orders are placed, how accounts are secured — are buried under layers of techspeak and complexity.
"On Bitit, we want customers to understand all these things in minutes — so we create a clear user experience," Katan said. "If your goal is to democratize Bitcoin for everyone, you're not going to get there with an unfriendly product."
On the horizon, Bitit plans to continue pushing for more accessibility. Among the team's objectives for 2020 are releasing a mobile app, lowering their already-low fees, and introducing a customer incentive program. And those initiatives will add to Bitit's already hefty list of accomplishments.
"In less than four years, based on our strong partnerships with banks and providers, we've created a beautiful product that people can easily understand and use," Katan said.