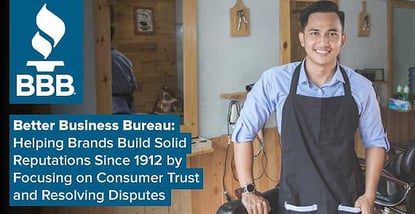 credit card news
Our experts and industry insiders blog the latest news, studies and current events from inside the credit card industry. Our articles follow strict editorial guidelines.
In a Nutshell: Businesses know that satisfied, loyal customers drive success, but it's not easy to build the reputation and trust that inspires that level of devotion. For the past 100 years, the Better Business Bureau has educated consumers and shown businesses how to build strong brands through honest advertising, ethical practices, and dispute resolution. Businesses can create a BBB profile and stay informed about best practices that can help them maintain a good rating — and their customers' trust. If eligible, they can apply for BBB accreditation to earn additional consumer confidence. The Better Business Bureau serves as an entrepreneur's trusted partner in achieving the highest levels of brand integrity and customer satisfaction.
As the retail industry continues to grow more consumer directed and competitive, companies can often lose focus on building trust in their brand. One of the most vital tasks for businesses is cultivating a good reputation with customers — not only for the quality of their products but also their honest advertising and responsive customer service.
Many business owners are familiar with the universally recognized symbol — the Better Business Bureau seal of accreditation — that gives customers confidence in the oversight of their business practices and the integrity of their brand.
The BBB aims to maintain trust between businesses and consumers by rating a company's compliance with a code of conduct that sets high standards of service in areas like honesty, regulatory compliance, and data security, among others.
"BBB was founded in 1912 to promote truth in advertising and trustworthy business practices, and that continues to be core to our mission of marketplace trust," said Beverly Baskin, President and CEO of the Council of Better Business Bureaus.
The BBB is more than a business practice watchdog; it is actively helping companies learn what it takes to build a respected brand with programs dedicated to building consumer trust. And BBB Accredited Businesses have access to tools and resources on best practices, and guidance to maintain consumer trust.
Built on a Foundation of Transparency and Accountability
Although many consumers are familiar with the Better Business Bureau as an entity that evaluates businesses for integrity and scores their customer service, the organization's roots stretch back to the move toward honesty in advertising. In 1912, the BBB was founded by a group of advertising executives who created a manifesto for more truthful advertising after recognizing the growing public distrust of advertising claims.
Today, the BBB still has several national programs, including the Advertising Self-Regulatory Council, which address truth in advertising based on the BBB Code of Advertising that all businesses must adhere to, whether they're part of the BBB or not.
"The cornerstone of every relationship is trust, and the relationship between a business and its customers is no different," Beverly said. "Our vision is a marketplace where buyers and sellers can trust each other, and that is as true today as it has ever been."
The BBB wrote its manifesto and launched its first location in Minnesota in 1912. A few years later, customers began requesting information about various businesses, spurring the BBB to get more active with dispute resolution — one of the areas in which it now specializes.
By promoting truth in advertising and showing business owners the benefits of being accountable and engaged, the Better Business Bureau not only protects consumers from false or misleading practices, but also provides retailers with the foundation they need to gain consumer trust, avoid bad publicity, and grow a loyal customer base.
Companies Earn Ratings for Maintaining Consumer Trust
The BBB makes it easy for businesses to quickly start building their reputation with a profile, accreditation, and ratings. While the consumer-facing Better Business Bureau, few know of the Council of Better Business Bureaus, the umbrella organization for the local, independent BBBs in the US, Canada and Mexico that is home to its national and international programs on dispute resolution, advertising review, and industry self-regulation.
"Businesses that meet the BBB Standards for Trust are welcomed to apply for accreditation and to join the more than 384,000 BBB Accredited Businesses who support our mission of trust in the marketplace," Beverly told us. "The main benefit is both immediate and long-term, and that is being part of the organization most associated with 'trust' that consumers turn to nearly a quarter of a billion times a year to help them find businesses, brands, and charities they can trust."
Through BBB For Business, an entity can apply for accreditation, enroll in programs, and access resources and toolkits on best practices. And a business can see an immediate benefit from accreditation. A Consumer Reports study found that 71% of shoppers look for a trusted seal, like that of the BBB, before they make an online purchase.
If you aren't ready to pursue accreditation, but still want to make your company more visible to customers, you can creating a free profile — the BBB currently has 5.2 million business profiles. And businesses are rated on their profile whether they are accredited or not.
Accreditation is the next step, which requires applying with the BBB and pledging to meet its Code of Business Practices, built on the BBB Standards for Trust. Accreditation is done at the local level where the business is headquartered and can either be tied to one profile or filed separately by chain or branch location — depending on whether a business prefers to handle complaints at the corporate or local level.
In the past, the BBB didn't rate or accredit businesses in their first year of operation, but recent market trends have moved them to shorten that time frame to six months. And with an accreditation come benefits, including access to the BBB's famed seal.
"The most tangible benefit for businesses is that they may display the BBB seal in their place of business, in their marketing materials, and on their website to let consumers know they meet our standards," Beverly said.
The rating system — based on a 100-point scale — ranges from the lowest rating of F to the highest rating of A+, and companies can lose points for a variety of different reasons. For instance, a business can be downgraded if the volume of complaints is too high compared to its size, complaints aren't being addressed quickly, advertising is untruthful. The BBB also reports pending government actions on business profiles, but ratings aren't adjusted until the action is settled.
Counseling Brands for Earning Back Customer Confidence
The BBB's work as a liaison between businesses and customers has yielded a 79% annual complaint resolution rate, and its members resolve most complaints within a matter of days. Still, retailers can quickly lose their A+ rating by failing to respond to complaints within 30 days. Just as maintaining a high rating makes customers feel comfortable shopping with a brand, a poor rating can turn customers away — impacting both reputation and profits.
Rather than acting only as a sounding board for customer complaints, the BBB partners with businesses to help them restore ratings and earn back customers' trust. The BBB has worked with plenty of high profile companies — like Fabletics and Kylie Cosmetics — to re-establish their reputations after they suffered initial growing pains that led to consumer complaints.
"The most important thing a business can do is to reach out to us. We are always happy to work with businesses and to help them understand what led to the poor rating," Beverly told us. "If they are willing to fix what wasn't working and promptly answer all new complaints, we can work with them to reopen old complaints that had been ignored so they can improve their rating."
In addition to pointing businesses to best-practice resources, the BBB suggests the first thing businesses can do to bring a grade up is to resolve any new disputes. Since newer complaints are weighted heavier than old complaints, resolving these first and working backward will have the most immediate impact on a business's score.
Because BBB ratings only reflect the last three years of reporting, businesses that have worked hard to resolve customer service issues and advertising errors need not worry that past mistakes will continue to taint their reputation going forward.
"It's not an overnight process, but any business that is committed to trust and transparency can overcome past obstacles to earn accreditation," Beverly said.
Providing the Foundation for Businesses to Ensure Better Customer Experiences
Businesses that want to establish a strong foundation for future growth know it's important to focus on integrity and exceptional customer service. Achieving a coveted Better Business Bureau A+ rating showcases those values and secures customer confidence.
With its roots in honest advertising, the BBB strives to protect customers from dishonest practices but also inspires local businesses to be their own watchdogs through involvement and leadership in BBB branches and membership in national programs.
"The BBB Code of Professional Standards is a blueprint for running a trustworthy company. Whether or not a business wants to apply for BBB accreditation, they can use these standards to create a company based on trust, transparency, honesty, and integrity," Beverly said. "We recommend that any business owner – new or experienced – use the Code as a source of guidance as they launch or build their business."
The Better Business Bureau sets the bar for ethical practices, honesty in advertising, and fairness in customer relations for more than 384,000 BBB Accredited Businesses nationwide. And it helps member businesses maintain those high standards through its toolkits and resources.