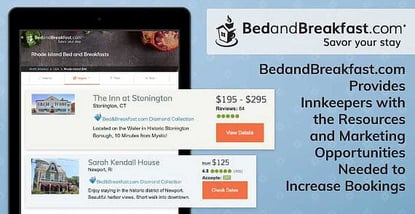 credit card news
Our experts and industry insiders blog the latest news, studies and current events from inside the credit card industry. Our articles follow strict editorial guidelines.
In a Nutshell: BedandBreakfast.com doesn't just give travelers a place to find and book unique accommodations, it also helps innkeepers expand their businesses. Through a variety of marketing tools that range from quick email tips to webinars that take a deep dive into a topic, the company is a resource for B&B owners everywhere. BedandBreakfast.com also guides innkeepers through the process of presenting their properties to travelers in the best light and allows users to book a stay at partner B&Bs directly. These partnerships further increase awareness for innkeepers and allow them to market rooms to a global audience.
For years, bed and breakfasts mostly marketed to older guests, those who take vacations without children and tend to enjoy the amenities of such unique accommodations. But as bed and breakfasts become popular among younger generations, an online resource has emerged to help them attract a wider demographic of guests.
BedandBreakfast.com helps innkeepers earn a more diverse market share by offering its partners marketing tools and opportunities to appeal to a broader audience — including Millennials.
Since its founding in 2001, BedandBreakfast.com has evolved from an accommodation listing site to a comprehensive resource for both travelers and innkeepers — and an advocate for the industry, overall.
"Today, the bed and breakfast industry is being driven forward by consumers wanting a unique experience that can't be found in a hotel or private home," said Ryan Hutchings, Global Marketing Director for BedandBreakfast.com.
There's been a steady growth in the market over the last decade, but the typical guests are couples over the age of 45. "Reaching out to the younger market is a big opportunity in the space," said Ryan.
Social media-savvy Millennials enjoy the high level of interaction that comes with staying at a bed and breakfast — including talking with other guests or getting local travel tips from an owner.
BedandBreakfast.com can help innkeepers increase bookings from those younger demographics by providing tools to promote their accommodations as well as a marketplace for travelers to find them.
How Travelers Find One-Of-A-Kind B&B Experiences
BedandBreakfast.com makes it easy for travelers to find the right accommodations to suit their needs. The site's travel article section has dozens of roundups and city guides that feature various inns in popular cities, or those that have a unique theme, or other special qualities — such as Top Farm-To-Table Inns or 5 Incredibly Talented B&B Hosts.
Travelers have the option of searching for a specific destination, or clicking a map which will bring up all of the inns located in a selected state. Inn profiles show lodging details, photos, and reviews from previous guests. Once travelers find a place that's a good fit, they can make a reservation directly through the website.
And online booking is vital to attracting younger guests, as 63% of millennials shop on their smartphones every day.
While the majority of BedandBreakfast.com visitors are staying at properties within North America, the site lists inns and guesthouses in 40 countries — including France, Italy, and Spain. Website content is available in five languages to assist international users.
Providing Innkeepers With Tips and Tools to Attract Guests
While there is a consumer-facing section of the site devoted to prospective guests, BedandBreakfast.com has a business-facing section just for innkeepers. "This section contains information and resources that give innkeepers the best chance to succeed," said Ryan. "We try to share as many tools as possible with innkeepers because our business is to provide them with more business."
Besides tools, the site also has updated webinars and email newsletters for innkeepers. The webinars share new data — such as findings from industry reports — and offer ideas on how innkeepers can use the latest data to help their businesses. Email alerts usually offer quick tips, how-to tutorials, and highlight new industry trends.
The data comes from BedandBreakfast.com industry studies, and it shares the information with innkeepers to keep them up-to-date on how to attract guests and capture market share. One study found that travelers desire cleanliness and security at the properties they choose to visit. Bed and breakfasts are unique in that they aren't standardized, so they can vary greatly in quality and amenities from one location to the next.
Since potential guests rely heavily on photos to make their decision, images provide a great opportunity for innkeepers to put travelers' minds at ease by showcasing features — such as pristine living areas.
Even within the same inn, rooms can vary in their decorations and amenities. Guests often have lower expectations with historic properties, but inns can do more to meet the needs of guests on the frontend by displaying better pictures.
"Photos are the number one thing travelers are looking for," said Ryan. BedandBreakfast.com understands presentation is an area where its partner inns can improve, so it points them toward tools that help them create virtual tours and 360-degree views of their property to help them present their properties in the best light so they attract guests and secure bookings.
Bedandbreakfast.com also helps innkeepers by creating traveler-focused content throughout the year.
"We will come up with an idea for an article, such as '10 Inns Near Ski Resorts' and then ask our innkeepers if they'd like to participate," said Ryan.
These opportunities offer innkeepers extra publicity and are a good way for them to drum up business during the off-season, especially if they have a relevant tie-in to a topic that BedandBreakfast.com wants to cover. It then shares these articles on social media, engaging a diverse variety of potential guests.
PartnershipsOpportunities to Increase Brand Awareness
BedandBreakfast.com is in a unique position to help innkeepers and create successful partnerships. Its parent company is travel giant Expedia, and its sister company is HomeAway, giving BedandBreakfast.com access to powerful marketing and cross-channel sales resources.
"We're working on coming up with ways for inns to get more exposure by being listed through these channels and drive more business — both in their off-seasons and anytime they want to increase business," said Ryan.
BedandBreakfast.com also famously teams up with TV game show Wheel of Fortune to offer a bed and breakfast getaway as a prize. "We reach out to properties to see if they want to participate by offering a stay at their place to be featured as a prize on the show," said Ryan. The company also solicits responses from innkeepers when media requests come in.
In the end, BedandBreakfast.com is focused on helping its partner inns because the company's success is directly tied to that of the businesses it works with.
"We provide them with the tools and opportunities to give them the best shot at doing well in running their business," said Ryan.