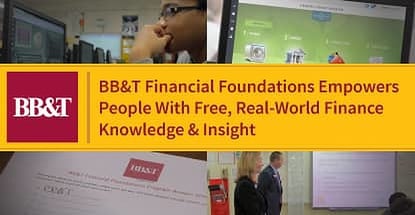 credit card news
Our experts and industry insiders blog the latest news, studies and current events from inside the credit card industry. Our articles follow strict editorial guidelines.
In a Nutshell: Many young people leave high school focused on lofty careers in law, medicine, technology, or perhaps as aspiring entrepreneurs, artists, or tradespeople. They shuffle off to college or the working world secure in their knowledge of math, science, history, and whatever other subjects they focused on in their studies. However, BB&T knows that when it comes to the real-world issues of finance,  like investing, saving for retirement, and credit, most are ill-equipped to navigate the maze of money management. The BB&T Financial Foundations initiative addresses this gap in basic education by offering a web-based learning platform powered by EverFi in more than 1,000 schools in 15 states.
I remember the first time I attempted to buy a brand-new car. I had recently graduated from college and was ready to enter the adult world, and wanted to do so in style. At the risk of dating myself, I picked out a bright yellow Jeep Wrangler Islander, replete with sunset graphics, a soft top, and all the bells and whistles.
The problem, besides my questionable taste, was that I had a mountain of student loans topped off by credit card debt courtesy of Amex and Visa cards I received through special offers for university students. When the sales manager informed me that I'd been denied a loan from every single one of their lenders, I was crestfallen.
After picking up my ego — and jaw — off the showroom floor, I trudged past what would have been a garish reminder of my adolescent predilections, and out to a jalopy that was to remain my transportation for the foreseeable future.
At the time, I was mystified by the decision to deny me my falsely assumed entitlement. As a newly minted college graduate and a member of the workforce, I simply didn't comprehend how or why I was prevented from partaking in the economy by buying a new car.
Of course, looking back, I can see the folly of my thinking. The disappointment was self-inflicted, but it would be some time before I understood how and why. While the burden is and was completely on me, I can't help but wonder how things might have turned out had I been educated on basic personal finance and money management. This, and other such pitfalls, could have been avoided.
It's hardly a secret that, like myself so many years ago, many young people entering the working world lack the most basic knowledge and skills to manage money and their personal finances. According to a FINRA study, approximately two-thirds of all Americans are unable to pass a basic financial literacy test, and the percentage of those who passed has fallen from 42% in 2009 to 37% last year.
BB&T recognized the need to educate young folks and launched its Financial Foundations platform in 2010 to assist people traversing the bridge from adolescence to adulthood. By educating teens about money, finance, and credit while in high school, it enables young people to set themselves up for financial success and security.
Aiding Over 1,000 High Schools and 300,000 Students So Far
Since its implementation in 2010, BB&T's Financial Foundations program has empowered more than 325,000 students in 1,000 high schools in 15 states to take control of their personal finances before they graduate high school. It prepares them to continue their education in college or embark on their lifelong journey into the adult working world.
With more than 900,000 hours of learning logged on the platform, students have improved their average test scores from 47% to 88%, or from an F to a B+. Furthermore, students have doubled their understanding of how to improve their credit scores and their grasp of how to use financial aid to fund their educations has skyrocketed almost 85%.
"If we are going to remain an economically competitive nation, it is imperative that young people understand how the economy works and how to achieve financial security in their own lives," Georgia State Schools Superintendent Richard Woods said. "The BB&T Financial Foundations program helps us accomplish both goals — and it's a great example of how we can work together as a community to improve the educational opportunities that we provide to our children."
Directed at high school juniors and seniors, the program incorporates a state-of-the-art web-based platform that utilizes 3D gaming, avatars, simulated environments, videos, and Twitter-like messaging tools. Woven into existing curricula, the online modules teach students a variety of financial concepts.
Including topics such as credit scores, savings and investment, 401(k) plans, stocks, mortgages, the Federal Reserve, taxes, and insurance, the program lays the foundation for basic financial literacy and allows instructors to track individual and group performance.
With 17 Learning Modules, Every Financial Aspect is Covered
EverFi is a company devoted to filling in the gaps that traditional education doesn't cover. From delivering instruction on how to maintain healthy relationships, responsible use of alcohol, to STEM careers, diversity, and leadership, EverFi positions itself as not only a thought leader, but an agent of change. BB&T partnered with EverFi to ensure that today's young adults embark upon their adult lives with the financial literacy needed to get off on the right foot.
The program curates the issues most relevant to needs with 17 learning modules that cover the following:
Mortgages
Overdrafts
Savings
Investments
Payday loans
Auto loans
Prepaid cards
Mobile payments
Checking accounts
Credit cards
Credit scores and reports
Insurance
Taxes
Financing higher education
Identity protection
Retirement 101
Building emergency savings
Each module delves into details needed to fully understand each subject. Information is presented in an interactive environment using audio and visual aids making things clear and easy to follow.
The Financing Higher Education module contains a trove of information for the recent high school grad looking to further their education. The terms and differences between government subsidized loans, private loans, and grants are only the beginning. The module explains how the size and income of families
The module explains how the size and income of families affect the expected family contribution, how to discern the best aid packages, repayment options, and tax deductions as well as assisting in creating an action plan and providing knowledge checks to help reinforce the information provided.
Because Americans live in a country whose economy functions on credit, there is a module covering credit cards and how they work. Included are detailed explanations on the differences between credit and debit cards, how to compare different offers, the CARD (Credit Card Accountability Responsibility and Disclosure Act of 2009) Act, and how to pay off the balances. The module is capped with a knowledge check and poll to make sure the information sinks in.
One subject often overlooked by young folks everywhere is retirement. So, of course, the folks at Financial Foundations included one so that people will get a jumpstart on saving for the future. The retirement module focuses on getting started as soon as possible and helping students understand the significance of compound interest and time with regards to growing their nest egg for later in life. And again, there is a knowledge check to ensure the information is absorbed.
Learn & Plan Portal Can Help Anyone Make Informed Choices
The BB&T Learn and Plan portal is an excellent resource for anyone needing to edify themselves on an array of financial subjects including working on a budget, looking to buy a car, planning to pay down debt, or wanting to increase the value of their home. A bevy of financial planning calculators, articles, podcasts, and videos all contribute to increasing the financial acumen of their users.
The portal includes many sections with sound advice and guidance for a variety of financial necessities. The section for Young Adults includes essentials such as building a solid credit history, renting an apartment, and buying a car. Other sections include borrowing, home and residence, taxes and estate planning, security, savings, protecting your identity, debt, credit, and a section for young adults.
Each section is broken down to provide useful information to the budding individual. For instance, Protecting Your Identity explains various scams and ploys to violate their security and swindle them out of their funds. The ATM security section lays out good habits to make sure people protect their vital card information from skimmers and how best to reduce the likelihood of being robbed while using the ATM.
There are also sections provided to instruct students about email security and how to spot fraud attempts via email, how to secure payments via email or online, and how to protect yourself and your company from attacks launched by email. The section 'Examples of common email scams' visits some of the most oft-used ploys including the Nigerian letter scam asking for a partner in the U.S. to share in a windfall of inheritance, which is still in use today.
There are useful sections on how to protect traditional mail, developing a habit of shredding documents before throwing them out, using safety deposit boxes, and a plan for disasters and evacuations so that your most important documents survive and go with you should you need to flee a disaster zone.
BB&T is Investing in Smarter Consumers Through Education
Had the BB&T Financial Foundations program, or something akin to it, been available when I was in high school, I might have been better prepared for crucial facets of adult life such as borrowing money and establishing credit. I also would have driven that yellow Jeep right out of the showroom.
Much of the knowledge and wisdom many people acquired came as a result of trial and error. While trial and error is effective, it's also inefficient and painful. Affording people a head start and equipping them with knowledge before they need it is the purpose BB&T and EverFi envisioned when launching the program. The Financial Foundations program covers an extensive array of topics and drills down into important details as well as setting the stage for developing good financial habits.
Modern banking and finance are far more complicated than ever, but the Internet and other technologies mitigate much of that complexity with nearly limitless access to information. By empowering young people early, they can take control of their financial lives sooner than ever and step into adult life set up for success.