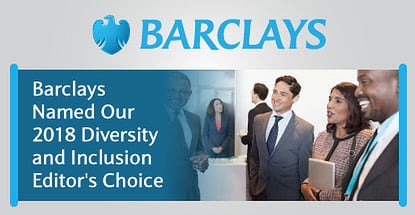 credit card news
Our experts and industry insiders blog the latest news, studies and current events from inside the credit card industry. Our articles follow strict editorial guidelines.
In a Nutshell: Many financial institutions create diversity and inclusion departments to expand their operations and create a welcoming work environment that appeals to a wide range of talent. But Barclays focuses on an even bigger picture, extending its view of diversity and inclusion to its customers, clients, and stakeholders. Barclays, one of the world's largest banks with more than $1.5 trillion in assets, leads by example with diversity initiatives that address disability, gender, LGBT, multicultural, and multigenerational employment. The institution's nine diversity networks include thousands of Barclays employees who develop inclusion practices that work to meet the needs of its diverse, global workforce.
Every year, people across the globe celebrate their heritage with festivals and holidays that represent part of their cultural narrative. It's important for employees to feel they can participate in these special occasions as a way express to themselves through traditional dress, special meals, or other distinctive practices.
At Barclays, employees are invited to honor their cultural traditions in their own way. It's this freedom of expression that enables Barclays employees to feel comfortable and confident as they bring their authentic selves to work each day.
"Diversity means everything to us at Barclays," said Rachana Bhatt, Managing Director and Head of Barclays US Branded Cards. "It's in our DNA, and it's who we are. As a global company, having a diverse workforce is a natural extension of our reach around the world."
Barclays is a global brand and one of the world's largest financial institutions with over $1.5 trillion in total assets. The bank's large footprint covers communities in several countries, and the company knows that employing a diverse workforce best meets the needs of its customers. Barclays not only focuses on diversity inside its numerous corporate offices but the institution also wants to foster an inclusive environment in every aspect of its business.
"We're committed to positioning Barclays as a leader in diversity and inclusion — not just internally with colleagues, but with customers, with clients, and with stakeholders," she said. "We're constantly stressing a positive climate of inclusion and engagement to measure our global impact."
Barclays has ranked as a top-50 employer for gender diversity eight times as well as one of the best employers for race in 2017. Accolades aside, Barclays supports its employees around the globe by creating work environments that help them grow their careers and make them feel comfortable.
For its efforts to ensure both customers and employees feel welcomed, we're recognizing Barclays with our Editor's Choice Award™ for its diversity and inclusion practices.
Five Pillars of Diversity Designed Around Helping People Rise
Barclays organizes inclusion around five pillars that each examine a different subset of diversity: LGBT, disability, gender, multicultural, and multigenerational.
The pillars are designed to not only uphold the institution's values but also to promote its goal of working together to help people — from customers and clients to colleagues and society as a whole — rise.
Bhatt said that providing opportunities for advancement and success cuts to the core of Barclays' corporate values.
"Our diversity and inclusion strategy helps us serve our colleagues and customers from all societies and cultures and communities," she said. "It's just the right thing to do to make our businesses mirror the communities our customers live in."
The holistic approach to diversity makes it easier for employees to celebrate their culture and feel like they're an important part of the organization.
"We aim to foster a culture where people of all different backgrounds and cultures feel welcome," Bhatt said. "They're able to bring their whole self to work, which helps our colleagues both personally and professionally. It also helps our business outcomes and the communities we serve."
Employees Join Diversity Networks to Help Drive Change
Barclays employees from across the company are invited to join one of its nine diversity networks, which work to create and govern the institution's diversity and inclusion practices.
"We have thousands of colleagues who participate in these networks," Bhatt said. "Each one has a pillar that focuses on citizenship. While our culture at large does a lot of volunteering and fundraising, each of the diversity networks also includes that as part of their citizenship agenda."
Bhatt referenced Barclays' recent sponsorship of pride parades in London, New York, and Philadelphia as an example of how it celebrates various cultures. Barclays also takes part in the UN's global HeForShe initiative, which aims to increase gender diversity at every level of business and currently boasts more than 1.3 billion gender equality actions on its website.
"We've concentrated on that as a critical area of focus at Barclays," Bhatt said. "We have many male colleagues who have signed up to be HeForShe advocates. They're on board to stand up for greater gender representation across all levels."
The diversity networks also organize and contribute volunteer efforts with various organizations in the communities they serve. Barclays' work on this front includes its gender focus network that provides mentorship for women across several communities and the disabilities network that works with organizations serving the needs of the disabled.
"Not only are we building a diverse workforce at Barclays, but we're connecting that passion for diversity to our community," Bhatt said.
"When Everyone is Welcome, Anything is Possible"
Bhatt was recently given the title of Diversity Chair of Barclays Delaware. And that added responsibility excited the five-year Barclays veteran, who previously held positions at JP Morgan Chase and Capital One.
"I'm really proud to work for a company like Barclays that takes diversity and inclusion seriously and makes it a top priority," she said. "Everyone here truly believes that when everyone is welcome, anything is possible."
Barclays' focus on diversity has led to sweeping changes in the way the company manages its day-to-day operations and how it guides its community involvement around the world.
"We're able to harness the power of our diversity to fuel innovation, improve the performance of our business, and deliver a sustainable future," Bhatt said. "When you have a diverse workforce across all of your lines of business, it results in outstanding business outcomes and it resonates with the customers we serve."