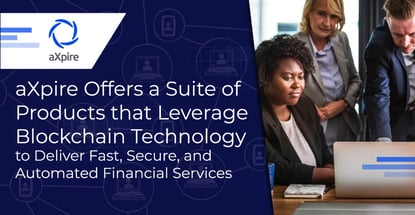 credit card news
Our experts and industry insiders blog the latest news, studies and current events from inside the credit card industry. Our articles follow strict editorial guidelines.
In a Nutshell: Businesses and consumers can use aXpire's suite of blockchain applications to leverage decentralized ledger technology (DLT) without sacrificing user experience. aXpire's flagship B2B product, Resolvr, streamlines invoice and spend management, helping businesses save up to 10% per invoice in time and profit, while maintaining efficiency and compliance. And aXpire's first B2C product, MatchBX, helps freelancers earn crypto in return for providing online services, from development to graphic design. Through aXpire's offerings, even non-tech-savvy entrepreneurs can bypass steep learning curves to enjoy the benefits of the blockchain.
While many people have heard of cryptocurrency and the underlying blockchain technology, plenty in the business world still don't understand enough about it to start leveraging smart contracts and other associated advantages.
A lack of knowledge on the subject matter can inhibit consumers and businesses from exploring the capabilities of digital currencies and the speed and security of blockchain technology. But a suite of user-oriented, blockchain-based products from aXpire is designed to help both sides of the commerce equation embrace the benefits offered by such innovative technology.
aXpire has aspirations of not only creating its own applications but also working with other businesses to incorporate blockchain technology and accelerate the speed-to-market of their existing blockchain solutions.
"We are looking to create many value-add applications for both our business customers, typically financial services businesses such as hedge funds, private equity funds, banks etc., and also for our retail customers. As we do that, we keep top of mind that decentralized technology must also be as user-friendly as possible," said Matthew Markham, COO of aXpire.
Based on its wealth of experience with B2B payments, invoicing, and fintech, aXpire's founders are now moving into the arena of B2C products, facilitating mainstream transactions using cryptocurrency, facilitating earning via cryptocurrencies and expanding the reach of investing & raising capital via security tokenization.
The names of aXpire's enterprise products all end with an "r" and they reflect the use case of the product; all consumer products end with a "BX," which represents a "Blockchain eXchange" of value.
For B2B companies, aXpire currently offers two solutions, Resovlr and Bilr for spend management and billing, respectively. On the B2C side of things, aXpire has begun development on prospective blockchain and cryptocurrency agnostic products. These products are MatchBX, PayBX, and CoinBX.
MatchBX enables freelancers to work for individuals or businesses in return for cryptocurrencies while PayBX is a mobile application that reduces pain points for consumers in using crypto for everyday transactions. CoinBX enables SMEs and startups to access capital through the tokenization process.
The goal of aXpire is to remove manual processes and reduce touchpoints between users and the blockchain. Its approach makes the technology more accessible without requiring in-depth expertise.
"We are really interested in the point where all the core components of blockchain: trustless, decentralized, pseudonymous etc. can be incorporated into an abstracted, user friendly application. That's the standard we've been working on," Markham said. "Business is the same. There's no difference. It's all just people, and we know that people don't want to sacrifice an easy user experience, even if they benefit more with blockchain technology."
Resolvr Provides Streamlined, Intuitive Spend Management
Spend management — managing invoices, expenses, and purchasing to obtain maximum value per dollar spent — has traditionally been conducted through spreadsheets or reams of paper documents. Resolvr leverages automation and decreases the human element for a more effective approach to spend management that increases speed, reduces labor, and minimizes errors.
Digital data streams and AI optimization of fund allocation can cut operational costs by linking mid- and back-office processes, management and oversight, finance, legal requirements, and reporting. In-depth data analytics provide control, ensuring compliance and faster throughput, while comprehensive audit trails remain transparent and secure thanks to distributed ledger technology.
Resolvr allows users to manage, share, review, and adjust invoices; obtain comprehensive reports, and filter and organize invoices by vendor, reviewer, date range, and invoice status. This improved visibility and communication among departments — and with vendors — ensures higher efficiency.
Many businesses choose Resolvr because it establishes a digital connection between stakeholders within a secure digital environment. And the visibility of crucial information ensures procedural efficiency and compliance at every step of the process.
Bilr Provides Mobile-Friendly, Speech-to-Text Enabled, Intuitive Invoice Creation
One emerging field within fintech is e-Billing — the process of creating an invoice in a digital format and getting paid by a client. Entities from law firms to construction companies handle the creation of large volumes of invoices, and they tend to send them electronically.
While convenient, these funding requests are subject to claims management tools that cut 5-10% of the cost of the bill, on average, because it failed to comply with the contract between the vendor and the client. In other words, 5-10% of a vendor's revenue can vanish instantly.
Bilr aims to provide those vendors with a mobile and web application they can speak or type into, through a guided process, to create bills that get 100% funded. That increase in revenue of 5-10% can translate into a 30% increase in profits, depending on margins.
Clients enjoy Bilr for its user-friendliness with speech-to-text enablement, and for the large promise of an increase in revenues. That's a win-win for companies that submit invoices to large clients.
MatchBX.io Enables Freelancers and SMEs to Leverage the Gig Economy
Hold On For Dear Life — or HODL — has long been the mantra among cryptocurrency enthusiasts. In other words, cherish the cryptocurrency you hold as its utility as part of a growing blockchain is likely to increase over time. Combine that mantra with the power of the gig economy and you can understand the impact of MatchBX; by 2027, more than half of American workers — 58%— will have had some experience as independent contractors.
MatchBX.io is a product that allows freelancers to earn cryptocurrencies in return for their work. At the same time, MatchBX allows startups and other businesses to leverage crypto-savvy freelancers to jump-start their businesses, with skill from graphic design to development.
MatchBX has a number of benefits over traditional platforms, from its 3% fee to the fact that those fees can be taken in any Ethereum-based token and converted into aXpire's native token, AXPR, which is then burned. In other words, the platform rewards the community that holds the AXPR token, which gains utility as aXpire's products add users. This platform also releases payment to freelancers within 15 minutes of job completion as opposed to the traditional standard of up to 15 days.
CoinBX.io Enables SMEs to Leverage Value in STOs
Companies enjoy two significant benefits from an initial public offering (IPO): first, it secures capital for growth, and, second, helps a company raise its profile and public image by trading its stock on the open market.
However, raising capital and brand awareness through an IPO pose severe challenges for SMEs — which include legal and accounting costs. Additionally, the public disclosure of financial and business information is a time and labor-intensive process, and those valuable commodities may already be at a premium for entrepreneurs.
But using blockchain to offer tokenized securities provides an alternative route to raising business capital. These crypto assets represent an investment, and they hold real advantages over IPOs for SMEs. The cost to get secure token offerings (STOs) listed on exchanges is lower, the tokens can be traded with anyone, and they are open to small investors.
That's why aXpire developed the CoinBX platform as a turnkey solution for enterprises, startups, and even community projects seeking to tokenize their value and accumulate operating capital. Assets that can be tokenized include real estate, commodities, equities, debt, and derivatives — in short, anything with value.
CoinBX provides an opportunity for both startups and established SMEs to secure the funds they need and for a range of investors to diversify their holdings.
PayBX Enables Consumers to Use Cryptocurrency in Any Digital Transaction
Cryptocurrencies have yet to garner widespread acceptance in the mainstream financial market. Owners must sell their crypto holdings and use fiat currency to make purchases to leverage its value. PayBX allows consumers to make transactions using their cryptocurrencies without manually going through the conversion process. aXpire believes that there is room for both HODL-centric coins, such as Bitcoin, and payment centric coins, including fit-for-purpose payment coins (Dash & Ripple) and stablecoins (USD Coin and the Gemini Dollar).
aXpire set out to change the current paradigm of slow and expensive cryptocurrency solutions with PayBX, a mobile application — and soon to be browser extension and API — compatible with most common standards. It is also compatible with browser functions embedded within other apps.
PayBX users can spend Bitcoin, Ethereum, and other cryptocurrencies on transactions with a variety of ecommerce stores — from small online stores to major retailers like Bloomingdale's and eBay. The application allows consumers to pay merchants directly with cryptocurrency — regardless of whether the merchant accepts the non-fiat currency. This is just one example of how user-friendly aXpire makes its products, which Markham said are intended to be a "delight" to use.
By eliminating the step of converting crypto to fiat, aXpire hopes that PayBX will help bring cryptocurrency into greater mainstream use and facilitate its widespread adoption. This goal of making crypto more practical for everyday use rests upon the company's central focus on user-friendliness.
"We try to extract a lot of the interactions with the blockchain while keeping the benefits. That means no QR codes, and no hexadecimal addresses so people can use it every day without having to go through the whole education process of how you use crypto," Markham said. "Unless you're a technology person, it's less relevant. You just want to enjoy the benefits of it, and that's what we're going after."
On a Mission to Become the Most Recognizable Name in Blockchain Decentralized Applications (DApps)
The innovative offerings from aXpire also fit a pair of common themes. One is leveraging the speed and efficiency of blockchain technology to enhance B2B and B2C transactions. The other is to make that technology more user-friendly to improve its accessibility and use for more consumers and enterprises.
Ultimately, as aXpire gets closer to finishing the products on its current roadmap, it will start to incorporate DApps from other leading blockchain companies to create an innovation hub. Additional projects within aXpire's Preferred Partner Network will provide benefits to the aXpire community, either directly or indirectly through the company's native token, AXPR.
Simply put, aXpire's mission is to become a comprehensive, blockchain- & cryptocurrency-agnostic fintech DApp hub. The Company is an active participant in building its marketplace, creating user-friendly web and mobile applications for the fintech industry; from spend management and billing to payments, freelancing, and tokenization, aXpire is making crypto, currency.