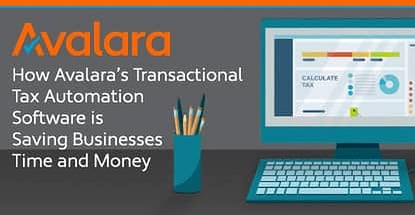 credit card news
Our experts and industry insiders blog the latest news, studies and current events from inside the credit card industry. Our articles follow strict editorial guidelines.
In a Nutshell: For businesses both large and small, sales tax management is a murky undertaking. Wireless devices have made it easier for anyone selling anything to accept payment, and the ever-increasing number of e-commerce transactions across city, state, and national borders have only served to make a complicated subject even more convoluted. Enter Avalara: Its services, software, and cloud solutions automate taxes and remittance so that companies can spend more time focusing on day-to-day business and less time agonizing over complicated tax matters and compliance issues.
Managing transactional taxes is complicated for businesses of any size. Paying state and local taxes in a timely manner is a legal obligation, but changing legislation and consumer behavior have made tax automation an absolute necessity.
Avalara, a leading cloud-based tax software company, has been helping businesses automate and manage their complicated tax liabilities since 2004. Each year, this includes processing billions of tax transactions, filing hundreds of thousands of compliance documents and returns, and managing millions of exemption certificates.
In any given year, state and local governments propose any number of sweeping — and often creative — changes to tax legislation to collect their share of revenue in an evolving digital economy. Melissa Lin of Intuit states that this year alone, Congress will consider four pieces of legislation solely regarding online sales tax.

"With the rise in digital services like Netflix, we have seen a shift from many states applying sales tax to hard products only onto digital goods as well," said Marshal Kushniruk, EVP Global Business Development at Avalara. "Louisiana recently tried to pass a law that would apply sales tax to Netflix, Hulu, Spotify, etc., in an attempt to adjust to consumer purchasing patterns from physical video rentals or sales to many people now streaming that content online and not paying sales tax."
The US has more than 12,000 tax jurisdictions that tend to overlap and vary from one brick-and-mortar business address to the next. Once you factor in constantly evolving legislation, it's no wonder that more than 20,000 companies, including DuPont, Adidas, Porsche, and Wegman's, are choosing Avalara to automate processes on the back end that can save them time, money, hassle, and worry.
Three Core Software Solutions that are Simplifying Tax Automation for Companies
Just as business needs vary, tax compliance varies by geography and industry. Avalara offers numerous software solutions to ensure the needs of any and all businesses are easily met.
Its core solutions include an end-to-end tax compliance product that is scalable and fast; an easy sales tax filing software for e-commerce sellers; and automated sales tax return software that saves time and eliminates errors. Let's take a closer look at each:
1. Avalara AvaTax — A Cloud-Based Compliance Solution that Integrates with the Business Software You Already Use
Avalara AvaTax is a fully integrated, cloud-based solution that links with existing software platforms to seamlessly merge your business with automated sales tax calculation at the point of sale. It works quickly to access its database of tax content for over 12,000 jurisdictions to apply the appropriate taxes in real-time through an encrypted internet connection.
Automating time-consuming, costly, and complicated processes has become a necessity as the digital marketplace grows, and businesses connect with customers all over the map. According to a Score.org report, 40% of small business owners report bookkeeping and taxes are the most difficult parts of their ventures.
With more than 580 pre-built integrations for shopping cart, point of sale, customer relationship management (CRM), and content management system (CMS) software, AvaTax adds sales tax functionality to popular software and works well with financial platforms like QuickBooks and NetSuite. Addresses are instantly validated, tax jurisdiction is automatically determined and assigned through advanced geocoding technology, and tax rates are immediately and accurately calculated for each individual transaction.
For businesses that operate on a global scale, AvaTax includes international tax compliance with automatic rates for more than 193 countries, as well as international shipment cost calculation (Landed Cost) that factors in local taxes, tariffs, and duties. This way, businesses know the total shipping costs before they send out a package.
2. Avalara TrustFile — A Simpler Process for Filing Sales Tax for E-Commerce
Large corporations are not the only ones benefiting from globalization and technological advances. Small and mid-sized businesses (SMBs) are leveraging online platforms to grow their businesses and expand their footprints inside and outside of the traditional economy.
Avalara TrustFile is an affordable solution for small businesses engaging in e-commerce. TrustFile integrates with virtually any selling platform, shopping cart, or invoicing software and can consolidate data across multiple selling platforms if your business relies on more than one.
Accounting professionals can also take advantage of TrustFile for Accountants, which automates the process of managing and filing sales tax for all of your clients from a single dashboard with one login. Preparing and filing sales tax returns quickly can allow you to take on more clients and grow your revenue stream.
TrustFile saves time and money by preparing returns accurately, automatically, and immediately, whether filed in just one state or across many. Subscriptions start at $20 per month, making it affordable for any small business owner.
3. Avalara Returns — Saving Businesses Time & Effort Spent on Remittance
Sales tax return processing is a complicated and expensive drain on your resources. Mistakes can create undue headaches in the form of penalties and interest exposure or even audits. Businesses can dramatically reduce the time spent on overhead required to process sales tax returns, while avoiding audit risk and improving accuracy by subscribing to Avalara Returns.

Avalara Returns offers scalable pricing based on a customer's needs. The software provides your business with automated compliance with government records retention requirements, the ability to manage and respond to tax notices in a timely manner, and a single-source payment system that covers all of your sales tax liability.
Import your data from any accounting or financial software system easily into Avalara Returns to efficiently generate hard-copy, e-file, and Streamlined Sales Tax returns. Or make it even easier when pairing it with AvaTax and have your transactional data input seamlessly.
Avalara University Educates Users on Products Through Videos, Webinars, and Classroom Training Sessions
Users of the Avalara Compliance Cloud will appreciate the lengths to which Avalara has gone to prioritize sales tax and product education through Avalara University, which ensures customers are getting the most out of the products offered. Topics covered include finding proper sales tax rates and nexus, and how it's triggered.
Avalara University is a compilation of everything sales tax, including classroom training sessions on Avalara products, white papers, state guidelines, educational videos, and webinars exploring everything from the hidden costs of tax compliance to why businesses get audited.
"Avalara's mission is to help customers manage complex tax compliance obligations," Marshal said. "With Avalara University, classroom training sessions and webinars help our customers to master not only our products, but also the knowledge they need to understand sales tax concepts."
Whatever tax topic piques your interest, one thing is clear. Avalara cares about informing people on what can, at times, be complex and daunting topics for many business owners.
Using Technology and Data to Stay on Top of Constantly Changing Tax Jurisdictions
In a business world gone digital, more consumers are now comfortable with buying goods and services online through e-commerce sites, mobile applications, and peer-to-peer service providers.
"This makes it easier for businesses to sell their goods and services, especially out of state and cross-border," Marshal said. "But the tax rules vary from state to state and are changing constantly as local governments find new, creative ways to get their slice of the pie.
"In short, tax compliance management becomes much more complex in the digital era. Many businesses choose to automate the back end process to alleviate worry and save time and money. Avalara makes tax compliance accurate and efficient for any business."
Businesses will need to continue to use data and technology to stay abreast of changing sales tax jurisdictions to stay in compliance with state and local taxing jurisdictions, while saving time and money. Having the variety of tax automation solutions that Avalara offers at your business' disposal simplifies what used to cause headaches.