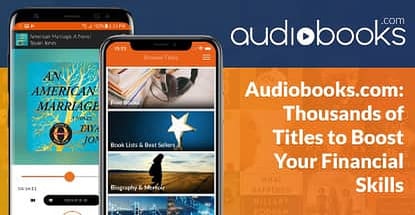 credit card news
Our experts and industry insiders blog the latest news, studies and current events from inside the credit card industry. Our articles follow strict editorial guidelines.
In a Nutshell: Today's digital landscape makes most entertainment options — from movies, television shows, music, and books — available on demand at the swipe of a finger. An industry leader in mobile books, Audiobooks.com keeps bibliophiles updated on their latest reading with a library of more than 100,000 current titles for sale and over 8,000 more available to download for free. A $14.95 monthly membership gets members a credit they can use to download any title directly from the company's application. Audiobooks.com is also a leader in the in-car audio space and comes pre-installed in new Jaguar, Land Rover, and GM vehicles. For vehicles that don't come pre-installed with the app, Audiobooks.com offers listening options through Android Auto and Apple CarPlay, and in-home listening on Sonos, and other devices.
When most consumers think of Netflix, the first thought is bingeing movies and TV shows on any given evening. But many people forget the process of retrieving the company's little red envelopes from the mailbox, each containing the rented DVD they had last selected from a queue of movies they wanted to see.
The on-demand culture has spread beyond the latest movie and television show releases. Consumers can now sit at a stoplight and make purchases that once required trips to music stores or bookstores, with selections ready for use in a matter of seconds.
I spent six hours alone in a car on a recent road trip, but never felt lonely because I had the audiobook version of a Charlie Chaplin biography to keep me company — what can I say? I'm a big fan of the Little Tramp.
Since 2011, Audiobooks.com has led the literary charge into a digital future. The company started as a CD rental service in 2003 and later rebranded as a premier destination for more than 100,000 premium audiobook titles available instantly through an industry-leading mobile application for Android and iOS devices.
"Like everything else, reading has transitioned into the digital world," said Jemma Wolfe, Marketing Communications Manager at Audiobooks.com. "That's why we offer an app-based subscription service that allows users to pay $14.95 a month and get one credit for use on any of our premium titles."

Subscribers also receive discounts on any book purchased without a monthly credit. This means busy professionals can listen to the latest business releases on their long commutes and not dent their wallets or their schedule.
"Business books are a genre that a lot of people search for on our site," Wolfe said. "We can tell from our analytics that those books draw people into our service."
Audiobooks.com differentiates itself from the competition with a mobile application that is as easy to use as it is convenient. Books can be purchased and downloaded directly from the mobile interface without having to switch back and forth between devices to acquire new titles.
"Some audiobook platforms require you to apply your credits in a website environment and then download the book in the app," Wolfe said. "We allow you to use your credit right there in the app, which seems small but is a major customer experience differentiator."
More than 100,000 Titles for Sale and Over 8,000 for Free
Audiobooks.com adds new titles to its growing library every Tuesday, with best sellers for the month shown at the top of each category page.
The company regularly adds new business books to go with a list of classic works that provide teachings that have endured the test of time.
"'Rich Dad, Poor Dad' continues to be one of the top overall downloads for us, across the board, year after year," Wolfe said. "The other really classic business books, like 'Think and Grow Rich', all do well and will continue to do well for a long time."
Aside from the availability in audio format of virtually every top-selling book, Audiobooks.com also provides more than 8,000 titles that members can download for free and listen to an unlimited number of times for as long as they like.
"We work with over 300 publishing partners and receive their catalogs in full," Wolfe said. "Whatever they want to send to us is what we put live on our service. That's why we have a catalog of over 100,000 titles that keeps growing."
Listen to Your Audiobook Selection on a Host of Devices
The beauty of an audiobook is that you can listen to it almost anywhere — from the car to the gym or while doing the yard work you've been putting off for weeks — with little equipment required.

The most popular way to listen to books is by streaming them on a mobile device and listening on headphones or wirelessly via Bluetooth and streaming through a car's audio system.
As technology advances, the company continues to expand its offerings in the home, lifestyle, and vehicle spaces.
"Until recently, we were the only audiobook provider available on Sonos," Wolfe said. "We're also making many innovations within the in-car space. Our service comes pre-installed on the head units of new Jaguar, Land Rover, and GM vehicles."
Audiobooks.com also supports Android Auto and Apple CarPlay for compatible vehicles. According to Nicholas Cappelletti, Digital Marketing Specialist at Audiobooks.com, the company's future plans will allow users to be able to access their favorite audiobooks while at the gym for a workout.
"A lot of fitness equipment now comes with fully integrated tablets and WiFi so people at the gym can access their audiobooks," he said. "Those are opportunities that we've been exploring as a means to expand our listenership even more."
The company's member base has steadily grown in recent years as the market share for audiobooks slowly closes the gap with its printed brethren.
"As our lives continue to get busier and busier, reading time becomes more limited," Wolfe said. "Although in-home listening is an area with a lot of listenership, the in-car space is the one that will constantly continue to grow."
Find the Book that is Waiting to Change Your Life
Whether you're looking to win friends, influence people, or both, there are thousands of titles on Audiobooks.com waiting to give you a good laugh, a break from reality, or life-changing inspiration.
Wolfe and Cappelletti can attest to that. They aren't only employees at Audiobooks.com, they're also avid listeners with their own favorite books on the platform.
"I have a new favorite every week," Wolfe said, "but at the moment I'm listening to 'The Life-Changing Magic of Tidying Up'. It's a classic that's all about the Japanese way of decluttering your life and home. In terms of spring listens, that's really speaking to me right now."
For Cappelletti, the differentiator between a good and bad audiobook is the voice reading the story.
"'I Hope They Serve Beer in Hell' is one of my favorites," he said. "It's a good read, but Tucker Max's narration is outstanding. My favorite books are the ones where the narrator is the same as the author."
Audiobooks.com has come a long way from its days as a mail order CD rental service. While that arm of the business still exists, most of its members opt instead to use the company's mobile application that provides industry-leading ease of use and an unmatched selection of titles.