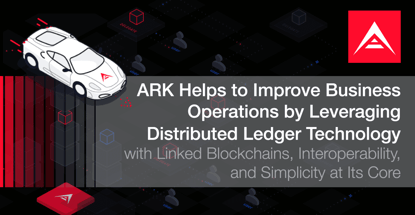 credit card news
Our experts and industry insiders blog the latest news, studies and current events from inside the credit card industry. Our articles follow strict editorial guidelines.
In a Nutshell: Blockchain technology holds the potential for companies to improve operations through greater transparency and accuracy in documenting transactions. ARK provides a platform that allows anyone to utilize blockchain technology with an approach comparable to how WordPress facilitates website creation. ARK users are able to actually create their own blockchains rather than relying on existing chains. And with its SmartBridge Technology, ARK makes it possible for separate blockchains to communicate with one another. The company also recently announced that it was the only blockchain project to be selected to participate in the inaugural Google Season of Docs program.
The terms blockchain technology and cryptocurrency are understandably linked in today's lexicon since cryptocurrency could not run without the engine of blockchain's distributed ledger system.
But blockchain's potential use cases expand far beyond digital currencies.

In recent years, industry leaders outside of crypto are seeing how the transparent and immutable nature of blockchain tech could apply to their own needs. But, as with any new technology, there have been barriers to entry, mostly due to blockchain simply being uncharted territory for many industries.
But ARK is helping blaze the trail with its platform that lets anybody quickly and easily utilize blockchain technology for whatever application they see fit.
"What if one of the big-box home improvement chains decided they wanted to eliminate a billion dollars in inventory costs?" posed Travis Walker, one of ARK's Co-Founders and its Events and Integrations Manager. "In 30 minutes, they could spin up an ARK blockchain and add the stores to a node network. Then spin up public and private secondary blockchains."
Walker said the chain could not only eliminate hundreds of man hours, but supply chain management would become more efficient due to accuracy, transparency, and security of blockchain.
We recently spoke with Walker to learn more about how ARK's take on blockchain technology is helping to open up the distributed ledger to virtually any industry and the advantages it brings to the growing field.
How ARK Is Democratizing Blockchain with Its Accessibility and Ease-of-Use
ARK launched in 2016 guided by the founding team's vision to create a blockchain platform that facilitates interoperability, ease-of-use, speed, and an improved proof-of-stake process. These priorities were pursued alongside the goal of how to best address the Blockchain Trilemma of balancing scalability, security, and decentralization.
"There was so much we wanted to do; we want our fingers in everything all at once," Walker said. "And we want to be able to make it really, really easy for anyone to join us."
ARK is simply a development platform, he said, and for anybody who believes they have a use case for blockchain technology they can use ARK to create their very own blockchain.
"It's just like WordPress is to website creation," Walker said. "We make blockchain creation that easy, and it can all be connected together."
He said, for example, if a company wants to hide its inventory from the public, it can create a separate blockchain that runs parallel to the main blockchain. The hash and transaction can be seen on the main, publicly available blockchain but the actual transaction details can be stored in the background on the private chain.
Many other blockchain projects currently utilize the Ethereum blockchain, Walker said, which can put companies at a disadvantage because the project is limited to Ethereum's rules and transaction speeds. And in the past, the glut of projects have caused the whole Ethereum blockchain to go down, taking all the associated projects with it.
"With ARK you get your own separate blockchain. You can customize every single thing about it," he said. "If you have a simple grasp on some basic development tools and can follow directions, it won't take you more than 30 minutes to start your own blockchain from scratch."
Walker said the worlds of cryptocurrency and blockchain were founded on a philosophy promoting open-source technology and the ARK team still takes this to heart.
"The ARK code is open-source, and we allow developers to come in and create their own goals and bounties," he said. "They can build their own projects, and they get bonuses to help out with ours as well. We have hundreds of developers helping us out."
SmartBridge Technology Enables an Ecosystem of Interconnected Blockchains
"With ARK's SmartBridge Technology every coin becomes even more powerful, every app produced on any blockchain has the potential to reach a greater audience, and even bitcoin can gain the functionality of every altcoin through a simple blockchain token called ARK," Walker wrote in an ARK blog article.
SmartBridge facilitates communication between different blockchains by way of special data sections called Vendor Fields and Encoded Listener nodes. The snippets of code are inserted into a blockchain, which causes the chain to be connected to ARK.
The Encoded Listener node is a hub where anyone interested can listen for SmartBridge transactions, such as passing data or exchanging currencies. In exchange for their services, listeners can collect transaction fees.
"We have sent ARK transactions on Ethereum without ever touching the Ethereum blockchain," Walker said.
Ultimately, SmartBridge delivers maximum interoperability between different projects, blockchains, and coins, he said.
"If you wanted to trigger an ETH smart contract but hold ARK, you could just send the instructions through ARK SmartBridge, right in the wallet to trigger the event," according to the blog. "The code in the listening node is always listening for an ARK SmartBridge transaction and will collect this info and trigger the function to issue a contract."
SmartBridge helps ARK address the Blockchain Trilemma by increasing flexibility and scalability through ecosystems of linked chains.
ARK recently launched its ARK Deployer tool that makes it easier than ever for anyone to build a blockchain.
"With ARK Deployer, everyone from enthusiastic users to seasoned developers can follow 3 simple steps to create their own custom blockchain in just a few minutes," according to the website. "A blockchain that can be customized to your specific requirements and applied as a foundation for your own projects or businesses."
The Only Blockchain-Based Project Selected for Google's Season of Docs Program
In May, ARK announced that it was one of 50 open-source organizations to be selected to participate in the new Google Season of Docs (GSoD) program. The Google program received applications from about 200 projects.
Additionally, ARK is the only blockchain-related platform among the chosen organizations.
"Let's bring open-source and technical writer communities together, to the benefit of both," according to the Google Season of Docs website. "Together we raise awareness of open-source, of docs, and of technical writing."
The ARK announcement states that the program will not only help aspiring technical writers hone their skills, it will also help ARK in evaluating and improving its documentation. The company's open-source documentation serves as a hub for exchanges, developers, node operators, and anyone interested in blockchain to find information about ARK and to build solutions on the ARK blockchain.
"ARK has always felt a huge amount of pride with our open-source approach, and we feel that participating in open-source programs such as GSoD is not only important for ARK, but also for the wider open-source community," according to the announcement.
ARK lists a number of projects that could potentially align with the Google Season of Docs program.
"For each of these projects, we are focused on making our documentation more user-friendly and more approachable to the wider technical and developer community," according to the announcement.
The GSoD program will be particularly beneficial for technical writers who are new to open-source projects because it will give them the opportunity to gain hands-on experience in the area.
Exciting Partnerships on the Horizon
Walker said ARK has a number of exciting developments that will be playing out in the near future.
Over the past couple of years, ARK has sponsored a number of hackathons at top university campuses. Thanks to a recent partnership with Major League Hacking, the official student hackathon league, ARK will soon be able to reach more students than ever with an open-source workshop and presentation geared toward ARK and blockchain creation.
The program will be available for anyone to use in their own hackathons and meetups.
Walker said the company will have more big news to announce in the near future that will expose ARK to millions of people all over the world. Interested readers should keep an eye on the ARK blog for the latest developments.