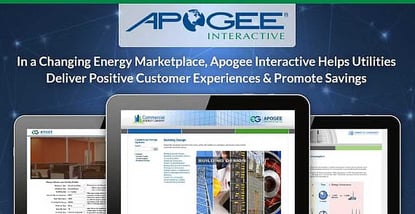 credit card news
Our experts and industry insiders blog the latest news, studies and current events from inside the credit card industry. Our articles follow strict editorial guidelines.
In a Nutshell: Energy utilities face more cost pressure and competition than ever before. In states with deregulated energy markets, investor-owned companies now compete with municipal and cooperative providers. In those states, as well as municipal-only states, solar and other alternative energy companies pose an additional competitive challenge. Apogee Interactive helps utilities address those conflicts through trimming costs and leveraging technology. Meanwhile, customers demand lower bills while expecting the same level of personalized service they get from retailers and other businesses. Apogee helps solve that problem with tools for driving customer engagement and promoting energy savings.
Since 1993, Apogee Interactive has helped energy utilities build better relationships with their customers. Apogee tools and resources support electric and gas utilities in their mission to deliver cost savings to their residential and commercial energy consumers while reducing their own costs and marketing their services more effectively.
Apogee's founders got their start as classroom-style training providers for utility professionals and field auditors. The training was designed to improve the accuracy and efficiency of the energy auditing process. After a period in which the company provided its energy use calculator on CD, it moved the product online.
And, as the energy industry has evolved, Apogee has grown along with it. In many states, deregulation has resulted in the formation of investor-owned energy companies that compete with traditional municipal and cooperative providers for customer share. While competition has been good for consumers, the energy entities themselves — both public and private — have been challenged to provide more responsive service.
"The energy industry is in a transformative state. For generations, municipal electric and gas utilities never really had to compete," said Karen Morris, Apogee's Marketing Manager.
And if pure competition weren't enough, the regulatory framework in which the "deregulated" industries operate places additional pressures on utilities. In many states, investor-owned — and even municipal-owned — utilities and cooperatives are required to provide energy efficiency information to their customers and work with them to reduce usage.
"They're compelled to offer programs such as rebates on heat pumps," Karen said. "And many offer products like programmable thermostats, surge protectors, and water savers to their customers. But, as they meet their mandated energy-reduction goals, their own revenue decreases."
Marketplace diversification extends beyond electric and gas deregulation. In both regulated and deregulated states, consumers are also increasingly considering energy alternatives such as wind and solar.
"With renewable energy becoming more affordable and new products like electric vehicles impacting the industry, we're seeing a lot of utilities cutting back," Karen said. "They need to reduce costs and increase revenue. And now more than 600 utility companies across the country work with us to deliver cost savings information to their customers, reduce energy use, and drive customer engagement."
Tools for Promoting Energy Savings & Improving Customer Service Experiences
In addition to helping utilities serve their residential customers, Apogee offers tools and resources aimed at the commercial market. At the heart of those offerings is the company's commercial energy calculator. The tool, designed to pre-screen commercial audits, puts utilities, independent auditors, and businesses on the same page by giving them a baseline for comparing energy use and costs and generating savings opportunities.
"Putting field auditors out on the street is expensive," Karen said. "We make the process more efficient while providing a more responsive experience to businesses."
A key component of the tool is its flexibility. Utilities can customize it to serve the needs of the business. "Serving small businesses is a particular challenge for utilities because there are so many energy-use scenarios to consider — different types of refrigeration, food-preparation equipment, indoor and outdoor lighting, and so much more," Karen said. "The calculator takes special circumstances into consideration and instantly offers steps for improving energy use."
Apogee also offers a commercial energy library featuring presentations and other information to simplify complex ideas — such as peak and non-peak demand, varying rate schedules, commercial and industrial energy technologies, and billing concepts.
"Utilities have different rates for different types of customers, energy costs vary from place to place, and every utility is different," Karen said. "Quantifying load factor impacts is a big deal for utilities and their customers. But it's not an easy concept, and business owners are busy. Key account managers at utilities — along with commercial auditors and program managers in business call centers — need this information to communicate accurately and consistently across the board."
Consultative Marketing Services & Resources for Driving Customer Engagement
Apogee also supplies utilities with customizable marketing tools and resources to drive web traffic and boost customer engagement. A new generation of utility professionals understands how to leverage the internet and online marketing — and that customers are receptive to modern messaging.
"There's a shift taking place in the industry now. New strategies for digital engagement are coming into vogue," Karen said. "In the past, a utility might consider a customer's email address sacred and hesitate to reach out that way. But we find that customers really appreciate when a provider reaches out with a personal, relevant message about their bill, how they can change their behavior to save money, or how the weather impacts their usage. Those things make a difference."
"For commercial customers, a utility can set thresholds for triggering certain types of communication," Karen said. "For example, if the customer's bill is higher than it was the previous month, the utility might email a video that tells the customer exactly what caused the increase."
Apogee also works with utilities on a consultative basis to build sustained marketing strategies. "We can develop messaging that helps commercial customers understand how to strategize their operational decision-making to obtain the best rate from the utility," Karen said. "For example, maybe you're coming into summer, and you want to inform your customers about seasonal energy-saving strategies. Or maybe you want to help them understand the ROI they can obtain by cycling equipment on and off at certain times or installing automatic lights."
Preparing Utilities for a New Generation of Smart Technology
Apogee continues to ride the innovation wave, which is true to form for a company that has built a longstanding business by leveraging the efficiencies afforded by technology. As it celebrates 25 years as a partner to utilities, Apogee is learning how to create new opportunities using technologies such as voice interactivity and the internet of things (IoT).
"We're learning how to leverage new technology and take our applications to the next level and address utilities' future needs," Karen said. "For example, we've built an application that lets utilities use Amazon's Alexa voice assistant to reach right into the customer's home or office." Customers can obtain bill explanations, coaching, personalized energy cost forecasts, and more by simply asking Alexa.
"Utilities are sitting on a ton of data — more data than they know what to do with," Karen said. "And with so many appliances today connected to the internet, it makes sense to help the energy companies use IoT to monitor power use in those appliances, diagnose problems, and make suggestions that save customers money."
"It's just fascinating to me," Karen continued. "Utilities equipped with our IoT technology can let customers know, for example, that their heat pump is not working as efficiently as it should be and that they should service it."
That is one more way Apogee helps utilities serve as indispensable partners for commercial and residential energy users alike.