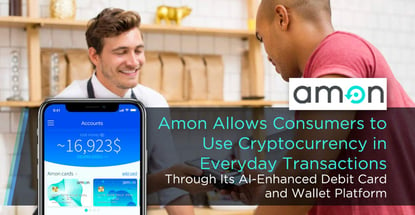 credit card news
Our experts and industry insiders blog the latest news, studies and current events from inside the credit card industry. Our articles follow strict editorial guidelines.
In a Nutshell: Cryptocurrency has many benefits, but one of its most significant drawbacks is limited acceptance in mainstream commerce. Amon set out to solve that problem by developing a wallet platform and debit card that automatically convert cryptocurrency to fiat, enabling fast and straightforward transactions with nearly any merchant. The platform's integrated AI tracks cryptocurrency values in real time to help users make wise spending decisions. Cardholders also enjoy token-based rewards similar to those offered by credit cards.
Anyone who holds or trades cryptocurrency can tell you all about its numerous benefits. Blockchain technology is part of its foundation, which makes it nearly impossible to counterfeit or steal. Direct crypto transactions cut out fees and can be transacted on any computer or internet-capable device, including phones, making it accessible throughout the world.
Perhaps most significantly, holders own their currency without policies or agreements imposed by a financial institution or centralized authority.
But, for all of the advantages of crypto, it still isn't widely accepted. Consumers can use cash or credit anywhere, but cryptocurrency is only used in a relatively limited number of ways. That reality has also kept more people from adopting it.

The only thing holding crypto back is the lack of usability that mainstream currency and payment services enjoy. That's why Amon stepped in to develop a crypto wallet and debit card platform that gives consumers more options.
"Amon is a multi-platform wallet that allows our users to have the best of both worlds," said Sindy Hens, Social Media Marketing Manager at Amon.
The Amon debit card, set to debut in 2020, is attached to a proprietary crypto wallet and, together, they allow users to spend cryptocurrencies in everyday transactions — both online and in physical stores. The system also employs AI to help cardholders spend their assets wisely.
Amon supports Bitcoin (BTC), Ethereum (ETH), Litecoin (LTC), Dash (DASH), Bitcoin Cash (BCH), and Amon (AMN) tokens, the company's proprietary crypto, with support for additional currencies to be added soon. The platform allows anyone who holds these assets to spend them with the ease of fiat. And it offers that without the user having to track individual coin values and market fluctuations.
"You have full control of your assets all in one place," Hens said.
Benefits Include Easy Market Transactions Leveraging a User's Cryptocurrency
If consumers wanted to use crypto to make a purchase with a mainstream online retailer like Amazon, they couldn't — at least, not directly. First, they would need to sell some of the crypto, thereby converting its value into fiat currency.
But Amon offers users simple conversion of crypto value into fiat currency for regular transactions without the need to convert and then purchase; the service empowers users to make a single transaction with a single fee. The conversion from crypto to fiat is made in real time, at the moment of payment, ensuring users get the promised value for their digital coin.
That ease of use will help cryptocurrencies gain wider mainstream acceptance among consumers, merchants, and regulators, motivating more consumers to adopt crypto.
Amon offers physical and virtual cards. The latter carries no issuing or annual fees, making it a good value for online shoppers. Both versions of the Amon card come in three tiers: Silver, Gold, and Platinum, and they're available in four color schemes — all selected by the user community.
Most cryptocurrencies are not regulated by a central authority, making the value of any given coin potentially volatile. Individual cryptocurrencies are subject to substantial increases and decreases in value over the space of just a few hours. That often prohibits casual users from leveraging cryptos, since doing so entails constantly tracking fluctuations and determining which currently carries the greatest value.
So Amon developed integrated AI that does all the heavy lifting on the users' behalf, enabling cardholders to realize the highest return on their crypto investment.
Sophisticated AI Empowers Users to Get the Greatest Value from Crypto Holdings
The volatility of values have been one of the defining features of cryptocurrency, and that also has held it back from becoming a staple of consumer-merchant transactions. That's why Amon integrated sophisticated AI into crypto transactions.
"We are the only the wallet in the market who can provide this," Hens said. "We created our wallet on an AI system."
Amon's AI helps users mitigate the volatility of crypto by allowing them to spend the best-performing currency at any time, which provides users with the most value.
That AI technology actively follows the crypto market and learns how it fluctuates. This information allows it to anticipate future changes, compare predictions to actual events, improve its learning ability, and to make more accurate predictions.
Users can see which cryptocurrency in their wallet is performing the best at any given moment, which one may offer the best long-term return, and which will yield the most value when converted to fiat for a transaction. Crypto holders no longer need to manually track fluctuations and check values each time they wish to make a payment using crypto; Amon's AI automates portfolio management and optimization of spending and holding, and maximizes purchasing power.
"Some people follow cryptocurrencies and are checking the market every day and every hour. But some others don't have the time or support to do it," Hens said. "Amon can tell you the best cryptocurrency in your wallet. You don't need to check the market."
But the Amon wallet goes beyond just storing cryptocurrency, it can also earn returns. Through its Earn investment product, users can earn interest on their crypto holdings each week. And those investments don't have a lock period, which means users can remove their funds at any time
Amon also offers users three payment options, and cardholders can set a preferred cryptocurrency as the default for transactions. Users can also opt to choose different crypto each time they make a payment or allow the AI to decide for them. In that case, Amon will select the best-performing crypto — in real time.
A Debit Card that Offers Credit Card-Style Perks
Perks and rewards are staples of credit cards, but debit cards typically don't offer rewards like cash back or frequent flier miles. But those benefits and incentives represent a viable strategy for crypto-based cards to break into the financial services market.
Amon recognizes that and plans to offer rewards, but with perks that leverage its foundation in cryptocurrencies. The perks will come in the form of AMN tokens, and users will receive extra benefits and services based on how much of the crypto they hold in their wallets.
For cardholders who own at least 100 AMN tokens for three months or more, Amon will charge no issuing or annual card fees. For users who don't wish to purchase AMN tokens, these fees can also be offset by making five transactions per month.
Token holders will also enjoy an enhanced customer service experience. Standard customer service runs from 9 a.m. to 9 p.m., but cardholders who own between 100 and 1,000 AMN tokens will enjoy 24/7 access to support. And for those who hold more than 1,000 tokens, Amon offers 24/7 service on a priority line with a dedicated support team.
Amon Gold and Platinum cards provide holders with 0.5% cash back on each transaction. These rewards are paid out in AMN tokens, similar to the way credit cards distribute airline miles. By offering rewards in the form of AMN, Amon helps clients stockpile the tokens, which they can then either spend or leverage for the benefits.
Improvements in AI Promise Greater Cryptoasset Value
Amon's goal is to eliminate the common barriers to widespread cryptocurrency use, and the company is awaiting the green light to implement its cards. Hens said the team hopes to have the card ready for debut at the beginning of 2020.
Meanwhile, interest in cryptocurrency continues to grow among consumers, merchants, and even financial institutions that seek to capitalize on its benefits — and value.
"It's growing and growing each year," Hens said. "Many small and medium-sized businesses are implementing blockchain and cryptocurrencies in their space. And some banks are interested in how they can work with cryptocurrencies."
This burgeoning interest echoes the movement from banks to fintech in recent years. People seeking the ease-of-use offered by digital services will want access to internet-native currencies while maintaining access to traditional fiat currencies and financial services.
While Amon's AI already offers significant value, the company has plans to continue improving it. In particular, the company wants to use AI to analyze spending behavior, historical prices, current market events, and yields. This increased capacity will help it provide information on prices and performance forecasts, as well as recommendations for hedging crypto investments.
This AI's capacity to guide cryptocurrency use, coupled with the Amon card's ability to conduct transactions efficiently, is an appealing combination for crypto enthusiasts. Moreover, it signals a potential milestone in cryptocurrency's history. And Amon is helping those internet-native currencies transition to a standard, viable medium of exchange — both online and off.