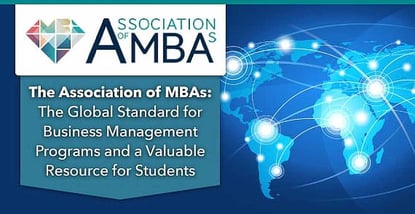 credit card news
Our experts and industry insiders blog the latest news, studies and current events from inside the credit card industry. Our articles follow strict editorial guidelines.
In a Nutshell: For 50 years, the Association of MBAs has been the accrediting authority for postgraduate management programs in the UK and beyond. AMBA accreditation is a quality indicator for both employers seeking top-notch managers and working professionals mulling a return to school. Its rigorous accreditation process focuses on academic excellence, professional credentials of students, and whether a curriculum adapts to advancing technologies, globalization, and other trends. AMBA membership gives students and MBA graduates access to a global networking community and new career opportunities. The AMBA has established itself as a gold standard for academic excellence in MBA programs and a driving force in creating managers who champion sustainable, innovative, and responsible businesses.
For hard-working retail professionals, going back to school is a significant life decision. A degree from the right school can propel a career forward, but the price can be high in terms of tuition, time, and lost salary.
With so much at stake, the Association of MBAs is a valuable resource for prospective students seeking to find a high quality, cost-effective MBA program.
The London-based AMBA formed in 1967 with a mission to raise the quality and profile of postgraduate management programs. Today, the AMBA is the gold standard for academic excellence for MBA programs in the UK and across much of Europe and Asia. The organization currently accredits MBA programs at 253 business schools in more than 80 countries.
"For many potential students, the AMBA is the first port of call when considering further studies," AMBA CEO Andrew Main Wilson said. "Prospective MBA students value AMBA accreditation, as its portfolio approach means that AMBA reviews every MBA program delivered at each institution."
The AMBA's International Accreditation Advisory Board (IAAB) oversees a rigorous accreditation process that focuses on best practices in management education, coverage of relevant syllabus topics, and providing students and alumni with support to enhance the overall learning experience.
The high number of international students — 85% — enrolled at AMBA programs in the UK creates a melting pot of viewpoints that reflect the globalized economy in which we all live, Andrew said.
Students and graduates also make the connections to positively impact their career trajectory. The AMBA's professional network of 31,000 members can access an online community, job boards, networking events across the world, cutting-edge research, and thought leadership from top business professionals.
"Those who have — or are working towards completing — an MBA know that, in addition to knowledge, a network can be to their competitive advantage," Andrew said. "The AMBA has brought this new breed of leaders together in a world-class community exclusively for MBAs."
The AMBA has been on a mission to develop and bring together superior business leaders for 50 years. Last year, the AMBA launched a new set of strategies for its Golden Anniversary
"In 2017, as AMBA celebrated its 50th Anniversary and 'The Year of the MBA,' we embarked on a raft of global initiatives and campaigns to support MBAs in trailblazing sustainable innovation," Andrew said. "Our responsible management campaigns encourage MBAs to make a difference in the world using their unique business expertise. And our scholarship programs help fund the studies of MBA candidates with a proven passion for ethical, responsible, and sustainable practices."
Programs Subjected to a Rigorous Accreditation Process
Students, graduates, schools, and employers all view AMBA accreditation as the gold standard for academic quality. Accreditation shows potential students that the curriculum has gone through meticulous review and will produce a good return on investment in their careers. Retailers and other businesses in need of top-flight managers will know that a potential hire has received a high-quality education relevant to the modern workplace.
The accreditation process is rigorous. Business Schools seeking first-time accreditation go through a four-stage process and, at each step, must submit documentation and payment to progress to the next stage.
New schools must confirm that they understand the process and criteria by sending a formal letter of intent and agreeing to the relevant terms and conditions. The institution then submits an application which is reviewed by an account manager. If approved, the school is formally invited to become a candidate for accreditation and progresses to the next stage.
"Our accreditation ensures that classroom-based courses will have a high ratio of contact time between academics and students. For instance, a full-time MBA program requires a minimum of 500 hours of direct communication between students and tutors, either face to face or by video messaging. AMBA accredited online courses require mandatory periods of direct engagement with lecturers." — AMBA CEO Andrew Main Wilson
A required Self-Audit Report (SAR) provides detailed information about the program and must demonstrate how each of the AMBA accreditation criteria are met. "It is a narrative document of approximately 100 pages in length and is an opportunity for the school to showcase its strengths against the AMBA criteria," Andrew said.
The AMBA then makes an on-site visit with its accreditation panel, which makes a recommendation to the International Accreditation Advisory Board Endorsement Committee. That committee has the final say and is made up of academics and leaders from member schools.
"Our accreditation ensures that classroom-based courses will have a high ratio of contact time between academics and students," Andrew said. "For instance, a full-time MBA program requires a minimum of 500 hours of direct communication between students and tutors, either face to face or by video messaging. AMBA accredited online courses require mandatory periods of direct engagement with lecturers."
Membership Perks Include the AMBA Professional Network
AMBA membership has its privileges, as students and graduates of accredited programs join an online networking community of more than 31,000 members in 110 countries.
"Our membership proposition is based on the concept 'AMBA CAN', with CAN standing for careers, authority, and networking," Andrew said. "These represent the ways our student and graduate members can develop personally and professionally during their MBA studies — and long after graduation."

Members receive free access to an online career center with a global MBA-level job database, and digital and in-person networking events.
They can also take advantage of webinars on topics such as communication, leadership, and sustainability, and receive discounts to conferences put on by AMBA partners.
The AMBA blog and exclusive membership magazine Ambition deliver high-quality thought leadership from top business minds. AMBA also negotiates member discounts on business-related newspapers, books, and magazines in addition to hotels and rental cars.
AMBA research on salaries, recruitment, and career trajectories allow members to benchmark themselves against a global market. But the most valuable benefit may be the global network of connections to help advance a career, Andrew said.
"We feel that networking is vital for career progression," he said. "We enable our members to collaborate through our online community and a wealth of face-to-face events."
AMBA: Building on 50 Years of Excellence in MBA Education
At 50 years old, the AMBA may be more relevant than ever. With technology disrupting so many traditional industries, modern companies need managers who are up to speed on emerging trends and have a strong foundation in leadership and business sustainability.
"Ten years ago, if someone had suggested that we would live in a world in which the biggest accommodation agent (Airbnb) owns no rooms, the biggest taxi firm (Uber) owns no cars, and the largest popular media provider (Facebook) owns no content, few would have believed it," Andrew said. "We live in a constantly disrupted world and the innovative and dynamic business thinkers, who thrive in this environment, share many virtues: transparency and a willingness to share ideas; great communication; extensive knowledge of their markets; and a long-term, sustainable view."
As the global labor market becomes heated and economies remain volatile, Andrew believes a community of leaders is necessary to future-proof business, ride the chaos, and innovate through complex challenges.
In May 2018, the AMBA will hold its 20th annual Global Conference for Deans and Directors. Distinguished business school deans and directors from AMBA-accredited schools, and prominent business leaders from around the world, will gather in Stockholm, Sweden, for three days.
"Delegates will have opportunities to gain insights in areas including innovation and delivery, globalization versus anti-globalization, and the latest research on the MBA market," Andrew said. "And special guest speakers and professionals from all over the world will give their expert judgment on the matters at hand."
Some of the topics slated to be covered include 'The Future of the MBA' and 'How Should MBA Programs Evolve to Reflect the Future Needs of Employers.'
In 2018 and beyond, the AMBA will continue to focus on building a network of innovative MBA graduates, Andrew said.
"As a global force for good, this network is championing sustainable and responsible business, implementing game-changing innovation, furthering business theory and practice, and contributing positively to business and society in all corners of the globe," he said. "That is what really matters to us."