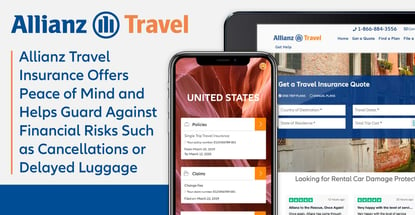 credit card news
Our experts and industry insiders blog the latest news, studies and current events from inside the credit card industry. Our articles follow strict editorial guidelines.
In a Nutshell: The next time you're cashing in travel rewards for your next getaway, you may want to consider purchasing travel insurance with a portion of your savings. Companies like Allianz Travel Insurance offer a range of plans that protect against unforeseen events, canceled trips, and other potentially costly circumstances. Allianz makes it easy for customers to file claims and receive their payouts when approved and continues to work on ways to make it even easier. Additionally, its TravelSmart app lets policyholders take their insurance information with them on-the-go and even file claims via smartphone.
As credit card enthusiasts, not many things get us more excited than hearing about readers cashing in hard-earned rewards to save money on a nice vacation. They patiently wait as they use their cards responsibly and watch the reward points accrue.
Then, finally, comes the fun of applying those rewards and watching hotel or flight prices drop like a rock. But even with big savings on hotels or flights, most trips are still going to cost travelers money.

That's why it's important to consider travel insurance to protect those investments when you're planning your next getaway.
We recently spoke with Daniel Durazo, Director of Marketing and Communications at Allianz Travel Insurance to learn more about why more travelers should consider travel insurance. We also discussed Allianz' travel insurance options and what Allianz Travel Insurance customers can expect from their plans.
"Allianz has a storied history, going back 100 years — the company identified a need for travel insurance more than 20 years ago to protect trip investments and provide peace of mind," Durazo said. "Protecting your investment typically costs 5-10% of the total trip cost."
Allianz first appeared in 1890 in Germany where it offered marine and accident insurance policies. The company expanded to other countries quickly and was an early provider of automobile insurance policies as well.
Today, Allianz continues to focus on specialty insurance and asset management and is one of the largest insurance companies in the world. So, if you're considering travel insurance for your next vacation, Allianz is certainly a well-established name worth considering.
Understanding the Importance of Travel Insurance and Exploring Coverage Options
While it may not be at the top of some travelers' checklists, Durazo explained why it should be.
"In 2019, an Allianz customer had a medical emergency in Italy where his $79 policy saved him $70,000," Durazo said. "Steven from Albany was planning a January 2019 genealogy trip to Italy and decided to purchase travel insurance for his peace of mind."
Two weeks into the trip, Steven began exhibiting stroke symptoms and was admitted to a local hospital. When his wife, Cathy, arrived in Italy, Steven couldn't speak, he didn't recognize her, and he was put in a medically induced coma, Durazo said. The medical team concluded he was suffering from both sepsis and pneumonia.
"Steven was hospitalized in Italy for six-and-a-half weeks while at the same time, Allianz was making arrangements with an airline partner to bring him home once he was medically cleared to be evacuated," he said. "Allianz utilized international teams in local areas to communicate with the doctors at hospitals in the local language."
Allianz worked with Lufthansa to build a medical pod on their plane to transport him home. To build the pod, Allianz purchased 16 seats (four middle rows) on the aircraft, and Lufthansa removed the seats and built a private medical structure that could fit Steven's stretcher, medical equipment and accommodate the physician and nurse required to travel with him.
"The total trip home took 17 hours," Durazo said. "Steven has said that other than his wedding day and the birth of his two children, the day he was able to be transported home was the happiest day of his life."
Travel insurance is an important consideration as the world has become a very uncertain place, Durazo said. It's important for people to purchase travel insurance for their trips to protect against unexpected events like Stevens.
Of course, not all cases are as severe. But in the past year, Durazo has also seen severe weather and natural disasters impact travel around the world.
"Two main travel insurance benefits are trip cancellation and post-departure benefits that protect travelers during their trip," Durazo said. "Trip cancellation can reimburse lost prepaid, non-refundable trip deposits for things like airline tickets, hotel rooms, rental cars, tours, and cruises."
Post-departure benefits help cover expenses for baggage loss and travel delays, but most importantly, can protect customers from financial disasters by providing global assistance, emergency medical treatments, and emergency medical transportation, he said.
Allianz Travel offers a range of travel insurance plans that are suited to a wide variety of travel needs, including single trip plans, annual or multi-trip plans, and a rental car damage protection plan.
"Whether you're traveling for leisure or business, you'll appreciate the benefits and coverage Allianz Travel Insurance plans can provide," according to the website. "With 24/7 support from our travel professionals around the world, we helped over 34 million people last year to protect themselves from the unpredictable."
A Straightforward, Hassle-Free Claim Experience
While the thought of filing claims and receiving payouts with insurance companies can be headache-inducing for some, Durazo described a simple and straightforward process for Allianz Travel Insurance clients.
"You typically have 90 days from the date of your loss to submit your claim to us, and can file a claim over the phone, by mail, online, or using the Allianz TravelSmart app," he said. "You would have to describe what happened, explain your losses, and upload supporting documentation, such as your travel itinerary and receipts."
Next, the policyholder would choose how he or she wants to receive payment for an approved claim — either through direct deposit or a mailed check.
Although Allianz has been around for a long time, that doesn't mean it's stuck in the past — the company seeks ways to modernize and even innovate the customer experience.
"In July 2018, Allianz launched SmartBenefits, which offers proactive claim payments for flight delays and is included with certain travel insurance plans from Allianz," Durazo said. "Proprietary technology and new automated claims capabilities enable Allianz Travel customers enrolled in SmartBenefits to receive proactive claim payments within minutes of a qualifying flight delay."
Also, the company's most popular plans include a new fixed-amount payment option that allows travelers to file other travel delay and baggage delay claims with no receipts.
"Additionally, Allianz joined forces with Mastercard to deliver claims payments in real-time to bank accounts through debit cards," Durazo said. "Using Mastercard Send™, Allianz can pay customers within minutes of their claim being finalized."
This allows travelers to get access to their funds sooner, which may help them to pay travel expenses or replace lost or stolen items while they're still on their trip, he said. Mastercard Send puts money in travelers' hands faster and alleviates the wait that's created when a check lands in a consumer's mailbox while they are still on their trip.
The TravelSmart App is the Easiest Way for Travelers to Access Insurance Information
Of course, if you're on the go, you're not always going to be able to be in front of a computer or make a phone call to file a claim or reach out to Allianz Travel, and the company understands this.
"In 2019, more than a quarter of a million travelers downloaded our popular and free TravelSmart app," Durazo said. "The app is a great resource for our customers as it allows them to quickly access their policy information and even file a claim directly from the app."
It also includes one-touch dialing to the Allianz customer service and travel assistance teams and includes geolocation services for nearby healthcare facilities and other resources, he said. It also includes local emergency numbers and translations for drug and first aid terms.
"In 2020, we plan to roll out additional capabilities that will include travel alerts notifying customers of events that may impact their trip (natural disasters, severe weather, protests, strikes, etc.) as well as personalized trip planning information," Durazo said.
Allianz currently sees about 500 new downloads of TravelSmart every day, and he said the company expects this number to accelerate as it rolls out email and other marketing efforts to remind customers of the importance of downloading the app before they leave for their trip.
"We recently ran a test campaign on Facebook to inform consumers about the availability of TravelSmart and we were encouraged by the fact that downloads increased by nearly 400% over the same time period in the previous year," he said.
He said the company frequently hears positive feedback from customers about the app, which holds a rating of 4.0 or better in the Apple App Store and on Google Play.
And customer satisfaction is a high priority for Allianz Travel.
"In addition to reviewing and responding to customers on review websites, such as TrustPilot, Google, and Consumer Affairs, Allianz collects and analyzes customer feedback which is shared to a cross-divisional Customer Champion Team, who focuses on ways to improve the company's products and services," Durazo said.
By gathering insight from customers who represent their likes, dislikes, expectations of the brand, products, and services, Allianz has been able to invest their efforts in enhancing the overall customer experience.
"Allianz currently holds an average customer rating of 4.5 out of 5 stars, an "excellent" rating, making us one of the highest-rated travel insurance providers," Durazo said.