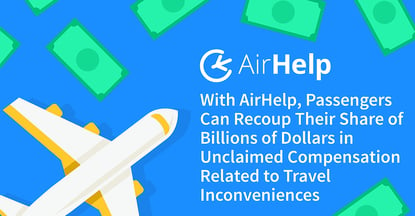 credit card news
Our experts and industry insiders blog the latest news, studies and current events from inside the credit card industry. Our articles follow strict editorial guidelines.
In a Nutshell: More people travel by air today than ever before, and experts predict their number will continue to grow. This means flight delays, lost luggage, and cancellations will also increase. AirHelp is a startup that educates air travelers about their compensation rights when it comes to these air travel inconveniences. It also provides a valuable service by working to secure monetary compensation the consumer is legally entitled to. We spoke with AirHelp's Chief Product Officer Johnny Quach to learn more about air travelers' rights since many people aren't aware of them. He also offers some expert tips on how to ensure travelers get the compensation that's rightfully theirs when inconveniences arise.
More people are taking to the skies than ever, whether they're cashing in travel rewards for a vacation, heading to a business conference, or simply commuting. Just about any traveler knows hiccups can happen along the way — a delayed flight, a lost bag, and, of course, the ever-unpopular canceled flight.
Henrik Zillmer, an entrepreneur and international consultant who frequently traveled to various countries, was all too familiar with the headaches that could accompany air travel.

As a citizen of the European Union, Zillmer was aware of certain rights to compensation he had when traveling via plane. But, he discovered that the process of trying to claim that compensation was often extremely difficult and frustrating.
In 2013, Zillmer, along with Nicolas Michaelsen, and Greg Roodt, founded AirHelp as a way to educate consumers and help them get the compensation they are entitled to following delays and other travel inconveniences.
"Henrik realized that it was almost nearly impossible to get money from airlines, even when the consumer is legally owed it," said Johnny Quach, AirHelp's Chief Product Officer. "He also discovered that most EU citizens, as well as other travelers who could be privy to compensation under certain circumstances, were not even aware that those rights existed in the first place."
We recently sat down with Quach to learn more about travelers' rights and how AirHelp can ease the frustration of dealing with airline bureaucracy to receive compensation that you're legally entitled to. He also shared some of the top tips he gives travelers to ensure their rights will be upheld in the event of those common travel annoyances that impact our schedules and wallets.
Raising Awareness of Air Travelers' Rights and Facilitating Monetary Compensation
Air travel compensation can quickly become confusing. The laws involve multiple companies across international borders and a nearly endless combination of scenarios.
Quach said AirHelp focuses on EU laws that can often apply to passengers who are not EU citizens because the continent is such a huge travel destination and hub.
"The mission of AirHelp is simply that we want to help air passengers," Quach said. "So we try to make things a little less confusing and at the same time help them secure compensation for delayed, canceled, or overbooked flights."
One of the main laws that comes into play is the EU law, Regulation (EC) No 261/2004 of the European Parliament and of the Council of 11 February 2004 — also known as EC 261.
Quach said that, under EC261, all passengers in the U.S. who are flying to Europe on an EU airline or out of the EU are entitled to compensation for a flight cancellation or flight delay of three hours or more. And, passengers on U.S.-based airlines flying out of Europe are entitled to the same rights. However, they do not apply for passengers on U.S.-based airlines flying into Europe.
Another law that protects passengers, said Quach, is the Montreal Convention legislation signed by 126 countries, including the U.S., which requires airlines to compensate passengers for expenses incurred during their delay.
"If the delay causes you to buy a train ticket or book a taxi to drive to your destination because you're going to be late to a meeting, those things are covered between these nations," he said.
Other common scenarios include reimbursement for expenses caused by lost luggage and compensation for passengers who are denied boarding because of overbooked flights.
Travelers who believe they might be entitled to compensation can visit AirHelp's website to get more information on their rights and compensation eligibility.
"From there, we're pretty much able to tell you if you're eligible or not," Quach said.
He said the company utilizes a machine-learning program that evaluates if a traveler's claim meets legal requirements for compensation and also estimates the chances of the traveler's case winning if it actually goes to court.
"From there, we'll ask for a few more details, and then we take care of the whole process from the beginning to the end," Quach said. "Then, we'll say, 'Hey, you have money waiting for you in your bank account.'"
AirHelp's Top Tips to Ensure Passengers Will Be Eligible to Recoup Expenses
Quach let us in on some of the most common tips he offers people to maximize their chances of compensation in the event of unforeseen circumstances while traveling.
"The first and most important thing is, you'll want to save all your receipts," he said. "That means your receipts from booking the flight and also any receipts for purchases during delays, whether you're buying coffee, food, boxer shorts, or whatever. Keep those receipts."
Next, he said every traveler should take a photo of their luggage open, with all of their items inside and a photo of the luggage closed.
"This one takes very little effort, but many people don't do it," Quach said. "Taking these photos helps travelers prove their case if there was any damage to their luggage. And if it's lost, you can show what items were inside your bag. That's all you have to do."
Additionally, air travelers should keep any documents — or a photo of the documents at the very least — they receive if their itinerary is altered and they are re-routed due to a flight cancellation or other extenuating circumstance.
"There's one other main one, which is really for the extreme cases," Quach said. "You'll want to take a picture of the plane — when the door closes and when it opens. This will give you a timestamp of when these actions occurred, just in case you need it for your case."
In most cases, the first three tips will cover travelers, he said.
He added that, for lost or damaged luggage, passengers should fill out a Property Irregularity Report before they leave the airport, otherwise, they will not be eligible for any luggage-related compensation.
Airline and Airport Rankings Along with a Wealth of Resources on Rights and Compensation
In addition to helping more than 7 million passengers address their compensation issues, AirHelp provides a wealth of educational information on its website.
The company provides rankings for the best airlines and best airports across the globe, using a weighted scoring system, and assigns each one a number from 1 to 10.
"We use three main metrics to reach our scores," Quach said. "First, we look at quality of service, where we review multiple sources of public reviews and aggregate them into one number."
Next, he said AirHelp factors in on-time performance based on data coming in from airports all over the world.
"The third thing we look at is claims processing statistics for the airline or airport," Quach said. "So we combine all three of those considerations to come up with the ranking and number."
The website also hosts in-depth Know Your Rights pages covering in detail what rights are afforded to passengers, how much they may be eligible to receive in compensation for various scenarios, and steps they can take to receive compensation.
Each page dives into an impressive level of detail that will illuminate passengers on a wide variety of topics related to air travel compensation. The pages also contain helpful videos, legal definitions, and handy charts.
"Experts predict that every year, we're going to see a 3% to 5% increase in global air travelers," Quach said. "That increase is huge. You can imagine that airports aren't the most agile things, and airlines aren't fast-moving tech companies. So, we're going to see more delays every year."
That's why it is important for consumers to be aware of their rights, and for companies like AirHelp to advocate for travelers and get them the compensation they are legally entitled to.
Advocating for New Laws and Supporting EU Passengers
"We really encourage people to get educated," Quach said. "We want people to know that they can access tons of resources on our website. It's not just about filing a claim, it's about learning what your rights are."
He said a big focus for AirHelp in 2019 is to become an even bigger voice for air passenger rights. The company has joined some of its competitors to form the Association of Passenger Rights Advocates (APRA).
He said AirHelp is also looking at local laws in various countries that don't have air passenger rights and exploring how the company might be able to help develop them. Quach said the company is currently focused on looking at countries in South America.