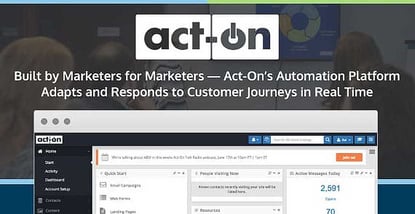 credit card news
Our experts and industry insiders blog the latest news, studies and current events from inside the credit card industry. Our articles follow strict editorial guidelines.
In a Nutshell: The Act-On marketing automation platform empowers marketers to create adaptive and personalized customer journeys, saving time and money with its all-inclusive suite of digital tools. Among its data-supported features are social media posting, A/B testing, robust campaign reporting, and automated email marketing. Built with intuitive design and supported by an extensive eLearning portal for users, Act-On is dedicated to helping marketers drive their businesses to success.
Truity Credit Union realized its manual approach to email marketing was not working despite the team's investment in time and labor.
From promotions to credit card offers, the company's e-commerce team would regularly send large email blasts and regroup weeks later to craft follow up messages.
But, by the time the credit union enlisted Act-On — a marketing automation platform — to jump-start its email marketing efforts, open rates were lagging at a mere 18-25%. Since onboarding Act-On's software, Truity Credit Union's choice has proved its worth — the company now garners email open rates averaging 36-54%.
Email marketing is just one of the many features Act-On offers to help marketers efficiently manage and optimize their customer interactions. Based on behavioral data, the technology enhances the customer lifecycle from end to end, starting at the first digital interaction and continuing long after a sale has been made.
With Act-On's marketing automation tools, users can create campaigns to send customers the precise messages they want to see when they are most likely to read them. The robust automation and adaptation features of Act-On work to develop stronger customer relationships, generate sales, and improve a business' bottom line — which are the fundamental goals that every marketer aims to achieve.
A Marketing Automation Platform Built for Mid-Sized Businesses and Enterprises
Act-On's platform is an all-inclusive suite of inbound and outbound marketing tools designed to scale businesses at both the mid-market and enterprise level without a dedicated IT resource. The robust software supports fast-growing marketing databases and seamlessly conducts automated marketing campaigns to immense contact lists.
According to Act-On CMO Michelle Huff, marketing automation platforms are often complicated and maintaining one requires businesses to hire a designated IT professional. She said Act-On's software was created to make it easy for marketers to learn and manage alone.
"A lot of our customers prefer to not have an application expert using Act-On, but a marketing expert since it's possible," Michelle said.
The platform's noteworthy features include landing page and form builders, a social media module, A/B testing, an engagement data studio, account-based marketing, dedicated IP, and the ability to sync with all major CRMs.
Creating flexible journeys for buyers is at the core of Act-On's innovations with features like adaptive sending — a tool that will send automated emails at specific times based on an individual's online engagement history.
Act-On's mission is to help marketers market better, which is further evidenced in the intuitive software design. The user interface appeals to the sensibilities of marketers, so new users can spend less time learning how to use the application and more time creating powerful marketing campaigns.
The monthly pricing plans include the Professional plan at $900 and the Enterprise plan at $2,000. Both packages provide users unlimited access to the technical support and customer success teams during operating business hours, unlike many competing platforms that impose costly limits for support and services. Feature add-ons, platform onboarding training, and additional support services are priced separately.
Providing Online Training and Resources to Educate Marketers on Best Practices
To help new and experienced users take full advantage of the platform, Act-On provides a host of education tools through Act-On University, a free eLearning portal accessible to all customers. The company offers unlimited training by using live and personalized teaching formats to remove barriers to marketing automation success.
"We launched Act-On university earlier this year and worked to make it individualized," Michelle said. "We created different learning paths based on what you're doing as a marketer, not on the product."
Highlights of Act-On University's varied knowledgebase include software onboarding classes, live expert sessions, interactive online workshops with fellow users, and learning path courses tailored to specific marketing roles.
According to Michelle, brand, demand, and expand are the three ways Act-On approaches development with it's educational curriculums.
"We saw that our customer marketing users utilize the platform differently from demand generation marketers, so we built out training for each of those three tracks of marketers."
In addition to Act-On University, the company regularly develops marketing resources, including podcasts and white papers on trending topics and best practices for businesses.
Helping Marketers Drive Sales Strategy and Build Better Customer Relationships
Not only did Truity Credit Union improve email open rates with Act-On, the financial institution optimized efforts for post-event marketing events and credit card campaigns. The marketing automation platform secured the company's e-commerce team with the digital marketing foothold it needed to go head to head with its largest competitors.
Act-On's marketing automation software gives users data-backed insight into buyer life cycles and sends messaging that adapts to customer behaviors in real time through a variety of digital communication channels. The platform drives results for mid-level and enterprise marketers who  manage very large contact lists that are constantly changing.
While the technical strength of the software cannot be underscored, the true power behind the product remains in its sole focus on marketers. Act-On  removes the learning curve for marketers who have limited to no previous experience with software, and the platform's design and supporting educational resources make marketing automation easy to adopt.
Act-On's product and services were built for marketers by marketers. Instead of focusing on the technical aspects of the software, the company concentrates on teaching users how to use the technology to support their overall marketing strategy.
"We conducted a survey to our customer base and asked them how quick they could get a campaign up and running," Michelle said. "70% had their first campaign up in a month and 95% of them had them up in less than 2 months."
Act-On's marketing automation platform enables marketers to develop a brand, increase user demand, and expand customer journeys so the businesses they serve can succeed in today's digital age.