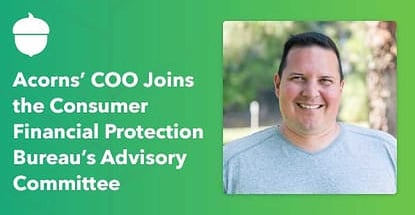 credit card news
Our experts and industry insiders blog the latest news, studies and current events from inside the credit card industry. Our articles follow strict editorial guidelines.
In a Nutshell: Acorns has risen to prominence in the financial tech world in recent years for its simple but effective approach to helping users learn how to invest their money. The company takes the spare change from bank and credit card transactions and automatically invests it into a portfolio for the user. With a similar eye toward utilizing technology, the Consumer Financial Protection Bureau works to find ways to improve and protect the financial lives of Americans. It only makes sense that the two organizations paths' would cross at some point. The bureau announced in September that Acorns' COO, Manning Field, will be serving on its Consumer Advisory Board with a number of other leading finance experts.
A quick scroll through the Apple or Google app stores reveals a lot of financial apps. A lot.
While some of them certainly have the potential to be useful tools to help improve users' financial health in one way or another, it's safe to say the quality and usefulness of these apps will vary widely, to put it politely.
But a few companies rise to the top and for good reason. Acorns is one of those companies.

The concept of Acorns is so simple, plenty of tech CEOs are likely kicking themselves for not getting there first. When Acorns customers make a bank or credit card transaction, the spare change is rounded up to the nearest dollar and invested into a financial portfolio. The idea, of course, is that, like the tiny acorn giving rise to the mighty oak tree, these seemingly small investments have the potential to grow into something big for customers.
With about 4 million users and multiple awards in recent years, Acorns has earned its place among leading financial apps.
To further solidify its reputation as a real player in the financial tech world, Acorns COO Manning Field was recently named to the Consumer Advisory Board for the Consumer Financial Protection Bureau, which helps to protect consumers' financial interests.
Field's Work with Acorns Positions Him to Provide a Unique Perspective on Today's Investors
"First and foremost, I'm just proud to serve and to be a participant in trying to drive change," Field said, "both from within our own company and within the broader financial services ecosystem, including our regulatory partners."
Field said that, by having a seat on the CFPB Consumer Advisory Board, he is able to represent not only Acorns but Acorns' customers, as well as everyday Americans.
"A big part of the CFPB's agenda is around financial modernization and bringing financial services into the 21st century, which is very much aligned with how we operate at Acorns, and how we think about helping customers, he said.
Field brings a deep knowledge of the finance industry to both Acorns and the CFPB advisory board. Prior to joining Acorns, Field spent 18 years with JPMorgan Chase, where he worked on a broad range of initiatives including product development, marketing, and innovation.
Field said because of his background and his current work at Acorns, he will be able to speak to issues like modernization and inclusion with a level of specificity on the CFPB advisory board.
"The goal is to share as much as we can and help shape the agenda," he said.
In a press release from the CFPB, the bureau's Acting Director Mick Mulvaney said of the newly appointed Consumer Advisory Board members: "These experts are highly talented individuals in consumer finance markets, and we look forward to working closely with them throughout their service."
The new appointees, who will serve one-year terms, include members from "consumer protection, financial services, FinTech, community development, fair lending, civil rights, and consumer financial product and service experts," said Mulvaney.
Acorns Strives to Bring Financial Stability to Everyone through Education and Investing
Acorns was founded in 2012 by the father-and-son team of Walter and Jeff Cruttenden, based around the idea of simplifying investing and helping young people get an early start on a healthy financial journey. The Acorns mobile app was launched in 2014 after the team secured $8.3 million in funding.
In 2018, Acorns' focus is still based on those founding principles: "Our mission is to look after the financial best interests of the up-and-coming, beginning with the empowering step of micro-investing," according to the Acorns website.

The company currently offers both a mobile app and desktop capabilities and three pricing tiers of $1, $2, or $3 per month. The $1 a month plan is the original Acorns Core plan, which rounds up change from everyday purchases and invests it into a portfolio. The next tier includes the features of Acorns Care and comes with Acorns Later, which allows users to also invest in a retirement savings account. Finally, at the $3 level, customers get Acorns Care, Acorns Later, and Acorns Spend — a checking account with a focus on maximizing savings.
"From our perspective, we think about our business and we think about how we serve our customers," Field said. "Being a mission-oriented kind of company, we really focus on this segment of Americans that make under $100,000 a year. We believe that everyone has the potential to really save and invest every day. And our technology, software, and products are built to do that."
Right now, Acorns has about 4 million customers and Field said about 90% of those users fall into the category of earning less than $100,000 a year. Around 182 million Americans fall into that annual income bracket, Field said.
The CFPB is a Government Agency Tasked with Ensuring that Financial Companies Treat Consumers Fairly
Following the financial collapse in 2007, President Obama proposed in 2009, "to address failures of consumer protection by establishing a new financial agency to focus directly on consumers, rather than on bank safety and soundness or on monetary policy," according to the Consumer Financial Protection Bureau website. The bureau was officially founded in 2011, following the signing of the Dodd-Frank Wall Street Reform and Consumer Protection Act.
"We protect consumers from unfair, deceptive, or abusive practices and take action against companies that break the law," according to the CFPB website. "We arm people with the information, steps, and tools that they need to make smart financial decisions."
The bureau focuses its efforts around the concepts of empowering, enforcing, and educating.

In addition to its proactive consumer protection efforts, the CFPB also offers a plethora of consumer tools on its website, including advice and guides on financial topics from buying a house to avoiding scams.
As a progressive agency, the CFPB is always looking to address outdated or burdensome regulations and employing technology to help protect and educate consumers.
As part of its efforts to provide consumers with the most up-to-date and informed service possible, the CFPB works with several advisory boards: The Consumer Advisory Board, the Community Bank Advisory Council, the Academic Research Council, and the Credit Union Advisory Council.
The Consumer Advisory Board, on which Field now sits, is a crowdsourced group of experts "charged with identifying and assessing the impact of emerging products, practices, or services on consumers and other market participants."
It makes a lot of sense for the Consumer Financial Protection Bureau to have the perspective of an entity like Acorns with its mission of financial education and helping Americans grow their investments. Maybe as much sense as an app that automatically invests the leftover change from bank and credit card transactions into a portfolio for you.