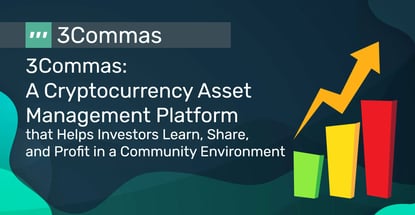 credit card news
Our experts and industry insiders blog the latest news, studies and current events from inside the credit card industry. Our articles follow strict editorial guidelines.
In a Nutshell: Cryptocurrency trading is gaining momentum and profitability, but without the ability to efficiently manage coins on multiple exchanges, the risks and time commitment can become daunting. 3Commas, a crypto asset management platform launched in 2017, makes the process easier for investors of all experience levels. The platform offers a unified view of all exchange assets and tools to create a balanced portfolio. 3Commas also has three subscription levels that provide manual or automated trading, extensive trading bots and strategies, and free educational resources.
Trading cryptocurrency can be highly profitable, but market volatility poses a significant risk. That means it's essential for investors to monitor their assets at all times.
For someone new to crypto trading, managing a few Bitcoins on a single exchange doesn't take much time and isn't all that complicated. But, for those who trade multiple types of cryptocurrency on different exchanges, the process of manually switching between screens, platforms, and tools can become overwhelming — and lead to costly mistakes. Without an efficient way to manage diversified assets, the crypto market may seem inaccessible to all but the most experienced, full-time investors.
That's why Toronto-based software company 3Commas launched an all-in-one crypto asset management platform in 2017 to address those challenges.
"We started 3Commas to offer experienced traders and new investors alike the ability to manage their crypto assets on various exchanges," said Victor Cucos, Chief Strategy Officer at 3Commas. "You can have great analytic skills, but if you manage more than 10 to 12 tokens, you're going to be spending a lot of time in front of your computer. Applying the same level of knowledge through us makes things faster and — more importantly — safer."
The 3Commas non-custodial, order management model finds its strength in the learning and idea-generating power of its community. Along with a unified view of all personal exchange accounts, 3Commas users have access to an entire suite of trading tools, educational resources, and a social marketplace from which to learn from other experienced investors.
"Our success is due to the social aspect. We have thousands of people communicating to exchange ideas and strategies, and that creates value," Cucos said.
Offering a Unified Dashboard with Portfolio Management and Trading Options
Setting up an account on 3Commas is simple, free, and fast — users can start trading and making money within minutes. During the process, a user's cryptocurrency exchange APIs plug into the 3Commas platform. For security, API keys aren't exposed in every trade, only once during setup. After that, they're separated into three pieces and stored offline, where only the investor can access them.
"Basically, it's as secure as the exchange," Cucos said.
After set up, 3Commas account holders no longer need to access each exchange directly to view and manage their holdings — they're all visible through its unified dashboard, with integrated access to several portfolio management tools.
"You can create an indexed portfolio that's automatically balanced," Cucos said. "And you have all of that at a glance — you see what you have on each exchange and set up a trading strategy for up to 99 trading pairs. To do that manually would be a nightmare."
Investors can access the SmartTrade terminal and perform trades manually or automatically across 16 exchanges through the dashboard — depending on their subscription level. At the Junior level, users can trade on any marketplace for free if they own less than $750 in deposits. The Starter level offers only manual trading while Advanced and Pro come with automatic trading options and more features.
Cucos said that investors with some technical analysis skills are most likely to trade manually. For those users, 3Commas offers established strategies from many services, as well as the ability to set up Stop Loss and Take Profit commands simultaneously — something that no other exchange currently offers. Those with more sophisticated trading skills can even import trading signals from other channels.
"They're easy to set up and execute with our platform," Cucos said. "People pay a lot of money for trading signals and then end up stuck in front of the computer trying to set them up. On our platform, you can do it in a minute, walk away, and get notified when it's executed."
Automatic trading, carried out by pieces of software known as trading bots, carries many advantages in the volatile cryptocurrency market.
"You can actively trade, but you're on autopilot. You don't have to spend the whole day in front of the monitor. There are many different bots and algorithmic trading strategies," Cucos said.
While Cucos said the bot universe is quite vast, with many layers of functionality, 3Commas has five primary types: short algorithm, long algorithm, simple, composite, and BitMEX — which is only offered at the Pro level.
"First, you want to go long or short. Second, you need to decide what's going to trigger the bot. Some people create their own strategy, while others connect TradingView accounts to our platform, and various indicators transmit from Trading View to our platform."
Tutorials, Videos, and an Upcoming Trading Academy Help Educate New Investors
While bots automate the trading process, they're still user-defined, so those who use them need to know at least a little about the market. But, for crypto investors who are just getting started, 3Commas makes it easier to learn the ropes by copying the trading habits of more experienced investors through the use of a "copy trade" function.
"The social trading aspect is what we're pushing hard. We opened a Marketplace for trading strategies, where experienced traders can monetize through us, and newcomers can simply follow them until they're comfortable doing it on their own," Cucos said.
3Commas is also launching another set of features for beginners: a full set of tools in a paper trade environment.
"People can join and play with paper money until they're comfortable executing real trades on an exchange," Cucos said.
The cryptocurrency market and its terms, tools, and strategies are still relatively new, so education is a pillar of 3Commas effort to make crypto trading more straightforward and accessible. That's why it has an extensive blog and documentation center, in addition to its YouTube Channel.
"We have more than 40 videos on how to get set up, how to make a smart trade, how to set up a bot, and how to leverage various sources of indicators and trading signals," Cucos said.
In the next step of its push to put more education tools in the hands of novice crypto investors, the company is finalizing terms with two trading education services to build what will be called the 3Commas Trading Academy.
The academy will provide users with access to structured curriculum and resources through professional platforms.
As users gain crypto trading skills through these new educational partnerships, the portfolio management and trading features on 3Commas will, in turn, help them put their knowledge to good use.
"We can learn a lot, but the execution is still time-consuming and difficult. Leveraging our platform is a natural extension of what you learn," Cucos said.
A Social Trading Community Generates Market Insights and New Ideas
3Commas has built a vibrant community of more than 33,000 users — entirely by word of mouth — as crypto trading becomes more desirable to both experienced and novice investors. Much of this is thanks to its multilingual channels on social messaging applications Telegram and Discord.
Through those channels, 3Commas users can learn and share market insights while they trade on the platform.
"There are a million things you need to consider when trading in crypto, and when you have hundreds, if not thousands, of people looking at different things, you can extract some interesting insights," Cucos said.
And the 3Commas community frequently inspires new features, partnerships, and services to improve efficiency, increase profits, or reduce risks. Users can voice their opinions through the site's Community page. During its two-week sprints, 3Commas delivers on the top requests.
"As much as people learn from us, we learn from our users. Many of our features came from the community. For example, we use Crypto Base Scanner, a service which identifies broken bases and enforces a cool-off period to keep you from getting caught in a bull or bear trap, and this was, basically, an idea from our traders," Cucos said.
3Commas has positioned itself as a versatile tool in the crypto asset management space in its first two years. And it continues to expand into Asian markets and work on future capabilities and integrations — including a digital wallet and a crypto payment gateway.
"Anything that could bring value and some level of education to our users, we'll integrate very quickly," Cucos said. "We're a tech platform, and we want to be a middle layer that educates and helps people. Educate, share, profit — those are our three missions."