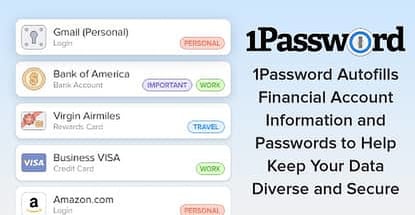 credit card news
Our experts and industry insiders blog the latest news, studies and current events from inside the credit card industry. Our articles follow strict editorial guidelines.
In a Nutshell: The average person has 27 different online logins to remember — including passwords to sensitive financial accounts. Companies recommend users have unique and complex passwords for each login, but most people can't remember that much information. 1Password solves that issue with its secure data vault that requires users only remember one master password. The app creates unique passwords to websites you frequent and auto-fills the data from the app. 1Password also remembers other information like usernames, credit card and Social Security numbers, as well as passport data. Along with individual plans, 1Password offers family and business options that give partitionable access to accounts for multiple users.
I promised myself as a child that I'd never grow up to be like my parents. They always talked about how tired they were and how their memories weren't as sharp as they used to be. I swore I'd never become that kind of adult.
Now that I'm a full-fledged grown-up, I spend a good amount of my time not getting enough sleep and rarely remembering the reason I entered a room. Some promises are made to be broken.
Thankfully, the technology exists today that takes things off our mental plate so we don't have to remember them. My cellphone calendar reminds me of errands I need to run and chores I have to complete. Amazon Echo adds to my shopping list whenever I realize I'm out of bread or milk. And 1Password eliminates the need to remember unique login information for the dozens of sites I frequent.
The latter is a bigger deal than you may think since the average person has to remember 27 unique logins.
Although missing an appointment or running out of milk can definitely ruin a day, having your online financial accounts compromised can bring consequences more far-reaching. We all know it's smart to have unique passwords for every site we frequent, but who can remember all of that?
The 1Password app generates and remembers complex passwords for you — and fills them in automatically when they're needed. Users only need to remember one master password to access the data vault, where the latest encryption technology protects their sensitive information.
"You can use it in your family, at work, or just on your own," said Will Moore of AgileBits, maker of 1Password. "Everything can be shared with people you trust, and your private vault stores the information and passwords only you need."

Maybe you use the same few passwords everywhere, or maybe you have a system for coming up with variations of the same password. The problem is that if hackers access your data on just one site, everything you do online is in danger.
The way to get around this problem is to have a different, complicated password for every login. That's where 1Password comes in handy.
The app stores the data from every website you access and 1Password creates unique, strong passwords for each location. You don't have to remember them, since they're all accessible from the single password you choose for your account at setup. You simply click and your username and password fills automatically.
A Password Vault that Works on Virtually Any OS
While 1Password is worth its price just for its ability to secure and diversify financial passwords, the app sets itself apart from the competition by remembering other key data, too.
"It's not just about passwords," Moore said. "Anything you need to keep safe and secure belongs in 1Password — like your credit card numbers, passport, or Social Security card. You can have it all safe and available to you wherever you are. It's all about making things simple."
1Password accounts include unlimited password generation and item storage, and up to 1 GB of document storage. The program is accessible through apps for Mac, iOS, Windows, Android, and virtually any web browser with information syncing automatically on every device, no matter the platform.
"1Password works with you on whichever device you choose," Moore said. "If you have a Windows computer at the office and an iPhone and MacBook for when you are on the road, 1Password will work seamlessly on all of them, with any changes syncing instantly."

That compatibility becomes even more important if users expand their 1Password account to family or business plans that allow vault access to multiple people on different devices.
"Each operating systems brings nuanced differences in the way things are done," Moore said, "but whichever device you choose to work from, 1Password is available and will serve you your passwords in a timely and easy manner."
And unlike many other password managers, Moore said AgileBits specifically architected 1Password to not only feel familiar, but to provide an ease of use that makes adoption of the platform frictionless.
"If you have ever used an email client like Microsoft Outlook, you will be familiar with having multiple email addresses on the same app," he said. "1Password works in a similar way with multiple accounts."
1Password Business: Companywide Password Management
Having your individual financial accounts compromised is catastrophic enough. Having the same happen to your business accounts can be fatal. And keeping passwords private only becomes more difficult when multiple employees have access to the information.
1Password Business handles that issue easily by allowing an unlimited number of employees access to a secured vault, where an administrator decides who can access specific documents and passwords.
"Staying safe online is a habit that needs to be nurtured," Moore said. "A good password manager is the best way to spread security best practices throughout your company, and 1Password Business offers credential management for companies of any size."
Not only can administrators control what each employee sees and shares, they also receive detailed usage reports to monitor how each employee uses the vault.
"It brings advanced sharing, reporting, and password management for business teams, as well as giving a way for each of your team members to keep their personal passwords secure with included 1Password Family accounts," Moore said.
1Password Business features advanced deployment tools, such as Okta and Active Directory, to give administrators the tools they need to simply and efficiently look after a team of any size.
"Data use is a heavily regulated and compliance-focused world, and 1Password Business gives businesses, both large and small, the ability to manage which information is shared and with whom," Moore said.
Maintain High-Level Security Across Multiple Devices
Whether you're an individual who wants to have one less thing to remember or a large corporation that emphasises security of sensitive data and passwords, the 1Password secure vault offers affordable plans starting at $2.99 per month (when paid annually in advance).
The vault stores passwords, documents, credit card numbers, and other private information and autofills the data into websites when prompted by the user. The app works on virtually any device and is cross-compatible across any platform you use while automatically syncing new data everywhere you access the app.
Family and business plans give multiple users access to the data and password information they've been given permission to see.
"We want to continue building the best password manager out there," Moore said. "We will keep doing what we have always done — keep pushing 1Password to be better, by continuing to explore the best ways to keep information safe online, and in as many ways possible."
For me, it's a tool that keeps me from taking that last step toward being like my parents. If only the app can fix my lack-of-sleep issue.