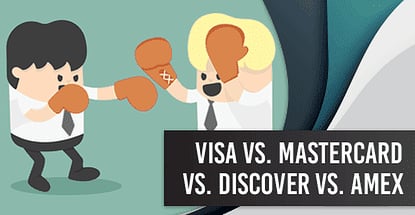 When consumers are in the market for a new credit card and are comparing and contrasting Visa vs. Mastercard vs. Discover vs. American Express, the major difference may not immediately be obvious. Keep reading to learn more about these key differences and some of the best options available today.
In a marketplace glutted with options for nearly any product, consumers are faced with more choices than ever before. But when lacking any substantial information about a company, many consumers tend to make decisions based on more superficial factors, such as name recognition or brand aesthetics.
For example, when it comes to deciding which network logo should adorn your newest credit card, it can be easy to make a snap decision based on a trivial factor, like that commercial you saw last week. But while the four major credit card networks — Visa, Mastercard, Discover, and American Express — share a lot of similarities, they each also have distinct differences that may impact how (and where) you use your card.
Key Differences | Best Cards | Networks vs. Issuers
The Key Differences Between the Four Networks
When Bank of America distributed the first mass-marketed consumer credit card, the bank, somewhat inadvertently, created the foundation for what would become the Visa credit card network. Since then, three more major credit card networks — and hundreds of issuers — have joined the US credit card market, creating a competition-rich environment for increasingly credit-hungry consumers.


But while Visa may have been first, the network's competitors wasted little time grabbing their own shares of the market, with Mastercard, in particular, vying directly with Visa for the bulk of credit card purchase volume. Sheer size isn't all that differentiates the four major networks, however, as they also vary in several key areas.
Merchant Acceptance: One of the most important differences between the four networks is the number of merchants that allow transactions processed by a particular network. On a global scale, for instance, American Express lags behind its competitors in the number of merchants who accept Amex cards, with the typical merchant roughly 40% more likely to accept Visa, Mastercard, and Discover cards than an American Express. In the US, Amex still falls behind the competition, with only 6 million domestic merchants (compared to the 9 million each that accept Visa, Mastercard, and Discover), though the majority of major retailers accept all four. The exception is in cases where a merchant has a specific contract with a particular issue, such as Costco's deal to only accept Visa cards.
Merchant Cost: For merchants and retailers, the biggest difference between the four networks is how much each costs to support. Each time a customer uses a credit card to make a purchase, the merchant is charged a small fee by the credit card network to process the credit card transaction. The size of the processing fee varies by network and can be a primary factor in whether a merchant accepts certain cards. For example, Mastercard generally charges between 1.55% and 2.6% per transaction, while American Express charges 2.5% to 3.5%. Visa and Discover are about on par with Mastercard, charging 1.43% to 2.4%, and 1.56% to 2.3%, respectively.
Issuing Banks/Types of Cards: Another key difference between the four networks is the actual cards you can obtain, which is dependent upon the network's banking partners. Visa and Mastercard don't generally issue their own cards, meaning most cards sporting a Visa or Mastercard logo are issued by an outside bank, like Chase or Bank of America. In contrast, American Express and Discover are both issuers and networks, meaning they generally don't partner with outside banks to issue credit cards. So, if you want a specific credit card for its rewards or other perks, you're going to get stuck with whatever network the card's issuer partners with for that card. For example, if you want a Chase Freedom® card, then Visa is your only network option.
Fringe Benefits: The last of the main differences between credit card networks is the package of fringe benefits provided to cardholders by the network. While some of these benefits, like rental car insurance, are common to many of the networks, others can be exclusive to one or two. For instance, cardholders who use a World Elite Mastercard® gain access to a 24/7 concierge service, as well as special travel upgrades and savings. If you'd like your card to have certain benefits, you may need to select a specific network.
As you can see, despite their similarities, the four major credit card networks each have their own features and limitations that may be a vital factor in your decision-making process when it comes time to select a new card. Whether you need a card that is accepted by a large number of merchants, want a card from a specific issuer, or are simply looking for some sweet benefits, your network may make a difference.
The Best Credit Cards for Each Network
For some people, choosing a credit card network may help to narrow down the vast field of credit card options; for others, it may be more a matter of choosing a particular card and, thus, selecting its network by default. Whatever the case, comparing the best cards available from each of the major networks can help you see your options and (hopefully) make the card-selection process that much easier.
Visa | Mastercard | Discover | Amex
Best Visa Credit Cards
The first consumer credit card issuer — and still the largest — Visa has a huge range of credit card options from a variety of third-party issuing banks, including many of the top card issuers like Chase, Bank of America, Capital One, and Wells Fargo. Your specific Visa card benefits will vary by the type of Visa card, with the entry-level Visa® cards having the fewest perks, the mid-range Visa Signature® cards having a few more, and the elite Visa Infinite® cards offering the widest range.
Best Mastercard Credit Cards
Mastercard is the second-largest credit card network in the world, with a portfolio of major-bank issuing partners that includes Barclays, HSBC, and Capital One, among many others. As with Visa, Mastercard's benefits will vary based on the level of card you have, with the most basic benefits awarded to entry-level Mastercard® cardholders, more awarded to the mid-range World Mastercard® cardholders, and the most benefits given to the top-tier World Elite Mastercard® users.
+See More Mastercard Credit Cards
Best Discover Credit Cards
While younger than Visa and Mastercard, Discover has closed the acceptance gap, and is now accepted in as many (if not more) locations than its elder competitors. Unlike Visa and Mastercard, Discover is both a credit card processing network and an issuer, with Discover Bank acting as the issuing bank rather than partnering with outside banks. In another difference, Discover cards only have one level of benefits, available to all cardholders.
+See More Discover Credit Cards
Best American Express Credit Cards
While American Express is less widely accepted than its competition, that difference is often negligible for domestic US cardholders; furthermore, Amex is frequently rated number one in customer service, which can make up for the limited acceptance for some consumers. American Express offers the same basic card benefits to all cardholders, but the Platinum and Premier cardholders may receive more inclusive benefits.
Blue Cash Preferred® Card from American Express
The Blue Cash Preferred® Card from American Express provides a hard-to-beat rewards package, including 6% cash back on grocery purchases.


Earn 6% cash back at U.S. supermarkets (on up to $6k a year) & on select U.S. streaming services
Earn 3% cash back on U.S. gas station and transit purchases
Pay a $95 annual fee
Just $32 a week in grocery purchases made with your Blue Cash Preferred® card will let you break even on the $95 annual fee. And that's before you include bonus rewards from gas station and department store purchases.
The Amex EveryDay® Credit Card from American Express
The Amex EveryDay® Credit Card from American Express offers flexible Membership Rewards® points, including bonus Membership Rewards® points for supermarket purchases.


Earn 2X Membership Rewards® points per $1 at US supermarkets up to $6,000 per year in purchases
Earn 1X Membership Rewards® points per $1 on all other purchases
Pay no annual fee, ever
If you use your Amex EveryDay® Credit Card 20 or more times a month, you can receive 20% bonus points on those net purchases, helping you rack up rewards in no time.
Blue Cash Everyday® Card from American Express
The Blue Cash Everyday® Card from American Express is the lighter version of the Blue Cash Preferred® card, offering lower rewards earnings rates but without the annual fee.

Earn 3% cash back at US supermarkets on up to $6,000 per year in purchases
Earn 2% cash back at US gas stations and US department stores
Earn 1% cash back on all other purchases
You can earn rewards and enjoy interest-free purchasing with the Blue Cash Everyday® card's introductory offer of 0% APR.
+See More American Express Credit Cards
The Difference Between a Network and an Issuer
If all this talk of networks and issuers has you turned around, here's a breakdown of the differences between the two. Essentially, credit card networks simply process the transaction; they do the heavy lifting, so to speak, of actually moving the money to and fro. The credit card network, not the issuer, determines where your card will be accepted.
On the other hand, the money that is used to make the transaction belongs to the issuing bank, or issuer. For instance, suppose Pretend Pete makes a purchase with his Capital One® Venture® Rewards Credit Card card, which operates on the Visa network. The money Pete borrows to make the purchase comes from Capital One, but the money is transferred from Capital One to the merchant by Visa's processing network.
Additionally, since the issuer is the one providing the money you borrow to make credit card purchases, your credit card bills are sent by — and paid to — the issuer, not the network. In Pete's case, he would make his credit card payments to Capital One, not to Visa.
And, of course, as it's the issuer's money on the line, it's the issuer who gets to set most of the terms of your credit card. In other words, the issuer determines the specifics of your credit card, including the rewards, annual fees — and credit requirements. The more money the card can potentially cost the issuer, the higher those credit requirements tend to climb.
What can add to the complication is that some credit card networks also operate as the issuing bank for their own cards, such as is the case with American Express and Discover. For example, the Discover it® Cash Back card is issued by Discover Bank, and processed on the Discover credit card network.
Is There a "Best" Credit Card Network?
When it comes time to select a new credit card, the obvious question is, which network is the best? Unfortunately, there's no simple answer. As with the related question of which issuer is the best, finding the best credit card network is more a matter of finding the best network for you.
In general, the only time most cardholders need to worry about their network is if they travel frequently abroad — some networks may be more widely accepted in certain countries than others — or simply prefer one network over the other (hopefully for reasons better than their "awesome" commercials).
For the majority of consumers, most of the differences between credit card networks can often be negligible, particularly if they primarily make domestic US purchases. The best strategy is likely to choose the card that best suits your need and spending habits, regardless of the network its on.
Advertiser Disclosure
CardRates.com is a free online resource that offers valuable content and comparison services to users. To keep this resource 100% free, we receive compensation from many of the offers listed on the site. Along with key review factors, this compensation may impact how and where products appear across the site (including, for example, the order in which they appear). CardRates.com does not include the entire universe of available offers. Editorial opinions expressed on the site are strictly our own and are not provided, endorsed, or approved by advertisers.