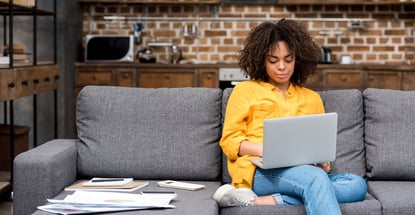 credit card advice
Opinions expressed here are ours alone, and are not provided, endorsed, or approved by any issuer. Our articles follow strict editorial guidelines and are updated regularly.
There's no denying it — life is stressful right now. With so many uncertainties surrounding our health and economy, it's only natural to feel overwhelmed and worried about your financial situation.
In fact, a recent study found that nearly 63% of consumers have already felt the economic impact of the coronavirus outbreak in some way and 44% are worried about their ability to pay rent or their mortgage in the midst of the global pandemic.
Given the current conditions, finding ways to stretch your budget is more important than ever. The good news, which is so sparse these days, is that you can do several things right from home to improve your finances, protect your family, and, ultimately, stress less about money.
Just follow these 10 tips to find some relief in your financial situation.
1. Wipe Away Bank Fees and Boost Your Savings Rate
If you're paying a monthly checking account maintenance fee around $15 per month, you're wasting money. There are many free checking account options these days that most people can take advantage of.
Call around to banks or credit unions to inquire about their free bank account options or see if your current financial institution can waive this fee if you threaten to switch. This is also a good time to move your savings into a high-yield online savings account where you score a better interest rate, as high as 1.85%, on your savings.
It's a no brainer way to make some extra money on your savings.
2. Swap Paid Subscriptions for Free Alternatives
Now that you and your family are stuck at home, you are likely looking for more entertainment options and adding new streaming services and other digital subscriptions to your monthly budget. Before you pay for a new service, consider some free options first.
Many public libraries rent ebooks and digital videos/movies through platforms such as hoopla and Kanopy at no cost. You can also stream TV shows through network sites like NBC, ABC, and CBS online.
When it comes to working out, search for free fitness videos on Youtube or follow your favorite fitness instructors on Instagram who may be posting daily workout tips. Otherwise, you can download a free exercise app, such as Fitbod or Daily Workouts Fitness Trainer, to get some fitness tips that you can do right from home.
3. Set Up That Estate Plan You Keep Putting Off
A new survey from Caring.com found that only 4 in 10 American adults have a will or living trust. People don't feel the urgency to get their estate plan buttoned up or they may think that it's only something the superwealthy or elderly need to worry about, but the reality is that any person over the age of 18 should have one set in place.
Without certain legal documents in place, things will become even more confusing, daunting, and stressful for your family if something happens to you, including how your health should be managed in case you can't make decisions.
The good news is you can create your estate online, right from home through sites like TrustandWill.com, which make it easy, fast, and affordable to create a trust or will in less than 15 minutes without taking on pricey attorney fees. The site offers step-by-step instructions and live chat support, and you can even print all your documents from your computer.
4. Negotiate Your Bills 
You can reduce your monthly expenses by negotiating your bills for either money off your account or a payment plan if you're experiencing a disruption in income. Begin by calling your service providers like your cable or internet company to find out where you can find savings, either through a new promotion or setting up autopay or e-statements.
If the idea of dealing with such tedious providers makes you want to pull your hair out, companies like BillCutterz can negotiate bills on your behalf. For anyone receiving medical bills, make sure you're scrutinizing the charges, as studies show that 8 in 10 medical bills contain errors.
If the charges and explanation of benefits confuse you, reach out to CoPatient.com, which can help review your account and negotiate any errors for you.
5. Find Free Ways to Make Money Online 
Believe it or not, you can legitimately make money online in your spare time. For instance, you can make money by taking surveys on sites like SurveyJunkie.com, where you earn points for each survey and later redeem those points for gift cards that you can use toward everyday essentials.
How many points you earn depends on the type or length of each survey, but it's something you can do while catching up on your favorite shows. If you prefer getting actual cash, check out InboxDollars, which pays you for watching videos or playing online games.
Meanwhile, sites like 2020Panel.com offer paid opportunities to join digital focus groups, with some payouts reaching a few hundred dollars for your time and thoughts.
6. Tackle Decluttering Projects and Sell Items Online
This is also a good time to cash in on items you're no longer using and declutter at the same time. With so many online selling sites, you don't have to deal with in-person transactions either.
Though the task can feel overwhelming, take it one stride at a time and tackle each area of your home one day at a time. Begin by reviewing your own closet for clothing and accessories you can sell and then move on to your kids' closets, then the playroom, kitchen, garage, and so on.
Stick with small items that are easier to ship since large goods will be more costly and harder to package. Sites like Tradesy and Poshmark are great places to post second-hand fashion for sale while thredUP is a good place to sell kid's clothing.
You can sell gadgets to Decluttr for cash and post just about anything for sale on eBay, where you can select a set price or list an item for auction.
7. Lower Your Mobile Data Plan
Now that you will be spending more time at home, your data needs will change. Since you can hook up to WiFi at home, you can opt for a lower-tiered and lower-cost mobile plan.
Even if you have to go to the store for basics or want to go for a run outside, you can download driving directions or a playlist from Spotify using your free WiFi to play offline to reduce data consumption. You can even download videos and movies on Netflix and Prime Video for offline playback at no cost.
8. Take Advantage of Balance Transfer Promotions
Carrying a balance on your credit card and racking up interest fees is ill-advised in typical economic climates, but with everything going on during this coronavirus pandemic, it's wise to keep cash in your account for the unexpected.
Paying only the minimum due, however, will make it nearly impossible to dig yourself out of debt. However, you can save on interest without paying off your entire balance in full by just transferring the balance to a new card.
The trick is to find a credit card offering a 0% interest balance transfer promotion. These types of deals typically limit the number of months you have to pay off your card balance before interest kicks in, but most give you 12 to 18 months to do so, and that can really mitigate the interest you accrue on your current account.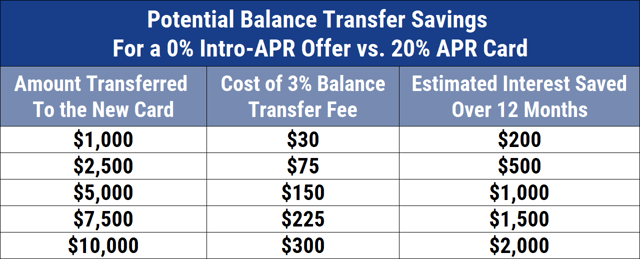 Just make sure to read the fine print and aim to pay the card off in full before the promotion expires since you may be subject to retroactive interest. And, no matter what, don't add new charges to your old card.
9. Shop Around for Insurance 
You may have scored a really good rate on your auto or homeowner's insurance when you first signed up, but that doesn't mean you have the best deal now. Prices constantly fluctuate, and your current plan may be costing you more than you think, so it's important to review offers from competitors.
You can quickly compare rates and gather quotes through free sites like TheZebra.com, PolicyGenius.com, and Insurance.com. In addition, increasing your deductible is another easy way to lower your annual premium and reduce your monthly payment.
Depending on whether you go from $500 to $1,000 or up to $2,500, you could be looking at a few hundred dollars in savings per year. Just make sure you have the deductible amount in emergency savings to cover you in case of an accident.
10. Learn How to Reduce Energy Use
If you typically work outside of your home during the day and your kids are in school, you will likely experience a spike in energy use as you bunker down for quarantine over the next few weeks, or possibly months. You can do a few things to reduce your energy use and thus lower your electricity bill, however.
For instance, swap incandescent bulbs for more energy-efficient LED bulbs, wash clothes in cold water, and unplug any small appliances or electronics —including smartphone chargers — when not in use. Commonly referred to as energy vampires, these gadgets continue consuming energy even in the off mode, so you have to unplug them to cut the energy source.
Some examples of common energy vampires:
cellphone chargers
cable/satellite boxes
DVR, VCR, and DVD players
video game consoles
coffee makers
electric toothbrush chargers
desktop computers
any device with standby lights or clocks
Alternatively, a power strip makes this easier to manage, and some even come with remotes for those hard to reach outlets.
11. Automate Savings into an Emergency Fund
You may have several recurring expenses on hold at the moment, from childcare and pre-k to gym memberships to extracurricular activities and tutoring. Collectively, this may be saving you hundreds of dollars a month.
Put this money directly into a separate savings account to create that emergency fund you need in these unpredictable times.
You should also automate savings from your checking account to this separate account until you have at least six months' worth of living expenses. If this seems too high, put away whatever you can. Something is better than nothing!