If you're interested in reading an Ollo credit card review, chances are you have received an invitation in the mail to apply for the card. Or maybe you want to figure out how you can get one of those invitations.
Either way, you should know a few things about Ollo's pair of credit cards before you pull the trigger. This card may not be a winner if you are looking for a long-term, everyday use credit card. But you may find some utility with this card if you want to earn some quick cash back and build your credit score before moving on to a better card from another issuer.
Our Take | Compare | Reviews Around the Web | FAQs
Ollo Credit Cards Are Invite-Only
Ollo offers two credit card options to consumers who prequalify for the card. At this time, you can only officially apply for either the Ollo Platinum or Ollo Rewards credit card if you receive an invitation in the mail.
Invitations will specify which card you can apply for. You do not get to choose between the two offerings. That's important to note because the two cards offer very different perks — and those perks will differ depending on your credit history.
Ollo Platinum Mastercard®
The Ollo Platinum Mastercard is a credit-building card that charges no annual fee and provides free access to your online FICO Score each month.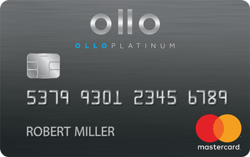 The card currently has a variable interest rate of 24.99%. What's particularly nice about this card is that it doesn't charge a penalty APR for late payments or fees for spending over your credit limit, returned payments, or foreign transaction fees for overseas purchases.
It does, however, charge a cash advance fee of $10 or 5% of the total amount withdrawn, whichever is greater. All rates could change based on the invitation and offer you receive.
Ollo Rewards Mastercard®
The Ollo Rewards Mastercard offers 2% cash back on gas station, grocery store, and drugstore purchases, and 1% cash back on all other purchases.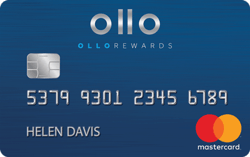 The card charges an annual fee of between $0 and $39 that is based on your credit history. Your invitation will specify your annual fee. The card currently offers a variable APR of 24.99%.
As with the Platinum card, you won't be charged a penalty APR for late payments or fees for returned payments, spending over your credit limit, or foreign transaction fees.
How the Ollo Platinum Compares with Other Cards for Building Credit
The Ollo Platinum Mastercard was launched in January 2017, followed shortly thereafter by the Ollo Rewards Mastercard. The cards are still relatively new, but the company says it has plans to continue to enhance its growing suite of consumer products based on customer demand and marketplace competition.
That said, some Ollo Platinum cardholders have reported that their credit limits decrease without notice. At the same time, the card's variable APR has increased over the last year (this is not uncommon, as variable rates fluctuate based on the federal prime rate).
If you want to build or rebuild your credit history, you may find superior card options to the Ollo Platinum card. A more established issuer may offer you a more stable credit building experience. What's more — you won't have to wait for an invitation to apply for these cards.
No annual or hidden fees. See if you're approved in seconds
Be automatically considered for a higher credit line in as little as 6 months
Help build your credit through responsible use of a card like this
Enjoy peace of mind with $0 Fraud Liability so that you won't be responsible for unauthorized charges
Monitor your credit score with CreditWise from Capital One. It's free for everyone
Get access to your account 24 hours a day, 7 days a week with online banking from your desktop or smartphone, with Capital One's mobile app
You can't get much more established than Capital One, and the Capital One Platinum Credit Card is one of the issuer's top credit card options for credit building. This card offers no rewards, but its competitive interest rate and lack of fees make it a solid entry-level credit card if you have fair credit.
Capital One also regularly monitors accounts to see if cardholders qualify for a credit limit increase, and it will raise your limit if you do. And, since Capital One has a massive portfolio of card offerings, you can grow with your account and upgrade to better cards as you build a positive credit history.
Earn unlimited 1.5% cash back on every purchase, every day
No rotating categories or limits to how much you can earn, and cash back doesn't expire for the life of the account. It's that simple
Be automatically considered for a higher credit line in as little as 6 months
Enjoy peace of mind with $0 Fraud Liability so that you won't be responsible for unauthorized charges
Help strengthen your credit for the future with responsible card use
Enjoy up to 6 months of complimentary Uber One membership statement credits through 11/14/2024
If rewards are more your thing, the Capital One QuicksilverOne Cash Rewards Credit Card can provide solid cash back rewards in exchange for a small annual fee — which is a fair trade-off for a fair credit offering.
Depending on how often you use your credit — and how quickly you pay your debt off — you could find that your cash back rewards make the annual fee worth the expense. Just by charging your everyday expenses, and paying them off when they post, you could turn a tidy profit using this card.
at Celtic Bank'ssecure website
Up to $1,000 credit limit doubles up to $2,000! (Simply make your first 6 monthly minimum payments on time)
All credit types welcome to apply!
Free access to your Vantage 3.0 score From Experian* (When you sign up for e-statements)
Initial Credit Limit of $300 – $1,000* (subject to available credit)
Monthly reporting to the three major credit bureaus
See if you're Pre-Qualified without impacting your credit score
The Surge® Platinum Mastercard® can help you build your credit if you are currently in bad credit territory. While you may have to pay an annual fee for this card (fees are based on creditworthiness), you could find yourself with a slightly higher credit limit than your typical credit card for bad credit.
And since Surge reports your payment history to each major credit bureau, you can improve your credit score over time by making on-time payments and eventually move on to a more affordable — and lucrative — credit card offering.
No annual or hidden fees. See if you're approved in seconds
Building your credit? Using the Capital One Platinum Secured card responsibly could help
Put down a refundable security deposit starting at $49 to get a $200 initial credit line
You could earn back your security deposit as a statement credit when you use your card responsibly, like making payments on time
Be automatically considered for a higher credit line in as little as 6 months with no additional deposit needed
Enjoy peace of mind with $0 Fraud Liability so that you won't be responsible for unauthorized charges
The Capital One Platinum Secured Credit Card requires a refundable security deposit for approval, but the deposit is typically far more affordable than other secured card offerings.
Almost every secured credit card matches your card's credit limit to the amount of your security deposit. For example, a $500 credit limit will require a $500 security deposit at the time you apply for your secured card. But Capital One uses a sliding scale for its deposit requirements that could have you paying far less for this secured credit card, based on your credit history.
5. Indigo® Unsecured Mastercard® – Prior Bankruptcy is Okay
This card is currently not available.
The Indigo® Unsecured Mastercard® – Prior Bankruptcy is Okay does not require a security deposit and may not charge an annual fee, depending on your creditworthiness. This is a credit-building card for consumers who have poor credit and has very forgiving approval standards.
This card considers applications from consumers who have previous bankruptcy cases on their credit history — something not many credit cards offer. If you have a bankruptcy that still has not yet aged off your credit report, this card may give you an opportunity to reestablish your credit.
Ollo Credit Card Reviews Around the Web
A quick Google search for Ollo card reviews returns a mixed bag of customer testimonies.
Of course, you'll find only 4- and 5-star reviews on the Ollo website, but a look at the Better Business Bureau and Trustpilot reveals several 1-star ratings from customers who seem less than thrilled about the shifting dynamics of their card account.
At the time of publishing, Ollocard is rated as "Bad" on Trustpilot and has a customer review rating of 1.06/5 with the Better Business Bureau.
"(I) started with a $1,400 credit limit. Had consistent payments, paid off twice. They lowered my limit to $300 without notifying. Poor customer service to customers who've had no issues and in good standing. Regardless of credit scoring, to do that to customers is completely wrong. Especially the ones with good history with their company. Extremely disappointed." — NC, a Better Business Bureau reviewer.
While some cardholders struggle with the frustration of having their credit limits and interest rate changed, others have a whole different issue to contend with:
"I have had this card for over two years (and) never missed a payment, never late, and I just received a letter in the mail stating they were closing the account. I never owed more than $300 on the card and I paid the balance off back in May of this year and had not used it since, but still had it in my wallet. When I called customer service much like the other reviews on here she gave me a very vague answer and told me that for security reasons she could not answer any questions. Security for who? Is my question. If I am the owner of the card and calling and asking questions about the card how can you not answer them?" — ED, a Trustpilot reviewer.
With that said, the reviews are not all bad on this card. Some cardholders appreciate the ease of use and ability to work on their credit score without paying high fees along the way.
"I love this card. The cash back is great! I do wish they would reward on-time payment history with credit increases more often. Otherwise it's an awesome card to have with excellent benefits!" — Sab158, an Ollo Rewards Mastercard reviewer.
Keep in mind that many of the complaints associated with the card are typical of credit-building credit cards. These cards typically come with more risk to the credit card company, as they have a higher default rate and can create losses for the financial institution.
This means banks must regularly monitor cardholder accounts and make changes based on trends and competition in the marketplace.
Some card issuers will cancel a credit card account if you do not use your card within a specified time frame. Check with your card issuer to find out how often you have to use your card account to remain active.
Despite the mixed reviews, Ollo seems like a competitive card for your credit-building needs. It does not, though, appear to be a good everyday card to use once you have established enough positive credit history to qualify for a better card.
How Do I Get an Invite for the Ollo Credit Card?
More than one year after Ollo sent out its first invitations to apply for its pair of credit cards, how it chooses its potential customers is unknown.
Most likely, Ollo takes the same route as other small credit issuers that send solicitations through the mail. The process has the issuer purchasing large batches of consumer data and running soft credit pulls on all the names included.
Those consumers whose credit scores are acceptable to the issuer will receive invitations to apply in the mail. Some issuers are known to send hundreds of thousands of such offers to potential applicants around the country each month.
If you are interested in applying for either of Ollo's two credit card offerings and have yet to receive an invitation in the mail, your best bet is to attempt to prequalify for the card through Ollo's website. Doing so will put you on the bank's radar and likely place you on its list of invitations if you qualify for one of the cards.
What Credit Score is Required for an Ollo Credit Card?
Ollo does not publish its minimum credit score requirements for approval, but most signs point to this being a card for consumers with fair credit or better. In terms of FICO score, that equates to a score starting at 580.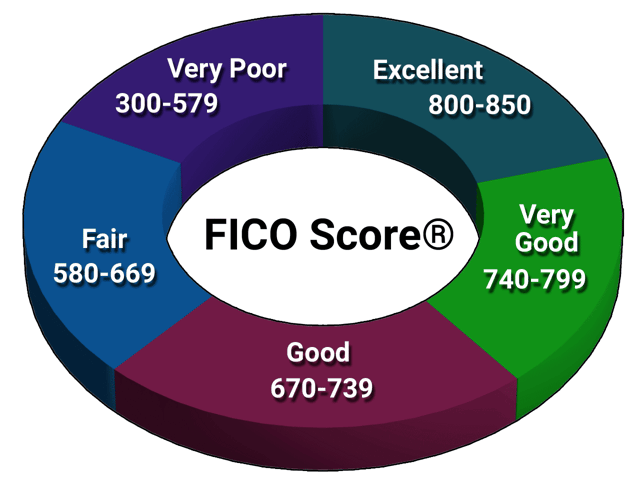 Having at least a fair credit score will improve your odds of receiving an invitation, but it does not guarantee that you will qualify for the card.
Ollo considers many factors when deciding who to send application invitations to. Even if your credit score is fair or better, current or recent late payments, accounts in collection, or other negative items could disqualify you from being approved for this card.
Even if you receive an invitation from Ollo to apply for one of its cards, the bank can not guarantee you will receive approval when you apply. That's because Ollo relies on soft credit checks to get a general idea of your credit health when it sends you an invitation. If you decide to apply, the bank will conduct a hard credit check (which will leave an inquiry on your credit report).
The hard credit check may reveal negative items that were not available in the soft credit check. If that happens, it could preclude you from receiving the card. Any credit card issuer is required by law to send rejected applicants an adverse action letter that explains why the bank opted to decline the consumer's application for credit.
The best way to plan in advance for a credit card application is to exercise your right for a free annual credit report. While your credit report will not show your credit score, it will show all of the positive and negative data points that determine that score.

If you have recent negatives on your account, you may want to wait until they get a little older and lose some of their impact on your credit score before you apply. The same applies if you have high balances on your existing credit cards that are resulting in a higher credit utilization ratio than most banks prefer.
You can calculate your credit utilization ratio by dividing the current balance of all of your credit cards by the total amount of credit extended to you by those cards.
For example, if you have $1,000 in combined credit available from all of your cards and a combined balance of $500 on those cards, you have a credit utilization ratio of 50%. This means you are using 50% of your total available credit.
Most banks like to see a utilization rate of 30% or lower for applicants who are seeking more credit. If you have high credit utilization and are applying for more credit, the bank may view you as a higher credit risk.
Is the Ollo Credit Card a Good Card?
The Ollo Platinum is a good credit card if you need to build — or rebuild — your credit history. If you already have a solid and established credit history, this may not be the card for you.
You'll get automatic credit line increase reviews, a free FICO Score to keep track of your credit-building progress, and zero fraud liability, among other features common on credit cards these days.
At the same time, the card's variable interest rate slightly increased (as Fed rates declined) and it added a possible annual fee (based on creditworthiness) of as much as $39.
That is still not a bad deal for a credit building card. In fact, it's quite an attractive card if you do not carry a balance and can avoid finance charges.
The Ollo Rewards credit card offers unlimited 2% cash back on all gas station, grocery store, and drugstore purchases — plus 1% back on all other purchases — for a low annual fee of up to $39. If you don't charge much to the card, the rewards won't outweigh the annual fee.
Still, rewards aren't all too common on cards for less-than-perfect credit. We'd say this card is comparable to the Capital One QuicksilverOne Cash Rewards Credit Card.
The fine print in any credit card agreement gives the bank the right to change its terms at any point, with very little notice given to the consumer. A card with a high rewards rate and a low annual fee that is designed for consumers with less-than-perfect credit may have hidden terms within its cardmember agreement. This may include a balance transfer fee or cash advance fee, or maintenance charges after your account opening that can add up over time.
You typically do not find these hidden fees or terms with a more established credit card company, which is why we generally recommend sticking with a tried-and-true credit card issuer that has a longstanding history of success.
Does Ollo Give Credit Limit Increases?
Ollo does offer credit limit increases to certain cardholders. The financial institution does not publicize its methods for determining eligibility and does not accept credit line increase requests from cardholders.
Some consumers report seeing their credit line increase by as much as 50% after six months with the card. Some reviewers state that their initial credit limit started at $300. A 50% credit limit increase would boost the limit to $450 — which is a noticeable difference, but not a major increase in terms of total purchasing power.
Since Ollo charges only a small annual fee for its Rewards card and currently no annual fee for the Ollo Platinum card, it relies on interest charges to make a majority of its money. As a result, some people who receive credit limit increases report that they have a current balance on their card they pay monthly interest on.
In fact, many customer reviews from cardholders who kept no balance on their card — and avoided interest fees altogether — reported seeing their credit limits reduced by as much as 70%. This is another important consideration if you're looking for a long-term card.
Does Ollo Charge an Annual Fee?
Ollo did not charge an annual fee when it launched its first card in 2017. But since then, the bank has added a varying annual fee to the Rewards card. As of now, the Platinum card does not charge an annual fee.
Depending on your credit history, you will pay an annual fee of between $0 and $39 for the Rewards card. The amount of your required fee will appear on the invitation you receive in the mail.
Aside from your annual fee, pay close attention to any other charges you may incur if you add this card to your wallet, such as a balance transfer fee. While they may not appear as prominent as your annual fee for membership, these fees could cost you substantially more over the life of your account.
An annual fee should never be the deciding factor in choosing your credit card. Depending on your ability to earn rewards and pay your balance off on time, you could potentially earn more in rewards than you pay in an annual fee and turn your credit card into a money earner instead of a money burner.
Also worth noting is that Ollo does not charge a foreign transaction fee or over-limit fee on either of its cards. It may charge a late fee of up to $40 for late payments.
Ollo: Seemingly Good Cards — if You Can Get an Invite
No Ollo credit card review would be complete without mentioning that the company, while in its infancy, does offer a solid rewards card with a competitive interest rate for consumers who need to rebuild their credit.
That said, the card's invitation-only style of applying makes the card confusing and has slowed the word of mouth that often propels new credit card issuers into prominence.
If you need to rebuild your credit, you could do worse than an Ollo card. But the reports of accounts being closed and unhelpful customer service when calling to inquire about account changes makes an Ollo card a little less appealing than others from more established issuers.
Advertiser Disclosure
CardRates.com is a free online resource that offers valuable content and comparison services to users. To keep this resource 100% free, we receive compensation for referrals for many of the offers listed on the site. Along with key review factors, this compensation may impact how and where products appear across CardRates.com (including, for example, the order in which they appear). CardRates.com does not include the entire universe of available offers. Editorial opinions expressed on the site are strictly our own and are not provided, endorsed, or approved by advertisers.