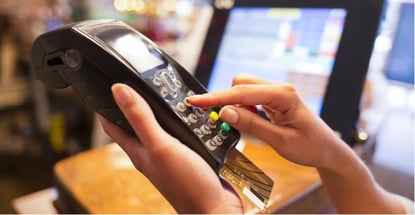 Editor's note: The figures in this article use 2020 and earlier data and were originally published on Nov. 9, 2020.
Credit card users make a mind-boggling number of daily transactions every year. The figures are astounding, whether you're looking at what's happening in the United States or in countries across the globe.
Credit card payments in 2018 totaled $44.7 billion in the U.S. alone, according to The 2019 Federal Reserve Payments Study. The speed at which these transactions process is awe-inspiring. Credit cards can settle 5,000 transactions per second.
To further illustrate the magnitude of credit card transactions, here is more data about what's going on locally and in far-flung locations, as well as how it breaks down by credit card brand. By getting a sense of these trends, you'll have a richer idea of how to use credit cards in a way that will help you get ahead.
In the U.S. | Worldwide | By Brand
Credit Card Transactions in the U.S.
There were 39.6 billion combined purchase transactions in the U.S. in 2019. According to The Nilson Report, this figure includes 31.2 billion purchase transactions from the top 50 issuers of Visa and Mastercard credit cards in the U.S., plus another 5.66 billion from American Express and 2.72 billion from Discover.
If you divide that figure by 365, the results show that more than 108.6 million credit card transactions occur in the U.S. every day.
Modern credit cards were founded in the U.S. in 1950 and their popularity has grown dramatically since.  Americans today liberally use their credit cards, and when the transactions are broken down over a variety of different categories, the facts become even more interesting.
According to the credit card processing company Shift:
1.06 billion credit cards are currently in use in the U.S.
70% of people have at least one credit card.
14% of Americans have a minimum of 10 credit cards.
When making a purchase, 40% of Americans will select credit cards over other types of payment methods.
Most Americans say they are planning to abandon cash, as 60% believe the U.S. will soon transition into a cashless society.
The cost of credit is high. The average U.S. cardholder spends $753.80 each year in interest charges.
The Federal Reserve Bank of San Francisco made more discoveries in its 2019 Diary of Consumer Payment Choice report:
Credit card usage has steadily increased from 2016 to 2018, rising from 18% to 23%.
While debit cards are the most popular payment tools for people aged 25 to 44, credit card usage has increased by 9 percentage points from 2016 to 2018.
The use of credit cards for in-person purchases increased from 20% in 2016 to 25% in 2018.
In 2018, the Federal Reserve Bank of Atlanta published its annual Diary of Consumer Payment Choice report, reviewing changes from 2015:
The share of consumers adopting mobile apps or mobile online accounts increased from 40% to 60%.
The share of consumers who made a mobile payment at least once in the previous 12 months increased from one-fourth to one-third of consumers.
Mobile banking saw a significant increase in usage, from 45% of consumers surveyed to 56%.
Credit card users who carried an unpaid balance steadily declined to 44% in 2018.
The 2019 Diary of Consumer Payment Choice report discovered that in October 2019, 43% of  U.S. consumer transactions made were for groceries, gas, and shopping.
Contactless transactions are definitely on the upswing, found a 2020 Mastercard study. Fifty-one percent of Americans are currently using some form of contactless payment, with contactless cards typically being used for a wide span of essential expenses:
85% for groceries
39% at pharmacies
38% for retail purchases
36% at quick-service restaurants (fast food)
9% for transit
Concerns about credit card fraud drive transaction activity, too, found a 2019 American Express Digital Payments Survey:
69% of U.S. merchants said that a significant amount of company time and expenses are dedicated to dealing with payment fraud.
77% of U.S. merchant respondents said that their companies experienced some type of fraud over the course of being in business.
27% of U.S. merchants found that their annual online sales are fraudulent transactions, a significant increase from 18% in 2018.
42% of consumers said they experienced a fraudulent attempt to use their credit card or other payment information.
59% of consumers surveyed said they are worried about having their payment account or credit card information compromised when making an online purchase.
Merchants responding to the American Express survey expressed interest in investing in payment data security. Thirty-three percent say they are increasing their budget for such data security systems, up 27% from the previous year.
Credit card companies are also concerned about losses due to transaction fraud. A 2018 Nilson Report found that $27.85 billion was lost to fraudulent activity, with $9.47 billion of those losses occurring in the U.S. alone.
The credit reporting agency Experian conducted a nationwide survey with Edelman Intelligence, polling more than 1,000 people aged 18 and older with different credit scores and number of cards carried. Transaction findings included:
The average credit card debt was $2,326.71
The average monthly charge was $779.83
41% of respondents have retail/store-specific credit cards
39% have rewards credit cards
32% have secured credit cards
18% have balance transfer cards
16% have airline cards
13% have business/corporate cards
3% have student credit cards
When asked about how they felt and how they used their credit cards:
42% of respondents said the greatest benefit of having a credit card is the ability to use it for emergencies.
51% said high interest rates were the most significant concern of credit card use.
36% said increasing their debt is a drawback of using credit cards.
68% said they were using their credit cards to purchase things they needed.
62% said there was probably a better card for their needs.
To identify new credit cards:
37% of respondents use search engines
21% of respondents look at online reviews
17% of respondents talk to their banks and family members
11% of respondents consult friends, online forums, and review direct mailings
When it comes to credit card transactions, consumer behavior is constantly changing. Deloitte reported survey results that highlighted adapting behaviors and how they will impact credit card issuers:
More payment choices are threatening the long-term viability of the credit card business model.
Millennial and Gen Z consumers typically prefer to use debit cards over credit cards, especially when choosing a default payment method for digital payments.
Credit card issuers will need to offer greater personalization and a frictionless payment experience to keep their business intact.
25% of consumers said they are willing to switch their credit card providers over the next two years to obtain better rewards elsewhere.
When asked to choose their top five rewards categories, consumers reported that gas, restaurants, groceries, airline tickets, and hotels are most important. Younger customers, though, want customizable rewards. For example, 41% said they want to be rewarded for clothing and apparel purchases, and 21% for music streaming.
Credit Card Transactions Globally
There were 368.92 billion purchase transactions for goods and services worldwide in 2018, according to 2020 research from The Nilson Report. If you divide that figure by 365, roughly 1.01 billion credit card transactions occur every day around the world.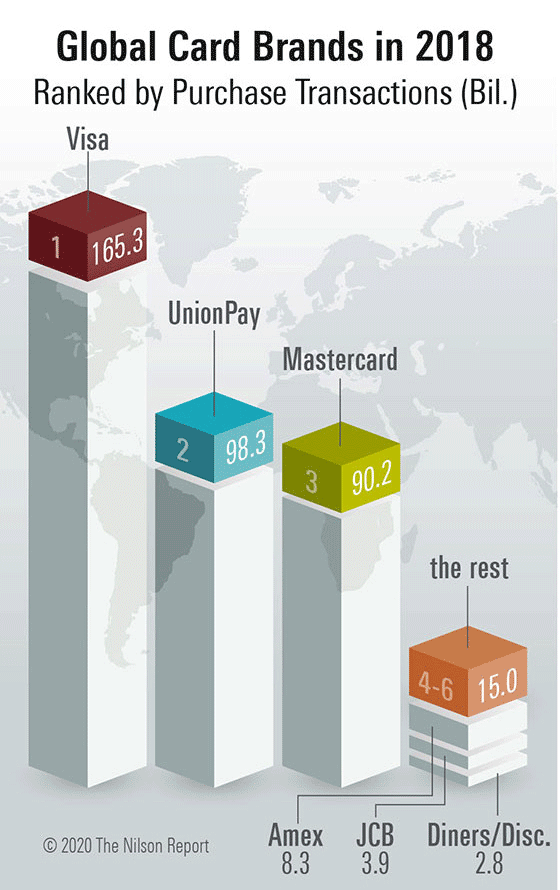 Some 2.8 billion credit cards are in use worldwide, according to the Shift report cited above. Consumers in some countries are better at keeping credit card debt low, while others have more trouble. Out of the top 10 countries by gross domestic product:
The U.S. has the highest average credit card debt.
India has the lowest average credit card debt.
And then there's China. With approximately $605 billion in revenue, China is the largest contributing country to global payment revenues in the world, according to the 2019 McKinsey Global Payments Map. In fact, it surpasses the United States by more than $100 billion.
As a payment transaction method, ApplePay is rising fast in the U.S. and beyond. In 2020, Forbes reported that:
Apple Pay accounts for 5% of all global credit card purchase volume.
Projections are that Apple will manage 10% of global credit card transactions by 2025.
A 2020 PYMNTS.com study also reported that ApplePay is on a major trajectory:
8% of users with ApplePay-enabled devices are utilizing the mobile wallet to make in-store purchases at the point of sale, compared with 5% in March 2020.
In the U.S., 8 million consumers are equipped to use ApplePay to make payments at the physical POS in eligible store locations.
ApplePay is poised to facilitate $889 billion in brick-and-mortar sales.
Credit Card Transactions by Brand
Chase Bank processed the most purchase transactions — 9.14 billion — in 2019 for a total of $810.36 billion in purchase volume, according to the February 2020 Nilson Report. Below is a chart of the top U.S. card issuers ranked in order of purchase transactions.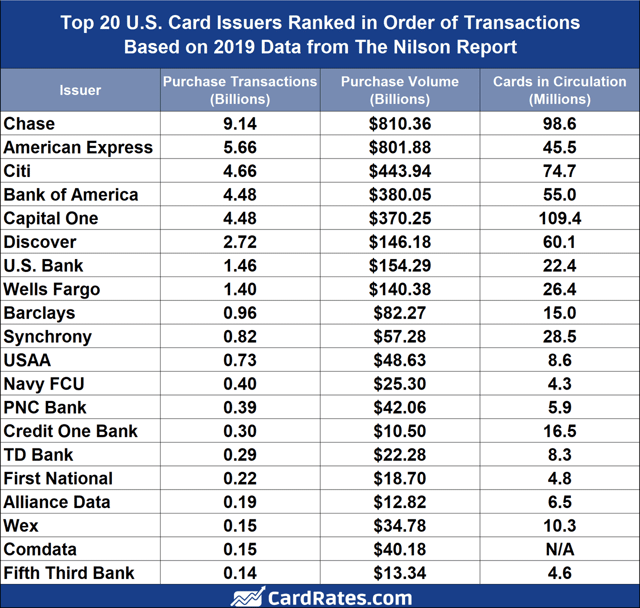 A featured article on NilsonReport.com reported the following large-scale transaction data by brand:
Visa cards accounted for 44.84% of all global brand general-purpose card purchase transactions worldwide.
Mastercard cards generated 24.46% of the global brand purchase transaction total, a drop from 25.55% in 2017.
UnionPay (a Chinese financial services corporation that provides bank card services in mainland China) debit cards had a 12.93% share, up from 9.69%.
American Express credit card purchase volume from cards issued inside the U.S. grew 9.8% compared with 8.0% growth from cards issued outside the U.S.
At the end of 2018, global brand credit, debit, and prepaid cards in circulation reached 13.19 billion, an increase of 10.4% from 2017.
Credit cards issued in the U.S. with Visa, Mastercard, American Express, and Discover brands combined accounted for 23.47% of global credit card purchase volume.
Nilson Report's global credit card statistics also noted a shift in brand transactions in 2019:
5 billion purchase transactions were processed by Visa
3 billion transactions were processed by UnionPay
4 billion transactions were processed by Mastercard
8 billion transactions were processed by American Express
2 billion were processed by JCB (a Japanese credit card company)
3 billion were processed by Discover
Credit cards have become an essential part of consumer life for Americans and consumers in other developed countries. The numbers show that credit card payments result in massive profits for the issuing banks, but cards are undeniably advantageous for consumers.
How to choose the right credit card so you get the best package of benefits while not sacrificing security is essential. Don't just select the first card you come across.
The world is rapidly changing with contactless payments and other technology that makes spending easier. That's why it is more important than ever to understand how to avoid getting into deep credit card debt. Knowing where, when, and how to use credit cards will help you build and maintain a good credit rating while accumulating the most helpful rewards and personalized advantages.
So, while debit cards are rising in popularity among some segments, the real perks — such as consumer protection and valuable rewards programs — are still mostly attached to revolving credit products — namely, credit cards.
Mobile payments and contactless transactions will continue to grow in popularity around the world, so focus on cards equipped with the most secure technology and beneficial qualities. Put them at the top of your list on your mobile device so you automatically defer to them.
Be sure to review your transaction history on a regular basis to make sure that you don't become an unwitting statistic. The last thing you want is to acquire high-interest debt that you have a hard time paying off or be confronted with credit card fraud that will make your life more difficult.
To offset these possibilities, check your credit reports on a regular basis and monitor your credit scores to ensure that you are on the right track.
Advertiser Disclosure
CardRates.com is a free online resource that offers valuable content and comparison services to users. To keep this resource 100% free, we receive compensation for referrals for many of the offers listed on the site. Along with key review factors, this compensation may impact how and where products appear across CardRates.com (including, for example, the order in which they appear). CardRates.com does not include the entire universe of available offers. Editorial opinions expressed on the site are strictly our own and are not provided, endorsed, or approved by advertisers.