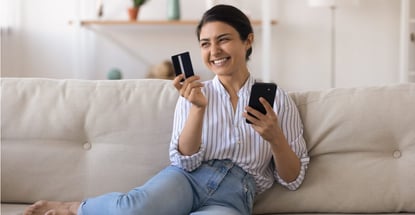 If you hate banks, you may develop a warm spot in your heart for Netspend prepaid cards. Netspend cards let you avoid banks, bank credit cards, bank debit cards, and banking fees. 
Naturally, Netspend cards come with their own sets of charges, but you'll never face overdraft fees. In this article, we'll review five prepaid debit cards that, under the covers, belong to the Netspend universe. Look out, banks, there's a new sheriff in town.
Best Netspend Prepaid Cards
Although these cards carry a variety of names, they all are members of the Netspend Reload network. While similar, each one has its own set of features and fees. All allow the cardholder community to conduct its financial affairs without a credit score or a bank account. 
The Brinks Prepaid Mastercard is easy to like and easy to use. Its fee structure rewards Netspend Premier customers who make a direct deposit of at least $500 a month. Otherwise, you can choose between the regular monthly plan or pay-as-you-go. 
The card's Payback Points program offers cash back rewards to customers. Netspend Premier customers have access to a negative-balance purchase cushion and optional savings accounts. They can also sign up for personalized prescription discounts that can save them up to 50% at major pharmacies.
The PayPal Prepaid Mastercard® may be your best choice if you have a PayPal account, as you'll be able to transfer funds back and forth between the two. The card speeds up access to your direct deposits by up to two days.
The optional Payback Rewards program provides cash back via statement credits for purchases at select merchants. You can request virtual account numbers for added security after you register the card. As with all Netspend cards, there is no purchase fee when you acquire the card online.
This version of the NetSpend® Visa® Prepaid Card charges customers a monthly fee, but you can reduce that fee by signing up for the monthly plan, which requires at least $500 in direct deposits of payroll checks or government benefits in any one calendar month. You don't need to make subsequent direct deposits to retain the reduced monthly rate.
You can add cash to this Visa debit card at nationwide Netspend Reload centers. The card features Netspend Payback Rewards, mobile check load, and authorized users. Republic Bank, a member FDIC, issues Netspend cards. 
This version of the NetSpend® Visa® Prepaid Card supports pay-as-you-go pricing per transaction, making this an ideal option if you rarely need to use the card. In other respects, the two Netspend cards are the same. You get the familiar benefits, including virtual accounts, Netspend Payback Rewards, authorized users, and purchase cushion protection.
You can choose among different colors for this Visa debit card or pay a custom card fee to design your own. The accompanying mobile app lets you check your prepaid card account balance, review your transaction history, and load checks, among other things. Anytime Alerts are available when you want to receive text messages concerning transactions, deposits, and budgets. 
The ACE Elite™ Visa® Prepaid Debit Card shares many of the same features and fees as the cards listed above. The ACE Elite Card uses the Netspend Network, which is provided by Netspend Corporation.
You can set up recurring payments to merchants from this card and accept direct deposits from an employer or the government. Qualifying direct deposits will also reduce your monthly and ATM withdrawal fees.
What Is a Netspend Prepaid Card?
Netspend is a brand of prepaid cards. It is also a network of retail locations and cash reload centers. As with any prepaid card, the Netspend cards share several characteristics, including the following:
Card account: When you get a Netspend card, you load money onto the card's deposit account. You do not need a bank account. All purchases and fees reduce the card account balance, which you can replenish by reloading cash.
Debit only: These prepaid cards do not use credit to pay for purchases. Instead, they work like bank debit cards, except the funding comes from the card account rather than a checking account. Overdraft protection is unnecessary since you can't spend more than your current balance. In fact, each card emphatically declares "No Overdraft/Credit Feature" in its transaction fee schedule. However, these cards may offer select customers purchase cushions (without overdraft fees) to accommodate small negative balances. 
Rewards: These cards offer cash back rewards on selected purchases. 
Card designs: You can choose among several card designs when you purchase the card. You can pay extra if you'd like to substitute your own, subject to rules set by the issuer.
Virtual card numbers: These cards allow you to substitute a temporary card number for the real one by offering virtual accounts. This feature enhances security because you can limit the scope and lifetime of virtual accounts.
The most significant feature of prepaid cards is the lack of credit requirements. You don't need a minimum credit score or any score at all to get a prepaid card. You also do not need a bank account or any credit history. That makes these cards well-suited for consumers who have poor or thin credit.
How Does a Netspend Prepaid Card Work?
If you have ever used a credit card or bank debit card to make a purchase, then buying items with a Netspend prepaid card will be very familiar. You can swipe, insert, or tap your card on the reader at the checkout line. 
But prepaid cards add a wrinkle — you must choose between a "credit" and "debit" transaction when checking out. The words are in quotes because they are misleading — all prepaid card transactions are debit.

When you choose debit, you'll enter your secret PIN (chosen when you purchased the card). The system checks your card's chip to verify the PIN before accepting payment.
If you choose credit instead, you must sign the purchase slip (or the terminal display). The clerk will perform identity verification, comparing your signature against the one on the back of the card before approving it. 
In general, PIN transactions are more secure and less expensive than signature transactions. Verifying signatures on the checkout line can be problematic and not very effective against card number theft.
You can use a prepaid card to make online, over-the-phone, and in-app purchases as you would with a regular credit or debit card. 
How Do I Get a Netspend Prepaid Card?
The easiest way to get a Netspend prepaid card is online. You request a card by entering identifying information and depositing an initial funding source. Obtaining a card this way is free. The issuer will immediately ship the card to you, which you should receive in seven to 10 business days.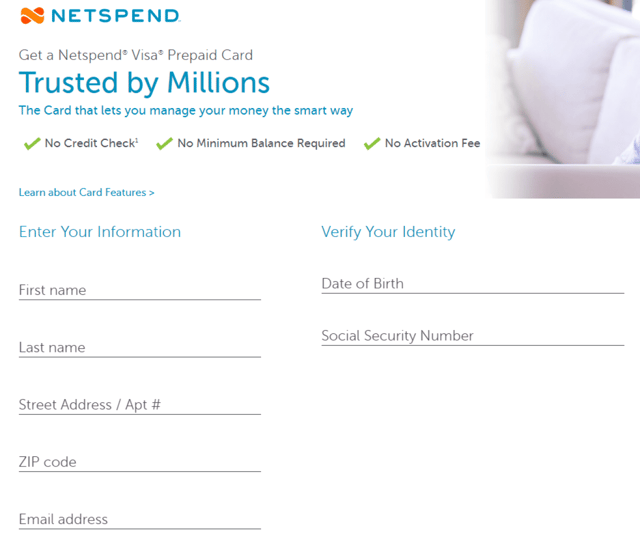 Alternatively, you can drop by any of the participating retailers who sell Netspend prepaid cards. This method requires you to pay a fee. You can locate your nearest participating retailer by entering your ZIP code on the card's website. 
Typical participating retailers include national chains, grocery stores, office suppliers, and travel agencies, among other sources.
The USA Patriot Act has fraud prevention restrictions that require you to register for card activation. You do so by providing identification credentials, such as a driver's license.
How Much Can I Load Onto a Netspend Prepaid Card?
You have several ways to load money onto your card: 
In-person: Netspend has a nationwide cash reload network with more than 130,000 locations. You can load cash onto your card for a small fee from any one of those locations. 
Direct deposit: You can accept direct deposits for free. A card may limit direct deposits to those from employers and government sources.
Mobile check reloads: You can scan checks on your phone and then upload them to your prepaid card account. Prices for mobile check reloads range from free to 5% of the check's value, depending on the check source and the processing speed.
Western Union Money Transfer: You can wire transfer money to your card at a Western Union location for a fee. 
Account to account transfer: You can issue a payment instruction to transfer money online from another account at no cost. If you instead use a customer service agent, you will be charged a small transaction fee.
Netspend cardholders can load up to $2,500 per day on their prepaid cards. The maximum permitted card balance is $15,000.
How Do I Withdraw Money From a Netspend Prepaid Card?
You have a few ways to withdraw money from a Netspend card, including at an ATM or retail location. ATM withdrawals are limited to $325 per transaction and $940 per day. The card permits up to six daily withdrawals.
You can choose from these options when you want to withdraw money from your Netspend prepaid card:
ATM: The fee is $2.95 per withdrawal at a domestic ATM.
Over the counter (OTC) at Netspend Reload Location: You can withdraw cash at any reload location on the Netspend network. You'll pay the greater of 2.75% of the withdrawal amount or $4.
OTC at a financial institution: The fee is either 1% of the withdrawal amount or $2.95, whichever is greater, but not to exceed $9.95. The financial institution will waive the charge if it's a member of the card's payment network (Visa, American Express, or Mastercard). 
Cash back at a retail store: A store may allow you to request money back when you make a PIN (debit) purchase. Your payment consists of the total purchase amount and tax, plus the additional cash back you'd like to receive. There is no fee for this transaction.
How Much Does a Netspend Prepaid Card Cost?
It's free to sign up online for a Netspend prepaid card. Otherwise, a new cardholder will pay up to $9.95 to buy the card at a retail location.
You can choose between monthly and pay-as-you-go plans. The monthly plan will range from $5 to $9.95, depending on the issuer. Some cards offer Netspend cardholders reduced monthly fees when they meet the direct deposit requirements.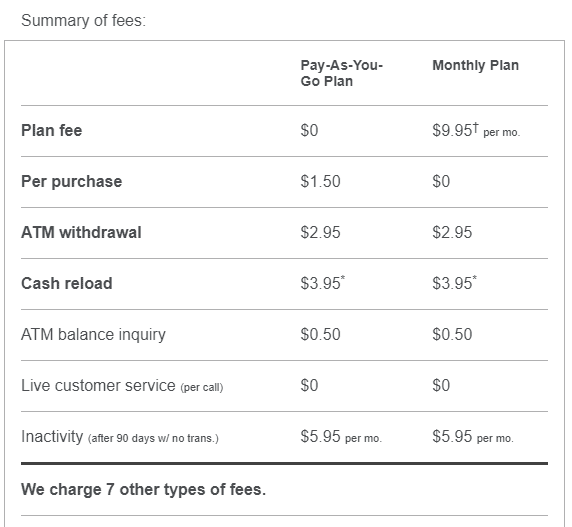 You can opt for a card's pay-as-you-go plan. The typical cost is $1.50 per transaction, but always read the cardholder agreement for the exact fees.
Does a Netspend Prepaid Card Affect My Credit?
In a word, no. Prepaid cards do not use credit to pay for your purchases. You do not need to submit to a credit check to get a prepaid card, nor do you need any credit history at all. 
Moreover, the credit bureaus never see your prepaid card transactions. Therefore, you cannot use prepaid cards to build or rebuild credit. 
Sometimes, folks confuse a prepaid debit card with a secured credit card. You can build credit with a secured credit card — that's one of its most significant selling points.
What Are the Differences Between Prepaid, Debit, and Gift Cards?
These types of cards have several differences, even though all can be used to make payments. The biggest difference is how the accounts are funded — debit cards are funded by the bank account they're tied to, gift cards are funded by the purchaser, and prepaid cards are funded by the cardholder.
Here is a comparison of bank, prepaid, and gift debit cards: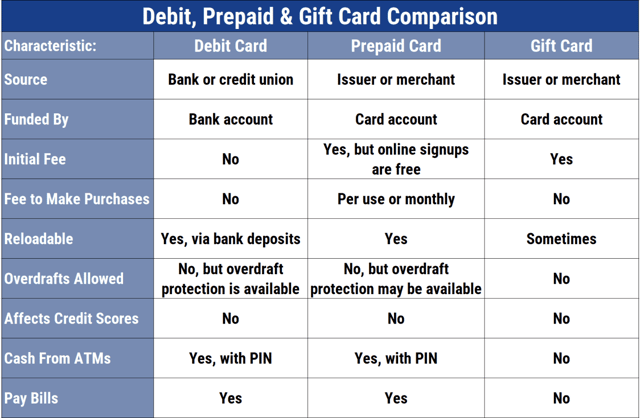 As you can see, while all three types are debit cards, they have significant differences that give each one a unique character.
Compare the Fees and Benefits of Competing Netspend Prepaid Cards
The five reviewed Netspend prepaid cards have much in common. All of them participate in the Netspend Reload Network and charge similar fees. Signing up for the card online is free, but you'll have to pay to get one in-store, which may be more convenient if you can't wait for a card in the mail.
As always, we advise you to read the cardholder agreement of any card you are considering so you'll know what to expect. You can click on the APPLY NOW links to research the cards further and purchase the one you want.
Advertiser Disclosure
CardRates.com is a free online resource that offers valuable content and comparison services to users. To keep this resource 100% free, we receive compensation for referrals for many of the offers listed on the site. Along with key review factors, this compensation may impact how and where products appear across CardRates.com (including, for example, the order in which they appear). CardRates.com does not include the entire universe of available offers. Editorial opinions expressed on the site are strictly our own and are not provided, endorsed, or approved by advertisers.