If you want to learn how to get cash from a prepaid Visa debit card, you've come to the right place. As it turns out, you can use your prepaid debit card in several ways to put cold hard cash into your hot little hands. 
You have even more options if you are willing to settle for a deposit to your checking account. However you extract cash from your reloadable card, we think you shouldn't have to pay a fee. 
After all, you already pay a monthly or per-use transaction fee, and many prepaid debit cards charge you when you load money. Unfortunately, charging customer fees to add money and to withdraw it is standard procedure in the prepaid card market.
Prepaid debit cards at least avoid overdraft fees. However, some cards offer optional overdraft protection that may be subject to overdraft fees if the shortfall isn't quickly corrected. 
1. Choose a Prepaid Visa Card
There are many prepaid Visa cards from which to choose. We've ranked our top three based on their cost and convenience. 
We are limiting our scope to prepaid debit cards issued under the Visa brand. This excludes gift cards (including the Visa gift card) which, while prepaid, are not reloadable and are difficult to convert into cash. We also omitted other types of debit cards, including a stimulus debit card or an EIP card.
With Direct Deposit, you can get paid faster than a paper check.
No late fees or interest charges because this is not a credit card.
Use the Netspend Mobile App to manage your Card Account on the go and enroll to get text messages or email alerts (Message & data rates may apply).
Card use is subject to activation and ID verification. Terms and Costs apply.
Card issued by Pathward N.A., Member FDIC. Card may be used everywhere Visa debit card is accepted.
See additional NetSpend® Prepaid Visa® details.
This NetSpend® Visa® Prepaid Card is the version with Pay As You Go plan fees. This means that instead of a fixed monthly fee, you pay a small transaction fee with each purchase. 
There is a charge for reloading cash or a money order (as opposed to direct deposits and standard mobile check loads) onto the Netspend card and a separate charge for withdrawing cash. The withdrawal fee varies by method (financial institution, Netspend Reload Network, or ATM), amount, and location.
With Direct Deposit, you can get paid faster than a paper check.
No late fees or interest charges because this is not a credit card.
Use the Netspend Mobile App to manage your Card Account on the go and enroll to get text messages or email alerts (Message & data rates may apply).
Card use is subject to activation and ID verification. Terms and Costs apply.
Card issued by Pathward N.A., Member FDIC. Card may be used everywhere Visa debit card is accepted.
See additional NetSpend® Prepaid Visa® details.
This is the NetSpend® Visa® Prepaid Card version that charges a monthly plan fee rather than per use. After purchasing the Netspend card, you can request the monthly plan option instead of the default Pay As You Go Plan. In all other respects, the Netspend cards are identical.
You can cut the maintenance fee in half by qualifying for the reduced monthly plan. To qualify for the reduced fee, you must authorize a direct deposit of your paycheck or government benefits in the amount of $500 or more in one calendar month.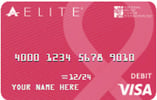 at the issuer'ssecure website
Manage and control your money on one convenient reloadable prepaid card
Get paid up to 2 days faster with direct deposit
No-fee cash withdrawals of up to $100 at ACE with regular Direct Deposits
When you use your card for everyday purchases, you can earn offers to redeem for cash back rewards at select retailers.
Choose from 3 card designs
As a cardholder, you can open a Tiered Optional Savings Account. Balances up to $1,000.00 currently earn up to 5.00% annual percentage yield. No minimum balance required.
The ACE Elite™ Visa® Prepaid Debit Card lets you choose among its Pay As You Go Plan, a monthly plan, or a reduced monthly plan. The fees for adding and withdrawing cash are the same or slightly higher than those for the Netspend twins. 
The similarity of this card to the Netspend cards is not surprising, as all are Visa prepaid card offerings issued from Pathward, and all offer cash withdrawals at Netspend Reload Network locations across the country.
2. Get a PIN to Use at an ATM
Most prepaid debit cards allow you to assign a four-digit PIN to your card when you activate it. You use the PIN to provide security when you withdraw money from an ATM and when you make a PIN purchase at a store keypad.
You usually choose the card's PIN during your first transaction. You want a PIN that is easy to remember but not entirely obvious. Avoid PINs like 1111 or 1234, which are likely to be among the first tried by a card thief.
Once you have your PIN, you can insert your prepaid card into a compatible ATM, enter the PIN, and withdraw an amount up to either the balance on your card or the maximum daily limit imposed by the card issuer or ATM owner, whichever is less. 
Don't forget to include the card fee when figuring the maximum amount you can withdraw. Most prepaid cards charge a fee even if the ATM is in-network, and you can expect added fees for out-of-network ATM withdrawals.
3. Withdraw Cash Via a Bank Teller
Any participating financial institution that accepts Visa cards will allow you to withdraw cash from a Visa prepaid card. You will have to show the teller some form of acceptable identification, such as your driver's license, when making an over-the-counter withdrawal.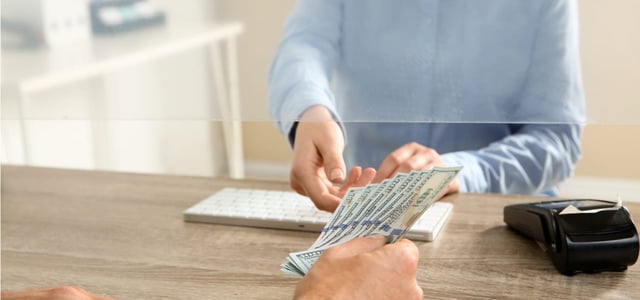 The fee for a teller cash withdrawal is typically in the range of $2.50 to $9.95. Some cards charge a flat amount while others a percentage of the withdrawal amount up to a maximum fee.
4. Get Cash Back at a Register During Checkout
One of the benefits of debit cards is the ability to get cash back when you make an in-store purchase. This store sets the maximum amount it will allow you to withdraw through this method.
The process is simple enough: You insert, tap, or swipe your prepaid debit card at the card reader and ask for cash back. Some card terminals ask you directly, but you may need to tell the cashier you'd like cash back. 
You will be charged a fee for each purchase transaction when you get cash back this way if you are part of the Pay As You Go plan. If you are on a monthly plan, there is no incremental cost.
5. Withdraw Cash at Select Reload Locations
Several prepaid debit cards use networks of reload locations that allow you to add or withdraw cash. For example, all three of the reviewed cards can be used for over-the-counter withdrawals from a Netspend Reload Network location, and the reload fee is typically no more than $4.

The Walmart MoneyCard® lets you withdraw cash at any Walmart store for no fee, but it is not included in this review because it operates on the Mastercard network.
How Does a Prepaid Debit Card Work?
A prepaid debit card works a little differently than the debit card you receive when you open a checking or savings account at a bank or other financial institution. Prepaid cards are popular among consumers who have a low credit score and who can't qualify for a credit card.
You can sign up for a prepaid debit card online from the issuer or buy one for a small fee from a store that sells the card. A prepaid debit card resembles a gift card, except that you can't always reload a gift card. You don't need a good credit score to get a prepaid debit card.
As with credit cards, prepaid debit cards work on a payment network — Mastercard, Visa, or American Express. The fourth payment network, Discover, offers a debit card with its online checking and savings account but doesn't offer a reloadable prepaid card.
Here's how you use a prepaid debit card to make a purchase:

In general, a PIN transaction is less expensive than a signature transaction, mostly because it is more secure. Verifying signatures on the checkout line can be hit or miss, opening the door to card theft.
Here is a comparison of bank debit cards, prepaid cards, and gift cards: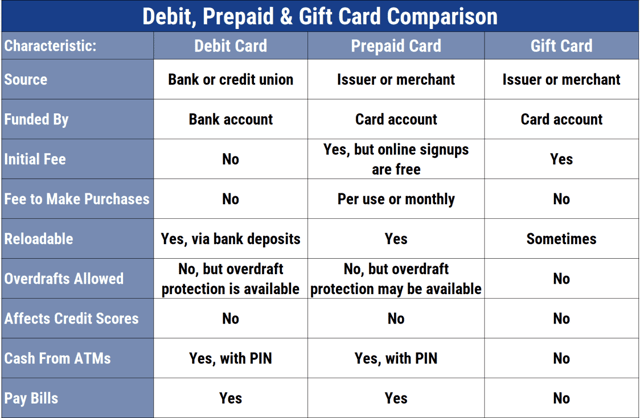 In some respects, a secured credit card is similar to a prepaid debit card, as both are backed by cash deposits. However, spending with a secured credit card is based on your credit line, whereas debit card spending is funded by cash in the card account. 
What may be confusing is that sometimes a prepaid debit card is mistakenly called a prepaid credit card because they are accepted by merchants as credit cards. However, a prepaid credit card does not use credit. 
You can load funds onto prepaid debit cards in several ways. Many accept direct deposits from your employer, the IRS, or a government benefits provider such as the Social Security Administration. You may be able to receive your direct deposit up to two days faster than a check. 
A nice feature of direct deposits is that they are a fee-free way to add money to your card. In addition, some cards reduce your monthly plan charge if you load a specific amount of direct deposits in a calendar month.
You can add cash (in the form of currency or money order) to your card at designated loading locations, including the Netspend Reload Network, Green Dot Reload, Western Union, MoneyGram, and Rapid Reload at Walmart. Fees are typically in the $3 to $5 range.
Another way to increase your card balance is through a mobile check load, in which your phone photographs a check and transmits it to the card issuer. A standard check load has no fee but may take up to 10 days to complete. You can reduce the time by paying an expedited load fee of approximately $5.
How Much Cash Can I Withdraw From a Prepaid Card? 
The most you can withdraw from a prepaid card is the balance in the card account. Typically, issuers of prepaid debit cards limit balances, but the maximum balance may be as high as $15,000 to $20,000.
The maximum amount you can withdraw or spend using a prepaid card account may be limited by the card issuer. 
For example, the NetSpend® Visa® Prepaid Card sets a $4,999 daily spending limit, and the limit on ATM withdrawals is $940 per day. The card allows you to load up to $7,500 per day and $15,000 overall.
The ACE Elite™ Visa® Prepaid Debit Card has similar limits. But, in addition, you can withdraw $5,000 per day from an ACE Cash Express location.
Will I Be Charged Fees For Getting Cash From a Prepaid Card?
The fees for extracting cash from a prepaid card vary by issuer and method. For example, the NetSpend® Visa® Prepaid Card charges three different fees for cash withdrawals. In ascending fee order, withdrawals are sourced from ATMs, Netspend Reload Network locations, and financial institutions.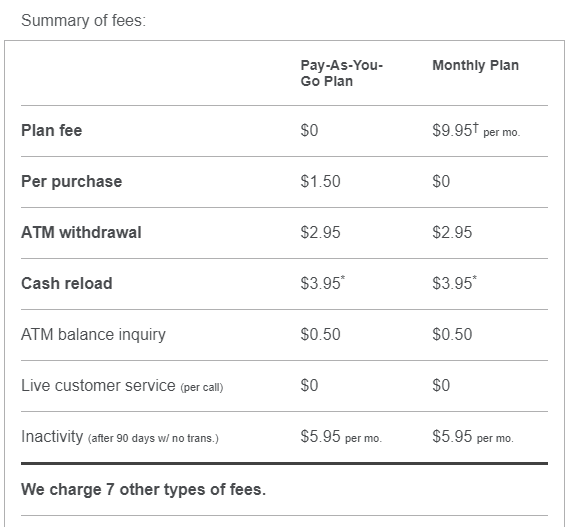 Generally, there is no fee for getting cash back at the store checkout line unless you're on the per-transaction fee plan.
There are additional ways to get money from a prepaid card if you don't need cash on the spot. For example, some cards allow you to transfer funds to a bank or credit union account. 
The PayPal Prepaid Mastercard® lets you transfer funds to and from your PayPal account online or through its app. In addition, you can use money transfer apps like Venmo that accept fund transfers from prepaid cards.
Can a Prepaid Card Be Used at an ATM?
Many prepaid cards work at ATMs. The charges vary by card and ATM network (for example, the MoneyPass ATM network). 
You can expect to pay a card fee for each ATM withdrawal plus any additional fees charged by the ATM operator. The cards reviewed here charge $2.50 per withdrawal.
You may prefer getting cash from your prepaid card through cash back on in-store purchases. This method is usually free, but you must have a PIN and select "DEBIT" when making your purchases. 
How Can I Get Cash From a Prepaid Card Online?
As mentioned earlier, some prepaid cards allow you to transfer funds from your prepaid card to your bank account. Simply visit the prepaid card issuer's website or mobile app to get started. Online bank account transfers may take one to three business days to complete.
If you have a card that doesn't allow bank transfers, you can sign up for MoneyGram to bypass this restriction. Visit the MoneyGram website and create an account if you don't already have one. Once you're in the account center, click the Send Money option.
Enter the amount you wish to send, select debit/credit card, and then choose the Account Deposit or Debit Card Deposit option. You'll then enter your bank details and follow the required prompts. You'll be charged a small fee for the convenience.
Alternatively, you may be able to use your prepaid card on Venmo, Apple Pay, or PayPal to access your money online.
It's Easy to Get Cash From a Prepaid Visa Debit Card
Now that we've shown you how to get cash from a prepaid Visa debit card, you should have a better sense of how to compare competing cards. Most of these cards share a common set of functions but differ in how much they charge. 
This type of debit card offers several ways to tap the money in your account. With a little planning, you should be able to grab your cash without paying a fee. Just make sure you read all the fine print before signing the cardholder agreement for a prepaid debit card. 
Advertiser Disclosure
CardRates.com is a free online resource that offers valuable content and comparison services to users. To keep this resource 100% free, we receive compensation for referrals for many of the offers listed on the site. Along with key review factors, this compensation may impact how and where products appear across CardRates.com (including, for example, the order in which they appear). CardRates.com does not include the entire universe of available offers. Editorial opinions expressed on the site are strictly our own and are not provided, endorsed, or approved by advertisers.