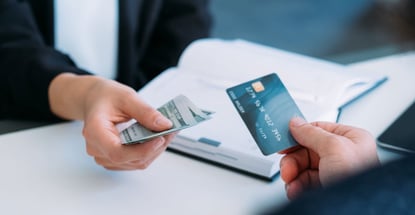 Are you interested in earning free travel, valuable rewards, or even extra cash? If so, you may be able to tap into these types of benefits simply by signing up for a new credit card. If this sounds too good to be true, it's not. Credit card companies are willing to hand over free benefits in exchange for your business.
Credit card issuers need and want good customers to stay profitable. But card issuers also know they're not your only "plastic" option, especially if you have at least decent credit scores. This is why card issuers spend millions of dollars on marketing campaigns and product design as a strategy to attract new customers.
How do credit card issuers stand out from other banks that are equally willing to offer you a shiny new credit card? One way card issuers try to win your business is by offering you a lucrative signup bonus.
What is a Credit Card Signup Bonus?
If you're familiar with how the contracts for professional athletes work, you will understand the concept of a signing bonus. As part of the athlete agreeing to play for a certain team under certain terms, the team may be willing to throw in a lump sum of cash as part of the deal. When the athlete signs the team's contract, he or she gets the signing bonus.
A credit card signup bonus is almost identical. The bonus is an incentive in exchange for you applying for their credit card. And, the bonuses are often quite valuable.
Sign-up bonuses frequently come in the form of points or miles. Once you earn the bonus, you can redeem it for free travel or other rewards upon meeting a certain initial spending requirement on your newly opened account. Some signup bonuses are offered in the form of cash back, which can be used as a statement credit if you prefer.
Here are a few examples of credit card signup bonuses you may find in your mailbox or see advertised online.
Chase Sapphire Preferred® Card: Earn 60,000 bonus points after you spend $4,000 on purchases in the first three months from account opening.
Capital One® Venture® Rewards Credit Card: Earn 50,000 bonus miles once you spend $3,000 on purchases within the first three months from account opening.
Chase Freedom®: Earn $200 cash back after you spend $500 on purchases in your first three months from account opening.
Credit card signup bonuses change frequently, and they can even differ depending on how or where you sign up for the card. Do some comparisons to make sure you're getting the best offer.
3 Steps to Earning a Signup Bonus
The following three steps will illustrate the best way to earn a credit card signup bonus.
1. Find the Right Credit Card
Before you start filling out credit card applications haphazardly, it's important to find the best credit card option for you. You'll need to do a little research first.
Check your credit. Begin by checking your three credit reports from Equifax, TransUnion, and Experian. If you find mistakes in any of your reports, you can dispute them. It's also a good idea to take a look at your credit scores to see where you stand. You're doing this first because there's no point in applying for a credit card for which you have no chance to qualify.
Look for cards that fit your credit rating. When you start searching for cards, you'll find offers designed for people with excellent, good, fair, bad, or no credit. Depending on which credit score range you fall into, you can figure out which offers to apply for and which ones to avoid so you can increase your odds of credit card approval.
Choose your favorite offer. Review available credit card offers that fall within your credit score category. Make a list of the features you could benefit from most. Also, consider the cost of any annual fees and how the card's rewards and benefits may offset such expenses. An annual fee isn't a deal-killer, but you should make sure you can get enough value out of the card if an annual fee applies.
As you can see, the process isn't as simple as just picking out your favorite bonus offer, although that is something you should consider.
2. Meet the Spending Threshold Responsibly
It's important to track your spending on any credit card, but especially when you're trying to earn a signup bonus. Just remember, you should never spend extra money to chase rewards.
If you think you'll have to spend more money than normal just to earn a signup bonus, opening a new account is probably a bad idea because you're subsidizing your own rewards with unnecessary purchases. Having said that, you may be able to meet a card's initial spending requirement without unnecessary purchases. These ideas could help.
Put all your living expenses on the new account. Until you earn the signup bonus, it may be a good idea to funnel all of your normal spending through the new account. You may be surprised how quickly those necessities, like gas and groceries, add up.
Pay utility bills and other recurring expenses with your new credit card. Even if you currently don't do so, you can probably pay several of your monthly bills via credit card. Some utility providers, cellphone providers, and monthly subscription services will accept a credit card payment without charging additional fees. You could also switch over any automatic payments to the new account, at least temporarily, until you've met the spending requirement.
Consider applying for the new account a few months before a major purchase. For example, you may need to pay for a large repair on your home. Ideally, you already have the money in an emergency or repair fund to cover the expense. If you open a new credit card with a signup bonus offer, the large purchase may be enough to meet the initial spending requirement. Then, pay off the balance with your savings so you don't owe any interest.
Please keep in mind that opening a new credit card account can lead to a lower credit score. This last option is only for consumers who have solid credit scores and can take on a newly opened account without a significant credit score decrease.
3. Beware of Potential Problems
A credit card signup bonus can help you earn valuable perks on the back of purchases you need to make anyway. But if you're not careful, chasing rewards can backfire.
You never want to go into debt to earn a credit card signup bonus. The interest fees you pay will strip away the value of the rewards. Plus, if you charge more money on your credit card than you can afford to pay off, your credit utilization rate will increase. That's not a good move for your credit scores.
Don't Go into Debt for a Signup Bonus
No credit card reward is worth the havoc that out-of-control credit card debt can wreak on your wallet and your credit reports. But if you trust yourself to avoid overspending and commit to paying your credit card balance in full every month, a signup bonus can be a great deal.
Advertiser Disclosure
CardRates.com is a free online resource that offers valuable content and comparison services to users. To keep this resource 100% free, we receive compensation from many of the offers listed on the site. Along with key review factors, this compensation may impact how and where products appear across the site (including, for example, the order in which they appear). CardRates.com does not include the entire universe of available offers. Editorial opinions expressed on the site are strictly our own and are not provided, endorsed, or approved by advertisers.