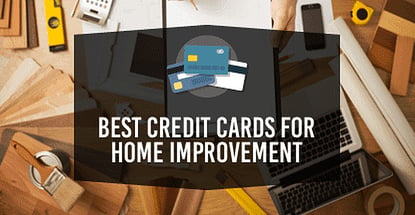 No matter how outdoorsy you are or how much you like to paint the town, just the time you spend sleeping can add up to more than 2,900 hours a year at home — and that's likely the bottom end of the scale. By the time you add in meals, showers, and weekends bingeing the latest season of your favorite show, you can easily top 4,000 hours a year.
To make the most of those hours, we need our homes to not only be safe and secure, but to also provide a measure of aesthetic comfort that allows us to relax and escape from the outside world. But while comfort isn't always cheap, you can find ways to finance your fixes and cash in on your construction simply by using the right credit card.
0% Financing | Cash Back | Store Financing
Best "0% Intro-APR" Cards for Home Improvement
Although you're probably not charging your full kitchen remodel, credit cards can be a convenient way to finance smaller home improvement projects, such as replacing a garage door or small appliances, particularly if you can pay it off quickly. If you need a little more time, a credit card with a quality introductory 0% APR offer can be just the ticket.
Providing zero interest charges on new purchases for the length of the offer period, intro-APR cards can be a great way to finance purchases you need to pay off over a few months or so. In fact, some of our top-rated introductory 0% APR cards provide up to 18 months of interest-free financing on new purchases — all with no annual fee.
+See More 0% Intro-APR Credit Cards
Of course, the most important thing to remember about introductory offers is that they are, by nature, temporary. Your 0% APR will expire at the end of the offer term, and your APR will revert to the default new purchase APR (found in the cardholder agreement for that specific card). This means you'll start being charged interest on any balance that remains when your offer expires.
If you still have a fairly significant balance at the end of your introductory period, you may want to consider making use of a card with an introductory 0% APR offer on balance transfers. You can then transfer your balance to the new card and enjoy interest-free financing for the length of the new offer. Note that most balance transfers will result in a fee, and the best balance transfer offers are usually reserved for those with good to excellent credit.
Best "Cash Back" Cards for Home Improvement
For many, one of the best reasons to use a credit card to finance your home improvements is also simply one of the best reasons to use a credit card: the rewards. With a quality cash back credit card, your new furniture, fridge, or french doors can also mean cash back savings you can use to add the perfect finishing touch to your updates (or for a much-needed night out to escape the construction zone).
Depending on when you make your improvements, a cash back card with rotating categories may provide the best earnings rate on your home improvement purchase, but a great unlimited cash back card is always a good choice, as well. If you need a little extra time, many of our favorite cash back cards even come with an introductory 0% APR offer to sweeten the savings.
+See More Cash Back Credit Cards
Another great reason to choose a cash back card for your home improvement financing needs? The ability to earn lucrative signup bonuses. These cash back bonuses, which can easily be worth $150 or more, can be had simply by meeting the minimum spending requirement within the designated time period (typically within 90 days of opening your account).
One thing to keep in mind is that no matter how big your rewards or how high your cash back rate — your card's default APR is probably much higher. You should pay off your home improvement purchases in full before the billing due date (or before the end of any intro-APR terms) to avoid being charged costly interest fees that can eat into your rewards.
Best "Store" Cards for Home Improvement
In some cases, the best financing and/or rewards deals can come from the actual stores themselves, particularly if your credit doesn't qualify for a good open-loop introductory APR deal. Unlike the APR offers of a general purpose credit card, however, only purchases made with a particular store will tend to qualify for special financing through a store credit card.
The benefits of store cards will vary largely by store, with some offering both special financing and store discounts, while others will only offer one or the other. One thing all store credit cards tend to have in common is a high APR, so be sure to only charge what you can afford to repay, either right away or within the bounds of a special financing offer.
7. Lowe's Advantage Credit Card
The Lowe's Advantage Credit Card is great for DIYers looking to renovate, as it gives you a choice of rewards. For purchases less than $299, you simply receive a 5% discount at the register. For card purchases of $299 or more, you can choose to receive the 5% discount or a special financing offer.

Get 5% off at checkout for eligible in-store or online Lowe's purchases made with your card
Receive special financing on purchases $299+
Pay no annual fee
If you choose to receive special financing, remember to pay off your entire purchase before the end of your financing terms, as the card has deferred interest. This means if any of your balance remains when your special financing expires, you'll be on the hook for interest for the entire purchase amount.
8. Home Depot Consumer Credit Card
Unlike most store cards, the Home Depot Consumer Credit Card doesn't actually offer a discount or cash back rewards. Instead, cardholders are eligible for special financing deals on large purchases, as well as certain selected products.

Receive special financing on Home Depot purchases of $299 or more made with your card
Get exclusive product-specific and seasonal offers
Pay no annual fee
As with many special financing deals, the Home Depot Consumer Credit Card charges deferred interest, so you'll be charged interest on your entire purchase amount if you don't pay it off before the end of your financing period.
9. Amazon.com Store Card
The Amazon Store Card can be a good way to finance the tools and accessories that help make a home renovation happen. All cardholders are eligible to receive special financing on Amazon purchases of $150 or more made with their Amazon.com Store Card. Obtaining an Amazon Prime membership unlocks additional cardholder rewards, providing 5% cash back on all eligible Amazon.com purchases.

Receive special financing on eligible Amazon.com orders of $150 or more made with your card
5% cash back on Amazon purchases
Pay no annual fee
The Amazon.com Store Card also has deferred interest, so pay off your balance before your financing expires to avoid being charged interest fees on your full purchase amount.
Upgrade Your Home and Your Credit Card
Between sleeping, eating, and relaxing, the typical homebody can easily spend in excess of 4,000 hours a year within the walls of their home. With that being the case, shouldn't that home, well, feel like home? With the right home improvements, you can improve more than just your home — you can improve your overall quality of life.
What's more, smart home improvements can also help bolster your bottom line. And with the right credit card, those improvements can not only be made more affordable, they might also provide valuable rewards that you can apply toward your next improvement (or to help cover your streaming subscription).
As with shopping for a new home, however, don't let your renovations make you house poor. A quiet night at home can be fantastic — but it loses its appeal when it's your only option due to a strapped budget. Always run the numbers before embarking on any large-scale (or small-scale, for that matter) renovations.
Advertiser Disclosure
CardRates.com is a free online resource that offers valuable content and comparison services to users. To keep this resource 100% free, we receive compensation for referrals for many of the offers listed on the site. Along with key review factors, this compensation may impact how and where products appear across CardRates.com (including, for example, the order in which they appear). CardRates.com does not include the entire universe of available offers. Editorial opinions expressed on the site are strictly our own and are not provided, endorsed, or approved by advertisers.