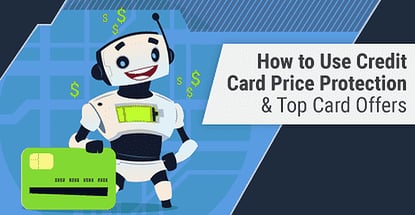 It seems inevitable. You spend weeks comparison shopping for the best deal and finally, sure in your research, you confidently make your purchase. Then, not two weeks later, you see an ad for the exact same item — $50 cheaper.
If only there were a way to ensure you always got the best price, even after you've made your purchase. Enter: credit card price protection. This handy credit card perk can save consumers from frustration and buyer's remorse by having the opportunity to purchase the item for the newly found lower price.
How to Successfully Use Price Protection
A feature offered by a number of great credit cards, price protection essentially provides you with the ability to request a refund when you find an item you've recently purchased advertised for a lower price than the one you just paid.
Of course, there are some limitations on what can be claimed and how much you can claim per year, with some important variations between issuers. All price protection programs have caps on the amount you can receive per claim, as well as the total amount you can claim each cardholder anniversary year.
Furthermore, not every item will qualify for a price protection, with common exceptions like automobiles, jewelry, event tickets, non-US purchases, live plants and animals, and services (as opposed to items). Check your card's benefits documentation to verify the details.

Provided your item meets the qualifications, you can file a claim with your issuer for reimbursement. Although the precise process will depend on the card and issuer, most price protection programs aren't particularly modern, so you'll likely need to call the company on the phone and physically mail in your documents.
The majority of programs will require the same basic documents to file a claim, including the original itemized sales receipt, your original card receipt (to prove you used the card for the purchase), and a hard copy (printed version) of the advertisement with the lower price.
Top Credit Cards with Price Protection
Since not every issuer offers price protection — and those that do may not offer it with every card — you'll want to do a little homework before assuming your card offers it.
And, given the variations between issuers and cards, it makes sense to spend at least as much time shopping price protection programs as you do shopping for your purchases.
Mastercard Credit Cards with Price Protection
Although each tier of Mastercard credit cards can come with price protection benefits from the network itself, the extent of those benefits will vary based on the specific card issuer (e.g., Barclays, Capital One, etc.), so not every Mastercard product may offer price protection.
To file a price protection claim with Mastercard you can go online or call 1-800-627-8372. You'll need to file your claim within 60 days of your original purchase date when filing directly with Mastercard, though some issuers may offer more time (some Capital One cards will allow up to 120 days, for example).
Mastercard price protection benefits are limited to $250 per item, with a limit of four claims per year up to a maximum total of $1,000.
While Mastercard doesn't have a hard-set rule on how long you can wait to file a claim after finding a lower advertised price, it does state, "Please file your claim as soon as you find any advertised lower prices on items purchased."
Citi Credit Cards with Price Protection
Citi has one of the most accessible and easy-to-use price protection programs in the form of the Citi Price Rewind, which is available to nearly all Citi-issued credit cards.
To participate in Citi Price Rewind, you'll need your original purchase receipt and an online Citi account. Once logged in, you can search the Citi Price Rewind database for an eligible item that was purchased within the last 60 days.
Once you select an item, you'll be asked to provide details of your purchase and to upload a copy of your receipt. Then, Citi does the work for you, tracking your purchase and looking for a lower price on the registered item.
If Citi Price Rewind finds a lower price within 60 days of your purchase date, you'll be notified via email. If you find a lower price on your own (within the same 60-day period), you can add the information to Price Rewind to submit a benefit request. Benefits are limited to $200 per item and $1,000 per calendar year.
While you'll need to find the lower advertised price within 60 days of your purchase date, you actually have up to 180 days to file your claim, though you'll still need all the specific documentation, including a printed copy of the advertisement with the sale dates included.
A Good Tool for Getting the Best Price
Many shoppers have experienced the utter deflation of thinking they got a great deal — right up until they see an even better deal for the same item. And that feeling can sour future deals with the fear that it will happen again.
With a good credit card price protection program to fall back on, you can silence that niggling worry of missing out on the best deal — for good. Just be sure to understand the rules and restrictions of your card's program to avoid any unpleasant surprises when you file a claim.
Advertiser Disclosure
CardRates.com is a free online resource that offers valuable content and comparison services to users. To keep this resource 100% free, we receive compensation from many of the offers listed on the site. Along with key review factors, this compensation may impact how and where products appear across the site (including, for example, the order in which they appear). CardRates.com does not include the entire universe of available offers. Editorial opinions expressed on the site are strictly our own and are not provided, endorsed, or approved by advertisers.