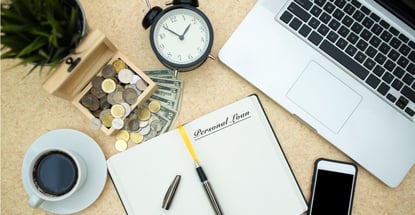 You can officially stop your search for the best personal loans for bad credit because we've put together the list to end all lists.
Online lending networks, like those listed below, were designed to help consumers who have poor credit find the bad credit personal loan they need. These networks allow you to submit a single loan request to each network, which is then forwarded to all the lenders that partner with that network.
Within minutes, qualified applicants may receive multiple loan offers from which to choose. And since these networks specialize in bad credit loan products, you may qualify — even if your bank or credit union turns you down.
Best Online Personal Loans For Bad Credit
Online lending networks are our favorite way to apply for loans if you have bad credit. By submitting a loan request to a network, you're allowing all the partnered lenders to compete for your business.
That means you'll get the best possible loan offers with competitive rates and loan terms, which can only help improve your odds of finding the right loan.

Short-term loans up to $5,000
Online marketplace of lenders
Funds available in as few as 24 hours
Simple online form takes less than 5 minutes
Trusted by more than 2 million customers
Not available in NY or CT
If size matters to you, MoneyMutual maintains the largest network of personal loan lenders on the internet. That's important to remember because more lenders mean a greater chance of finding someone willing to work with you.
This network offers smaller, short-term loans. Each loan offer you receive will come with a unique interest rate, repayment term, and loan rate. If you're approved, you can receive your loan funds into a linked checking account or savings account in as few as 24 hours.
Loans from $500 to $10,000
All credit types accepted
Receive a loan decision in minutes
Get funds directly to your bank account
Use the loan for any purpose
CashUSA.com has one of the higher maximum loan amounts on this list if you need a larger loan. But its partner lenders can still approve and fund your loan within one business day.
And since you're potentially dealing with a larger loan, you can also expect a longer repayment term for your debt. Based on your loan offer, you could have up to five years to repay your loan. Depending on your annual percentage rate of interest, stretching out your loan could lower your monthly payment substantially.
Quick loans of up to $5,000
Submit one form to receive multiple options without harming your credit score
All credit ratings welcome to apply
Requires a driver's license, bank account, and SSN
Get your funds as soon as tomorrow
The BillsHappen® network can connect you with a direct lender willing to submit a loan offer with a loan payment and loan rates that fit into your budget. Whether it's a secured personal loan or an unsecured personal loan, this network can provide you with several loan options to choose from.
Keep in mind that every loan offer you may receive will come from a different online lender. Each lender considers loan requests even if you have a bad credit score, but some may add extra fees to offset the risks involved with a bad credit personal loan.
Loans from $250 to $5,000 available
Cash deposited directly into your account
Get money as soon as tomorrow
Bad Credit OK
More than 750,000 customers since 1998
CreditLoan.com indicates that its direct lender network will consider your application even if you have a recently discharged bankruptcy on your credit history. This network considers auto loan, debt consolidation, and secured loan applications.
Your loan application takes less than five minutes to complete on CreditLoan.com. Once you submit your needs, you may receive multiple loan offers to choose from within minutes. If you accept an offer, you can complete the loan paperwork on the lender's website and receive your money by the next business day.
Loan amounts range from $500 to $10,000
Compare quotes from a network of lenders
Flexible credit requirements
Easy online application & 5-minute approval
Funding in as few as 24 hours
As its name suggests, BadCreditLoans.com maintains a direct lender network that only deals in bad credit loan products. There's no minimum credit score for approval, and your personal loan lender will work with you to find a monthly payment and loan term that works with your budget.
And since you're accepting a personal loan, you can use your loan proceeds in any way you'd like. Whether you're looking for a small loan or a larger installment loan, this network claims that it can find loans for a borrower who struggles to find acceptance elsewhere.
Loan amounts range from $500 to $35,000
All credit types welcome to apply
Lending partners in all 50 states
Loans can be used for any purpose
Fast online approval
Funding in as few as 24 hours
The PersonalLoans.com network maintains two separate divisions. One personal loan lender group works only with consumers who have good credit or excellent credit. The other division is for bad credit loans.
This separation is important to note because it means your loan application will only go to a lender that is ready and willing to work with you. Your potential loan rates and other loan options will vary based on the lender you choose to work with.
Loan amounts range from $100 to $1,000
Short-term loans with flexible credit requirements
Compare quotes from a network of lenders
5-minute approvals and 24-hour funding
Minimum monthly income of $1,000 required
Current employment with 90 days on the job required
The loans you receive from CashAdvance.com are a type of cash advance loan — also known as a payday loan — that is an ultra-short-term loan designed to act as a bridge to your next paycheck. As a result, you'll need to repay this loan in full within seven to 30 days.
These loans typically only require you to provide proof of sufficient income to repay the debt. You can often skip the credit check with a payday loan. But for that convenience, you'll find that these loans have incredibly high interest rates and an origination fee that makes them, by far, the most expensive loan option on the market.
What is a Personal Loan?
A personal loan is a financial product that offers more flexibility than most other loan types. You can use the loan proceeds from a personal loan in any way you choose. That's different from an auto loan, student loan, or home loan that sets strict rules on exactly how you can use the money you borrow.
A borrower may apply for a personal loan to pay for an emergency expense, cover the cost of a vacation for debt consolidation, or cover excessive credit card debt or credit card refinancing. You can even use the loan proceeds from a personal loan to purchase a vehicle or any other big-ticket item.
With the online lending networks listed above, you can easily submit a loan application within minutes and potentially receive multiple loan offers to choose from soon after. That's because these networks maintain an extensive online lender database. Your single loan request goes to every lender on the network, and each will use automated underwriting processes to make a near-instant loan decision for you.
If you receive multiple loan offers, each will have its own interest rate, monthly payment, and loan term. Be sure to study each offer carefully before choosing the one for you.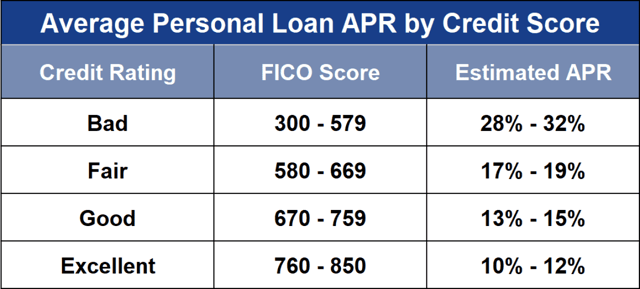 If you find a loan offer that you like, the network will forward you to the lender's website, where you'll finalize the loan paperwork and have your money deposited into a linked checking or savings account by the next business day.
This is an automated process, so you can apply for a loan from anywhere in the world and at any time of day or night. Some lenders do set specific income and age criteria for applicants.
Your lender may run a credit check with at least one credit bureau during the application process. Thankfully, the lenders that partner with these networks specialize in bad credit loans, so your bad credit score may not disqualify you from consideration. You don't need excellent credit to receive a loan offer.
And since a personal loan is a type of installment loan, you can repay your debt over time with a series of monthly payments — or installments. This makes the debt much more manageable and easier to repay.
The amount of time you have to pay off your loan will vary depending on your loan amount. For example, a small loan will require less time to repay than a larger loan. Your annual percentage rate of interest will also add to your monthly payment, which means that longer loan terms come at a higher cost than do shorter loan terms.
What Credit Score Do I Need to Get a Loan?
The lenders that partner with the online lender networks listed above do not have a minimum credit score requirement for approval. That said, they do factor in your credit score, among other data, when considering your loan application.
While these lenders have forgiving approval standards and accept applications from consumers who have bad credit, they'll also look at how much debt you owe compared to your current income to determine whether you can afford your new monthly payment.
Even if you have very good credit, you may not qualify for a loan if your debt-to-income ratio is high. On the other hand, you may find approval if your debt is much lower than your income, even with a bad credit score.
This includes other personal, auto, or home loans, credit card debt, a student loan, or any other recurring debt.
If you're concerned that your credit score may take you out of consideration for a loan, you can attempt to prequalify for a loan through the lending networks above. When you submit a brief loan request, the network will run a soft credit inquiry. This does not impact your credit score and can give you a general idea whether you'll qualify for a loan when you officially apply.
Prequalifying doesn't guarantee that you'll get a loan, but it's typically a good indicator of future success. If you accept a loan offer from a network lender, that lender will require a full credit check during the official application process.
What's the Difference Between a Secured Loan and an Unsecured Loan?
There are two main types of loans in today's financial market: secured and unsecured loans. The key difference between the two is collateral.
A secured loan requires some form of collateral to back your loan. An auto loan is a form of secured loan because it uses the purchased vehicle as collateral. The lender will repossess the car and sell it to recoup its money if you stop making payments.
A pawnshop loan, an auto title loan, and a home loan are other forms of secured loans that require you to place something of value as collateral to secure your loan.
An unsecured loan does not require collateral for approval. These are sometimes referred to as signature loans because they simply require your signature on a legal contract that guarantees repayment. But signature loans are usually only obtainable for people with good to excellent credit.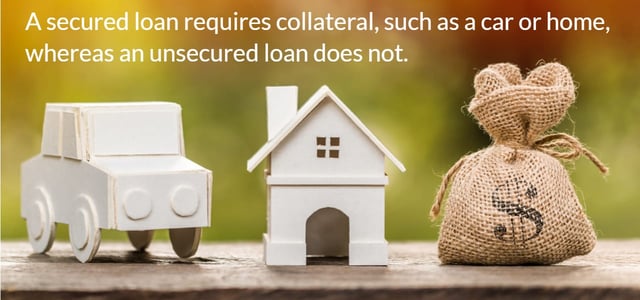 If you stop making payments on an unsecured loan, the lender's only recourse is to sell the bad debt to a collection agency for pennies on the dollar. While an unsecured loan is far more convenient for the borrower, these loans come with substantial risk to the lender.
If you qualify for a bad credit unsecured loan, the online lender may charge you an origination fee, a higher interest rate, or other costs to offset the risk involved with the loan. Still, those added fees may be worth eliminating the risk of losing your valuables if you're unable to repay the debt.
Can I Get a Bank or Credit Union Loan With Bad Credit?
Most banks and credit unions will not consider your loan application if you have bad credit. That's because these financial institutions set strict guidelines as to who qualifies for a loan —  they can't risk losing money to a bad loan.
This is especially true with banks, which are often publicly traded companies with boards of directors to answer to if they aren't profitable.
The loan exception is a Credit Union Payday Alternative Loan (or PAL). These small loans were designed to help consumers with credit issues avoid taking out a costly payday loan or cash advance loan.
These loans typically max out around $1,000 and require repayment within six months. You can only have one active PAL at a time, and most credit unions will limit you to one of these loans every six months. You must have an account with the credit union to qualify, though many institutions will allow you to create an account when you apply for the loan.
If you need a loan and have bad credit, you may be better served applying to alternative lenders with more relaxed qualification standards and no minimum credit score requirement.
These lenders offer many of the same terms as banks and credit unions, but since the competition among online lenders is so fierce, you can often find a lender willing to work with you just to earn your business — even if you pose a more significant risk than the average consumer.
Can I Use a Personal Loan For Auto Financing?
You can use a personal loan for any purpose you choose, including auto financing.
Some consumers choose this route to purchase a vehicle because an unsecured personal loan does not require collateral for approval. Most auto loans use your purchased vehicle as collateral for your loan. This means the lender can repossess the automobile if you don't meet the loan agreement terms.
If you purchase your vehicle using a personal loan, you'll have no collateral requirement.
Just keep in mind that you may not qualify for the same loan amounts with a personal loan as you would with a secured auto loan. That could limit your purchasing power and narrow down your car-buying options. Not to mention, auto loan interest rates are generally far lower than those of personal loans.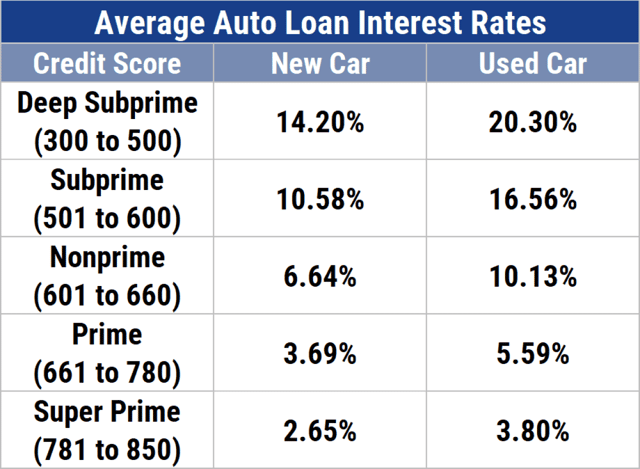 Some auto loans also come with an added warranty on the vehicle, which you may not receive if you pay for the car or truck with a personal loan.
You may also find that your interest rate may be higher on a personal loan if you have very bad credit. That's because unsecured loans often have higher fees that offset the risks that lenders take when extending loans without security or collateral involved.
What is the Easiest Loan to Get With Poor Credit?
If you have bad credit, a lender considers you a greater risk than someone with good credit. As a result, the easiest loans for you to get will be any loan that minimizes the lender's risk.
These are often secured loans that require collateral for approval. Some examples include:
A pawnshop loan: To get this loan, you must pawn something of value. The pawnbroker will typically lend you much less than the item is worth, which puts most of the risk back into your hands.
An auto loan: If you stop making payments on your loan, the lender can repossess the vehicle and sell it. That's a pretty solid safety net for any lender to fall on.
An auto title loan: This is similar to a personal loan because you can use the proceeds in any way you choose. But you must place your vehicle's title as collateral to secure the loan. If you stop making payments, you'll lose the car.
A payday loan: Also known as a cash advance loan, these costly loans may not even require a credit check for approval. But if you can't repay the debt in full within seven to 30 days, you may find yourself in a very tough financial situation.
The loans above take most of the risk out of the lender's hands and put it squarely in yours. That's why these loan types will often overlook your bad credit score and approve your credit application.
But just because these loans are easy to get doesn't mean you should jump into them. These loans may penalize your bad credit score by adding a higher interest rate and more fees than the traditional loan.
That can make them both risky and expensive. Be sure to study every loan offer you receive before you sign any paperwork to guarantee the loan. Ask as many questions as you need to feel comfortable with the loan. Doing so may help you avoid a costly mistake.
Can I Get a Loan With No Credit Check?
You can get a loan with no credit check, but they're often substantially more expensive than a traditional loan that requires a credit check.
Payday loans, auto title loans, and pawnshop loans will likely accept your loan request without looking at your credit score. But you'll need to use a personal item with good value (or, in the case of a payday loan, your next paycheck) as collateral for approval.
For example, you may qualify for a pawnshop loan for as little as 25% of the item's value you're pawning as collateral. Let's say you bring in a musical instrument that's worth $500. The pawnbroker may only offer you a loan of $125 for that item. But if you don't repay the loan on time, you'll lose your $500 instrument and get no more money in return.
An auto title loan requires that you place your car's title as collateral for a loan that's substantially lower than the value of the automobile. Just as with the pawnshop, if you can't repay the debt on time, you'll lose your car.
These loans are both risky and expensive. Don't assume that your credit score is too bad to qualify for a loan. At the very least, you can attempt to prequalify for a loan through any of the lending networks above.
Doing so will not harm your credit score, and it will give you a better idea of your chances of loan approval. It's a no-lose situation.
How Can I Get a Personal Loan Immediately?
Online loans typically require one business day to transfer your borrowed funds to a linked checking or savings account.
If you need cash right away, your only option may be to look at local lenders that allow you to walk in and walk out with cash. While these loans are convenient, they're also often expensive and risky.
A local cash advance center can typically approve your application in 30 minutes or less and give you cash right away.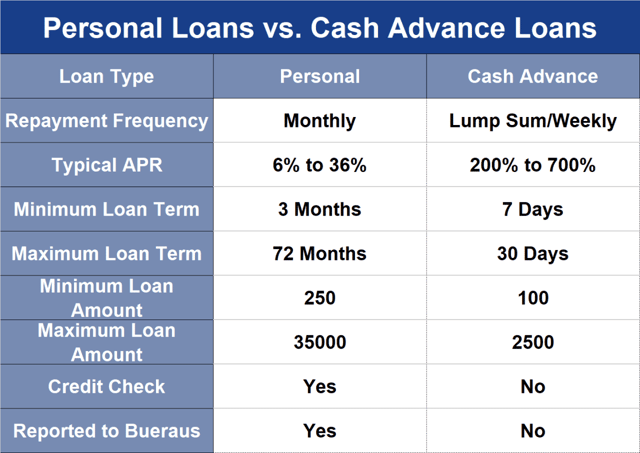 A pawnshop can also provide cash in minutes for your valuables. Or an auto title loan provider can typically pay you in cash on the same day if you're willing to risk your vehicle for a loan amount that's substantially less than what the automobile is worth.
Emergencies rarely wait for anyone. Sometimes you need cash immediately. But if you're able to wait 24 hours, you'll find yourself in a better financial situation if you consider a more affordable personal loan from the lending networks listed above.
Why Am I Not Getting Approved For a Loan?
Every lender has different approval standards that may keep you from getting the loan you need. While many consumers think their credit score is the only thing a lender looks at when considering a loan application, the truth is that many factors come into play during the process.
To understand this more, let's break down the factors that make up your credit score. Any of these items could trigger a declined application, even if the other factors pass with flying colors.
Payment history determines 35% of your credit score. Even if you have a high income and little debt, you may lose your chance at qualifying for a loan if you have a recently reported late payment.
Amounts owed accounts for 30% of your credit score. If you already have a lot of debt — be it through loans or credit cards — a lender may be hesitant to add more debt to your budget.
Length of credit history determines 15% of your credit score. If you're relatively new to credit, a lender may be less willing to approve a large loan in your name until your credit history shows that you can manage debt responsibly. Start with smaller loans to prove you're able to make regular on-time payments.
New credit makes up 10% of your credit score. If you're applying for lots of credit in a short period, a lender may see you as desperate for money. As a  result, lenders may identify you as being at a higher risk of defaulting on your loan. Space out your applications so you aren't asking for too much too soon.
Credit mix makes up the final 10% of your credit score. Credit mix shows that you have a good mix of credit types (different types of loans and credit cards) and can successfully manage all of them at once. If you've never had an auto loan, for example, you may have to show that you've managed other loans or credit cards successfully to prove that you can handle a car payment.
Your credit score is more than just a number. Several factors come into play when determining the three-digit number attached to your name.
If you're unsure of your current credit situation, you can pull your free annual credit reports. This will not show your credit score, but it will show you what's on your reports that's affecting your credit scores.
Can I Get Approved For a Loan When I'm Unemployed?
Lenders typically want to see that you have sufficient income to repay any debts you take on. Traditionally, the source of that income is from employment. But you can still qualify for a loan if you're unemployed.
The lenders that partner with the lending networks above will accept non-traditional income sources as long as you receive payments at least monthly. These income sources can include:
alimony
child support
student financial aid
retirement income
government benefits checks
investment returns
rental property income
annuity and structured settlement payments
other bi-weekly or monthly sources of income
You can add any of these sources of income to your loan application even if you are employed to increase your chances of loan approval.
Research the Best Personal Loans for Bad Credit Online
Personal loans come in all shapes and sizes — and the best personal loans for bad credit come tailor-made to fit your budget and financial needs.
You'll find that a personal loan has much more flexibility than other loan types because a personal loan allows you to use your borrowed money in any way you choose. That means you can pay for home repairs, consolidate debt, or take your dream vacation.
The online lending networks listed above make it easy to apply for a personal loan at any time of the day or night. If you qualify, you could have money in your account by the next business day.
And since the networks listed above specialize in bad credit loans, you may not have to worry about your past financial mistakes keeping you from the money you need. Even better, your timely loan payments will report to at least one credit bureau, which will help you improve your credit score so you can qualify for an even better — and larger — loan in the future.
Advertiser Disclosure
CardRates.com is a free online resource that offers valuable content and comparison services to users. To keep this resource 100% free, we receive compensation for referrals for many of the offers listed on the site. Along with key review factors, this compensation may impact how and where products appear across CardRates.com (including, for example, the order in which they appear). CardRates.com does not include the entire universe of available offers. Editorial opinions expressed on the site are strictly our own and are not provided, endorsed, or approved by advertisers.