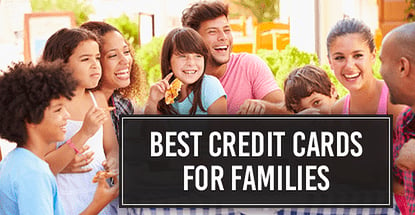 Kids aren't cheap. Ask any parent, and it will soon become obvious that those little bundles of joy come with great big price tags, ones that only seem to get larger as they age.
In fact, several studies peg the cost of raising a child from birth to age 18 is over $230,000 — or around $13,000 a year.
For a frugal family, those costs can certainly be decreased, and it doesn't necessarily take a bare-bones budget, either. Smart credit card use can be an easy way to find a little extra savings on family expenses. The guide below will explore some of the best credit cards for families, including cards with a wide range of perks in the form of cash back rewards, travel, gas, groceries, dining, and 0% introductory APR.
Cash Back | Travel | Gas | Groceries | Dining | 0% Intro APR
Best "Cash Back" Cards for Families
Between work, school, activities, meals, and household chores — and trying to find a few hours of sleep in between — many families are likely short on the time (and energy) to wrangle with complicated credit card rewards.
Cash back rewards are the simplest to redeem, easily turned into a statement credit or deposited into a qualifying bank account — no muss, no fuss, no complex transfers required.
If you want the hands-off method, it's easy to put your savings on auto-pilot with an unlimited cash back rewards card that offers the same flat-rate rewards on every purchase.
For those who want to maximize their cash back, several cards that offer bonus rewards for specific category purchases can be combined to earn big rewards on many of your most frequent purchases.
Best "Travel Rewards" Cards for Families
As with most things involving children, traveling with your family can be a complicated exercise in logistics and budgeting. Flights, hotel rooms, meals — everything seems to get exponentially more expensive for each person you add to the adventure.
While a good travel rewards credit card won't necessarily reduce the chaos of a family trip, it can help reduce the bill you're stuck paying at the end by helping you earn points or miles on your everyday purchases all year long.
Unless you're loyal to a specific airline, the best travel rewards cards for families are often those that provide the most flexible rewards, allowing you to redeem your points or miles without worrying about brand restrictions or blackout dates.
Even better are those travel cards that provide both flexible rewards and bonus rewards categories that can help you earn them quickly. Choose cards with bonus categories in which you spend the most to maximize your earnings.
Best "Gas Rewards" Cards for Families
Some of the best credit cards for gas rewards don't actually have set categories, but instead offer rotating bonus categories that change each quarter.
While you won't get year-round gas rewards with these cards, the high rate you'll receive when you do can easily earn these cards a place in your wallet.
Cards with single, flat-rate rewards can also be a good choice for gas station purchases, particularly for those for whom the bulk of their spending generally doesn't fit into common bonus categories.
Although the many stories of credit card "skimmers" and other theft devices can make it seem unsafe to use a credit card to purchase gas at the pump, the risk is lower than you think.
Most major credit card issuers have $0 liability policies that protect you against unauthorized purchases made with your credit card. In contrast, unauthorized debit card purchases could end up costing you quite a bit if they're not caught right away.
Best "Grocery Rewards" Cards for Families
The average household spends almost $4,000 a year preparing food at home. With the right rewards credit card, however, you can cut that number down quite a bit — up to 6%, in fact.
Offering a full 6% cash back on your first $6,000 in grocery store purchases each year, the Blue Cash Preferred® Card from American Express can be a lucrative tool for any family.

Earn 6% cash back at U.S. supermarkets (on up to $6k a year) & on select U.S. streaming services
Earn 3% cash back on U.S. gas station and transit purchases
Pay a $95 annual fee
Spending $32 a week in grocery purchases with your Blue Cash Preferred® card will let you break even on the $95 annual fee, so don't let a high fee scare you off from potential rewards.
These two cards won't give you year-round bonus rewards for grocery purchases, but both usually offer grocery stores as a bonus category at least one quarter each year. Cardholders of either card can only earn bonus rewards on up to $1,500 in qualifying category purchases each quarter after activation.
Best "Dining Rewards" Cards for Families
While many chain restaurants have children's specials that can make dining out with a family more affordable, it can still be a big expense to take the entire family out to a meal — particularly if you're looking for something better than chicken nuggets and fries.
Credit cards with bonus rewards for dining purchases can give you enough wiggle room in the food budget to justify an extra meal out now and then (with — or without — the family in tow).
Both Chase Sapphire cards offer bonus Ultimate Rewards® points for dining purchases, and Chase's definition of qualifying purchases is fairly broad. Chase's dining category includes both sit-down and eat-in restaurants as well as fast-food places.
A joint effort with Barclays bank, the Uber Visa Card not only provides a significant cash back rewards rate for dining, but it also offers three other useful bonus categories.

Earn 4% cash back on dining purchases, including restaurants, takeout, bars, and UberEATS
Earn 3% cash back on hotel & airfare
Earn 2% cash back for online purchases
In addition to purchase rewards, the Uber Visa Card comes with perks and benefits like mobile phone protection, a subscription service credit, and no foreign transaction fees.
Best "0% Intro APR" Cards for Families
Whether it's braces, broken bones, or a new bassoon, the extraneous family expenses that inevitably crop up can strain just about any budget. While credit cards are a convenient way to finance life's little surprises, the high interest rates usually charged are less convenient.
One of the best ways to make credit card financing more affordable is to use a credit card with an introductory 0% APR offer that provides interest-free financing for 12 months or more. Choose a card without an annual fee to double down on savings.
While 0% APR offers are handy, they are usually promotional rates that have a set expiration date. Keep that date in mind when planning out your payments to ensure you don't have a big balance left over when your low rate expires.
Additionally, make sure you know which types of transactions are covered by your offer. Some intro-APR offers apply to both new purchases and balance transfers, while other offers will only apply to a single type of transaction.
Turn Everyday Necessities into Valuable Rewards
Although few people keep track of every family-related expense, even a rough estimate of the total amount spent raising your kids will likely be an eye-opener for many families.
No matter if you're right near the estimated $230,000 or have blown it well out of the water, most families can probably use a little extra savings. For those who can use them responsibly, credit cards can be a simple way to save on the everyday necessities that keep a family going.
But don't forget to actually make use of your card's benefits. Rewards that go un-redeemed or warranty protection that goes unclaimed can be essentially like walking right by free money (or paid-for money, in the case of cards with annual fees). Make notes of which cards have what benefits, as well as any potential rewards expiration dates, to help ensure you can make the most of your cards.
Advertiser Disclosure
CardRates.com is a free online resource that offers valuable content and comparison services to users. To keep this resource 100% free, we receive compensation for referrals for many of the offers listed on the site. Along with key review factors, this compensation may impact how and where products appear across CardRates.com (including, for example, the order in which they appear). CardRates.com does not include the entire universe of available offers. Editorial opinions expressed on the site are strictly our own and are not provided, endorsed, or approved by advertisers.