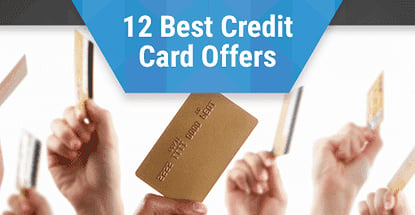 credit card advice

Edited by: Lillian Guevara-Castro
Lillian Guevara-Castro
Lillian brings more than 30 years of editing and journalism experience. She has written and edited for major news organizations, including The Atlanta Journal-Constitution and the New York Times, and she previously served as an adjunct instructor at the University of Florida. Today, she edits all CardRates content for clarity, accuracy, and reader engagement.
See full bio

»
I still have my first credit card, despite it not currently residing in my wallet. While I began my credit card journey with a mere $300 limit, over the years my little Capital One card has undergone several credit limit increases and upgrades to better iterations. But I don't use it. Instead, I prefer to stay up with the latest cards and reap their benefits.
There are so many credit card offers that tear me from my typical brand loyalty — between large cash-back percentages, signing bonuses, and other rewards, it hardly makes sense to limit yourself to a single issuer, brand, or type of credit card.
Here we've rounded up the 12 best credit card offers currently available and organized them into specific categories to help you find the next piece of plastic to reside in your wallet. Use the navigation below to skip ahead to the credit card offer that best suits your needs.
Air Miles | Balance Transfer | 0% Intro APR | Cash Back | Points | Business | Student | Secured
Good Credit (700+ FICO) | Fair Credit (600-700) | Bad Credit (Below 600) | No Credit
1. Best "Air Miles" Offer
Taking advantage of the best travel credit card offers is what helped me road trip across the country and even fly to Hawaii! Often, the air miles rewards programs are a little convoluted, so read the program offering in full before signing up as miles accumulate differently between issuers and travel brands.
However, you can get more bang for your buck when you couple your credit card air miles with branded travel programs like frequent flyer rewards. Here is our top-rated card for racking up loads of air miles:
2. Best "0% Balance Transfer" Offer
Generally speaking, balance transfer offers are only extended to individuals with good to excellent credit. These types of credit cards are awesome for helping you pay off debt because they allow you to move a balance from a higher interest card to a lower or 0% interest card. This way, you can pay off the balance without paying extra in interest during the promotional period.
However, be aware that most cards charge balance transfer fees, which are typically charged as a small percentage (usually 3% to 5%) of the balance being transferred. Just be sure to read the small print to know what the offer entails, including the interest-free time period and the transfer fee. A card like this one offers a superb introductory period, while keeping fees to a minimum:
+See more balance transfer offers
3. Best "0% Intro APR" Offer
An introductory offer of 0% APR is a great option for big purchases (though it is also limited to individuals with good to excellent credit). For example, if you are moving into a new place and need to purchase furniture, a 0% intro APR offer would be a great way to cover the costs of a new living room set without paying interest.
Similar to balance transfer cards, the introductory 0% APR is for a limited period of time, so be sure to read the offer fully to know when to pay the balance off before interest hits. Below is our favorite 0% introductory APR offer:
+ See more 0% intro APR offers
4. Best "Cash Back" Offer
The offers I always find myself gravitating toward more than any other are whichever the best cash back credit cards happen to be at the time. Most programs have purchasing categories such as gas stations, grocery stores, and specific retailers that earn a higher cash-back percentage on purchases, while offering a standard percentage for all other purchases. It's important to note that higher percentage cash-back earnings can get capped, so read the offer completely before committing. Only you will know what the best cash back credit card for your spending style is.
Luckily, many issuers have made redeeming cash back so easy that you can do it right online where you view your account activity. However, you often have to rack up a certain amount before you can redeem it. I generally just take my cash back as a statement credit, which is more standard, but some issuers will send you a check for your cash-back earnings.
Be sure to pay attention to the interest rates for cash-back offers as they tend to be rather high (it's how the credit card company hopes to make its money back). Below is our best cash back credit card offer with a competitive APR:
5. Best "Points & Rewards" Offer
While I tend to favor cash back rewards, often points-based rewards programs offer hefty benefits, including signing bonuses that end up equating to a few hundred bucks toward travel or merchandise. These types of rewards cards give you a specific amount of "points" per purchase, but be sure to know the rate at which the points accumulate because some programs are more rewarding than others.
Redeeming points for rewards can be done online or over the phone, though you'll want to be aware of any blackout dates for travel or other restrictions on redemption. Because of the headache this used to cause for consumers, many cards have eased up on rewards limitations. The card below offers an amazing program for earning points and rewards:
+ See more points & rewards offers
6. Best "Business" Offer
Business credit cards offer tempting benefits from larger credit limits to more rewards points when purchases are made for the business. While some issuers are more lenient as to what constitutes a business (for example, a self-employed entrepreneur can often use their Social Security number on a business credit card application rather than the business's Federal Tax ID number), others have strict rules governing who can apply.
It's important to read thoroughly all the business card's terms and conditions, which can vary among issuers as business cards are not protected under the Credit CARD Act of 2009. Our favorite business card offer includes many sought-after business benefits:
+ See more business credit card offers
7. Best "Student" Offer
Student credit cards are for those currently enrolled in a higher education institution, and typically offer additional perks for having good grades. Because the best student credit cards know their applicant demographic, they are willing to accept the limited credit history of most college students.
While benefits vary, you'll want to check for annual fees and shop around for the best APR available given your credit rating. The application process on our favorite student credit card is pretty painless:
+ See more credit card offers for students
8. Best "Secured" Offer
Consider a secured credit card if your credit prohibits you from being approved for other credit card offers. A secured card is similar to a prepaid credit card — you give the credit card company a deposit up front and they issue you a line of credit for that amount, the key difference being that a secured card is still a line of credit rather than requiring you to reload it. If you consistently make payments you can often get your deposit refunded to you.
Plus, almost all secured cards report to the credit bureaus. Just read the terms and conditions of any offer to confirm reporting before you apply because if the issuer doesn't report your activity, it can't help build your credit. Here is the offer we suggest to those looking for a secured credit card that reports to all three major credit bureaus:
+ See more secured credit card offers
9. Best Offer for "Good Credit"
With a good credit score of 700+, you have access to some of the best credit card offers out there, including those that have handsome rewards and cash back programs as well as those offering a hefty signing bonus.
To ensure your rating remains in tact, be sure to keep your credit utilization ratio below 30% even as you apply for and open new credit accounts. This is our card of choice to reward those with good credit with good perks:
+ See more credit card offers for good credit
10. Best Offer for "Fair Credit"
Fair credit, defined as a credit score falling between 600 and 700, may seem limiting, but there are still many options for fair credit borrowers. Because lower scores typically represent a more risky applicant to the credit card company, some cards will have a higher APR or even charge an annual fee, so you'll want to compare your options apples-to-apples.
However, many of the choices still come with nice rewards programs like cash back. Our highest-rated credit card offer for fair credit is below:
+ See more credit card offers for fair credit
11. Best Offer for "Bad Credit"
Credit cards for people with bad credit are specifically geared toward helping you qualify, even with a credit score below 600. You can use these credit cards to help build credit, but there will likely be higher fees and APRs if you are late or miss making a payment. Payment history accounts for 35% of your FICO credit score, so if you aren't sure you can pay the bill on time, you might want to look into a prepaid card instead.
If you decide to go with an unsecured card, this card is a great option for you. It's our top choice for those with bad credit, and it does not require you to secure the credit line with a large deposit:
+ See more credit card offers for bad credit
12. Best Offer for "No Credit History"
Building your credit history can be done easily with a credit card for limited credit. Qualifying for no credit credit cards may require a little more information from you than a typical credit card application because there isn't as much data in your credit report.
There will likely be higher fees and APRs, but as long as you stay on top of your payments and keep your credit utilization low, an unsecured credit card for limited credit can help you build your history so you may qualify for better cards in the future. We recommend the following offer to help you build your credit:
+ See more credit card offers for limited credit
So Which is the Right Offer for You?
When I was searching for my first "starter" line of credit as a college student, I didn't have such a comprehensive list to refer to, nor was I able to receive any offers by mail. Instead, I had to do all of my own research separately on what I could qualify for with my limited credit history. But lucky for you, we've done all the research for you — and we'll keep this guide updated regularly. These days, there is no shortage of credit cards to apply for, no matter if you're just starting your credit journey, rebuilding credit, or you're credit score is fantastic — there's something for just about everybody.
So opt out of those old school junk-mail offers and simply check back with us anytime you're looking for a new credit card. And don't be discouraged if you're starting out with a poor or limited credit history — once you're responsibly using your new card, you may find, as I did, that in just a few years you'll be able to move up from a secured or student card and qualify for one of the best credit card offers out there!
Advertiser Disclosure
CardRates.com is a free online resource that offers valuable content and comparison services to users. To keep this resource 100% free, we receive compensation for referrals for many of the offers listed on the site. Along with key review factors, this compensation may impact how and where products appear across CardRates.com (including, for example, the order in which they appear). CardRates.com does not include the entire universe of available offers. Editorial opinions expressed on the site are strictly our own and are not provided, endorsed, or approved by advertisers.
Editorial Note: Our site content is not provided or commissioned by any credit card issuer(s). Opinions expressed on CardRates.com are the author's alone, not those of any credit card issuer, and have not been reviewed, approved, or otherwise endorsed by credit card issuers. Every reasonable effort has been made to maintain accurate information; however, all credit card offer details, including information about rewards, signup bonuses, introductory offers, and other terms and conditions, is presented without warranty. Clicking on any offer on CardRates.com will direct you to the issuer's website, where you can review the current terms and conditions of the offer.
Share This Article
Like this article on Facebook
Share this article via Email
Email
About the Author


Lauren Keys
Lauren Keys has over nine years of writing and editing experience for media outlets including The New York Times, Entrepreneur.com, Gainesville Magazine, and numerous other publications. Lauren strives to inform readers of how they can make the most of their budgets by sharing personal finance tips and highlighting the brands and products that can help them achieve their financial goals.