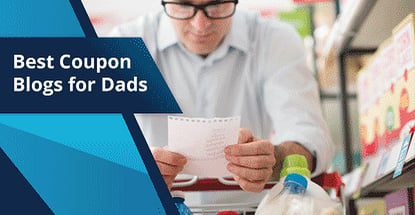 credit card advice
Opinions expressed here are ours alone, and are not provided, endorsed, or approved by any issuer. Our articles follow strict editorial guidelines and are updated regularly.
Let's be real — most people think of couponers as young moms who have big families and spend countless hours clipping coupons for next week's groceries. However, this isn't the case at all; couponers come in all shapes and sizes, including dads who love to save as much as they can.
To inspire other dads to get out there and start couponing, we've compiled a list of the nine best coupon blogs for dads. Readers will find everything they need to get started – or perfect their skills – with the following sites and resources.
1. Coupon Dad
Coupon Dad is loaded with almost every kind of coupon you can think of – such as grocery coupons, restaurant coupons, and online coupon codes. Dads will also love the array of giveaways for guy products, like cologne, men's bath products, and gift cards.

Zack, the voice behind Coupon Dad, has been a dedicated couponer since he was 14, when he was able to knock $20 off the family's grocery bill. After years of experience, Zack truly knows the ins and outs of how to get more for your money.
| Bragging Rights | Social Clout | URL |
| --- | --- | --- |
| Offers printables & online codes | 30,000+ likes, 25,000+ followers | www.coupondad.net |
On Coupon Dad, readers can find great bonuses like free Redbox codes, grocery coupons, and other trending deals on the site. Saving is pretty easy to do when readers have quick access to coupons and codes at Coupon Dad.
2. Couponing with GregThatDude
Greg talks about all things related to coupons, including pointing out the best printables, freebies, and Facebook offers across the web. He walks you through the process of getting deals at stores like Walgreens and Dollar General, taking you step by step through each transaction to give you a preview of how to score the same deals yourself.

With the mission to "show the world that guys can coupon, too," Greg hopes to inspire men around the world to start couponing like him. Every Thursday, he has a live show to answer coupon questions and discuss sales.
Neophytes to the practice of saving with coupons can really benefit from GregThatDude's Couponing for Beginners blog posts, which take the reader step by step through the entire couponing process.
3. The Coupon Hubby
The Coupon Hubby is perfect for dads who range from coupon beginners to experts. Links to store guides, coupon policies, and weekly deals are included to a variety of stores. The blog also posts freebies and contests that readers enjoy participating in.

Shawn, the author of The Coupon Hubby, decided to help his family save money by couponing during the recession when he turned 40. Years later, he's bringing his couponing techniques and tricks to the web to help thousands of readers save every day.
| Bragging Rights | Social Clout | URL |
| --- | --- | --- |
| "Money doesn't discriminate" | 13,000+ likes, 2,600+ followers | www.thecouponhubby.com |
The Coupon Hubby is full of all thing savings and couponing. Readers can enter contests, find the best deals of the day, and read up on coupon policies. There's always a way to save with The Coupon Hubby!
4. Super Coupon Guy
The "How to Super Coupon" section of Super Coupon Guy will give you a crash course in finding and organizing coupons, researching and planning shopping trips, and quick tips on how to save on last-minute runs to the store. Dads will also appreciate the "Resources" section, where the author has gathered a list of great websites that will help you on your couponing journey.

Once a prisoner to debt, Noah of Super Coupon Guy finally gave extreme couponing a shot one day and left the store with a cart full of free products. He became inspired to start a blog and help other people save 'with the power of coupons.'
Super Coupon Guy helps dads find the latest newspaper and printable coupons and match them to sales. Readers should prepare their coupon binders for some super savings in the near future!
5. Gay NYC Dad
On Gay NYC Dad, you'll find information about couponing and reviews of products. We also really like the contest section; it's always full of multiple giveaways running at once, with cool prizes dads would love to win — like gift cards, movies, and toys for their kids.

Mitch of Gay NYC Dad started the blog to help dads learn how to coupon and have all the resources at their fingertips. Readers can flock to the site daily and find the latest deals on vacation destinations, products, and food.
| Bragging Rights | Social Clout | URL |
| --- | --- | --- |
| Products, reviews, and contests – oh my! | 7,200+ likes, 34,100+ followers | www.gaynycdad.com |
Gay NYC Dad is a great go-to site for dads who don't want to fully commit to extreme couponing. There are always some great deals on the site, and dads will enjoy the easy-to-use experience.
6. Joe the Coupon Guy
You have many opportunities to learn about the ins and outs of couponing from Joe the Coupon Guy, as he teaches classes and does radio and TV appearances you can listen to online. Readers can also check out the "Deal Blog" section to find out about the latest deals and Joe's adventures in shopping.

Joe Daugirdas, the man behind The Coupon Guy, has many years of experience hunting down great deals. Rumor has it that he saves over 90% on toiletries and 70% to 80% on groceries. Readers can learn a thing or two from the site just by skimming through the latest blog posts.
Dads interested in learning how to coupon can sign up for one of Joe's free couponing classes. The Coupon Guy has helped thousands of readers save, no matter what couponing level they're at.
7. San Antonio Coupon Dad
San Antonio Coupon Dad is an offshoot of the main Coupon Dad website, specifically for the San Antonio area. No matter where you live, you can get some great information on this site's "Couponing" Basics section like advice on how to get started, couponing etiquette, and the HEB store couponing policy.

San Antonio Coupon Dad specializes in posting local deals at attractions, sporting goods, entertainment, clothing, and even doctors and dentists offices. Readers can save on different expenses when they check out this blog.
Whether you're a beginner or an expert, dads can peruse San Antonio Coupon Dad to find deals on a wide range of products and services. The simple site is a great way to introduce dads to couponing.
8. Dads Coupon Too
If you're a father who is couponing for the first time, you may wonder where you can get coupons online for free. If this is you, head over to Dads Coupon Too, where links to current printable coupon websites are located right at the top of the page.

Dads Coupon Too is basically a centralized feed that shows deals from Coupons.com, ibotta, Ebates, RedPlum, and Favado all in one spot. Finding deals is very easy when dads maneuver through this site.
Readers can also follow Dads Coupon Too on Twitter to get the latest updates on deals and coupons. Dads will be surprised by how much they can save from all the deals posted on this blog.
9. TheCouponingDad
Dads can get a head start on couponing by browsing the "Couponing 101" section of TheCouponingDad, which covers topics like coupon lingo, basic training, and how to coupon at specific stores. You'll also appreciate the insert schedule so you can plan what you want to buy.

Phil Bettencourt and the rest of  TheCouponingDad team spend hours hunting down current newspaper discounts and coupon inserts so dads can easily select which deals they want to redeem.
Readers can check back daily or weekly to pick the best deals of the week at a wide range of stores. TheCouponingDad is dedicated to helping dads and other readers save on any purchase.
Dads Can Coupon, Too!
After getting a quick glance at these sites, dads should feel more confident about their couponing and saving capabilities. Saving money isn't as complicated as you think it is — and anyone can do it! So give your wife a hand the next time you do the grocery shopping and surprise her by saving a good chunk of change!